Ian Somerhalder Is Getting Back To His Vampire Roots In Netflix's Drama 'V-Wars'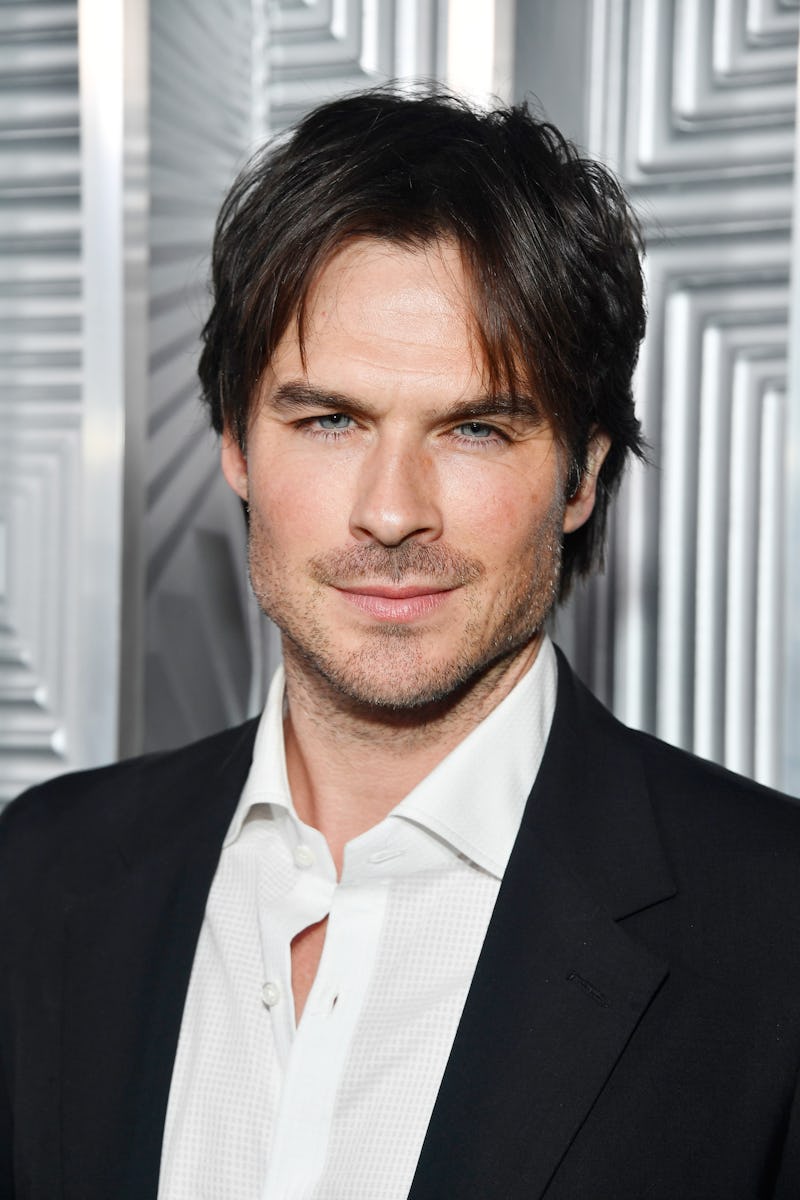 Frazer Harrison/Getty Images Entertainment/Getty Images
For people who loved The Vampire Diaries and the actor who played one of the main blood-sucking heartthrobs, this casting news is going to make you cheer. According to The Hollywood Reporter, Ian Somerhalder will star in Netflix's V-Wars, an upcoming streaming series that offers a new take on the vampire genre. The 10-episode series is based on the 2012 book of the same name from New York Times best-selling horror writer Jonathan Maberry, and its approach to the vampire mythology is very different from the one found in Somerhalder's previous show at The CW.
THR details Somerhalder's part as Dr. Luther Swann, a human scientist who is drawn into the center of the story's horror-filled plot when his best friend, Michael Fayne, becomes ill with a mysterious disease that turns him into a "murderous predator who feeds on other humans." The plot then takes on an almost zombie-like twist from there as the disease begins to spread. THR describes the plot:
"As the disease spreads and more people are transformed, society fractures into opposing camps pitting normal people against the growing number of these vampires. Swann races against time to understand what's happening, while Fayne rises to become the powerful underground leader of the vampires."
Sounds like quite the departure from Mystic Falls.
Before he played Damon Salvatore on The Vampire Diaries, Somerhalder was probably best known on television for his roles on Lost and Smallville. On the latter he played Adam Knight, a resurrected dead teenager who was sent by series villain Lionel Luthor to spy on Clark Kent and Lana Lang. While on Lost he played Boone Carlyle, a wealthy young man who wanted to be helpful to the other survivors on the island, though he died pretty early into the series.
While he ended up playing a smaller part on both of those series, on Vampire Diaries he maintained a lead role through all eight seasons of the teen drama as the broody, yet charming anti-hero Damon Salvatore. He started off the show as a villain, tearing through the small town of Mystic Fall, Virginia, biting people he should have left alone, and getting in the way of his brother Stefan's (Paul Wesley) epic romance with Elena Gilbert (Nina Dobrev). However, after a couple of seasons, he was letting his soft side out, and he was a full-fledged hero trying to keep the town safe from supernatural harm — while getting in his own steamy, romantic storylines — by the end of the series.
Based on the little information that's been revealed about V-Wars, it sounds like this series will be Somerhalder's chance to play a character that's the total opposite of his Vampire Diaries persona. Instead of playing the bad vampire living in a mostly human small town, he'll be playing the good human living in a big global landscape that is being quickly taken over by vampires. What will happen is anybody's guess. Somerhalder is also slated to direct during the season — a job THR notes he also took on during the later seasons of Vampire Diaries.
Longtime fans of the actor were excited by the news, and they headed to Twitter to share their joy.
Seriously, the show hasn't even begun shooting but some people are already "obsessed" or ready to "stan" for Somerhalder's new gig.
Of course, some fans of the actor couldn't help but mention that he'll be bringing more than just his talents to the small screen (yes, I'm talking about his killer looks).
The author of the book, Maberry, also couldn't contain his excitement on social media.
At this time Netflix hasn't announced when V-Wars will drop on its streaming service, but Maberry told a fan on Twitter that it will begin filming very soon in May.