The 'Fast & Furious' Spin-Off Has Found The Perfect Villain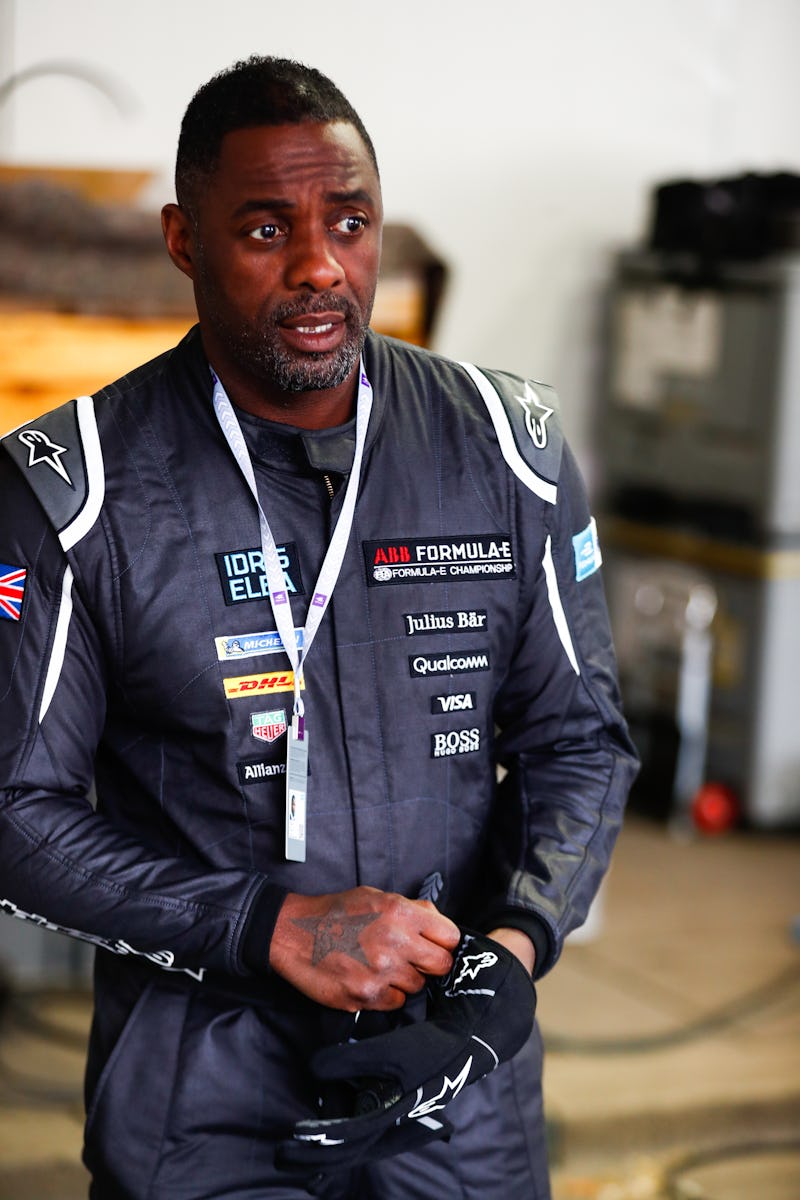 Handout/Getty Images Sport/Getty Images
The Fast & Furious family may be breaking up, but the fruit of that spinning off just got a lot more exciting. According to Variety, Idris Elba will play the villain in Hobbs and Shaw, the Fast & Furious spin-off starring Duane "The Rock" Johnson — and, naturally, Jason Statham. As the second new cast member announced behind The Crown's Vanessa Kirby, Elba is absolutely perfect for the franchise.
For those of you who thought this allegedly feud-driven film would never happen, it is totally happening. In an interview with The Rolling Stone, Johnson noted that he and Fast headliner Vin Diesel have "fundamental difference in philosophies" about making movies. Right now, he's focusing on making this spin-off as good as possible rather than returning to the tent pole. In October 2017, fans learned that the spin-off would be released in theaters July 26, 2019 — potentially a full year ahead of 2020's Fast 9. It has been written by Fast & Furious scribe Chris Morgan, and will be directed by Deadpool 2's David Leitch, according to Variety.
If we're talking lore, it does make a modicum of sense for Hobbs and Shaw to team up. Hobbs never really liked the family to begin with, and as fun as Shaw is on screen he did totally kill Han. So bringing him into the main crew was never a realistic possibility, even in the Fast & Furious world. That said, Kirby will be playing Shaw's sister (and, according to Variety, also an MI-5 agent). Hopefully Luke Evans and Helen Mirren will revise their roles as members of the Shaw family in the new film as well. Hobbs and Shaw is sounding quite British, actually, not that that's ever a problem.
Details surrounding Elba's antagonist role are still unknown, but this isn't the first time that he has worn the black hat, so to speak. He played an ultimately sympathetic villain in Star Trek Beyond and voiced Shere Khan in the recent Jungle Book adaptation.
Elba is also, you know, a racing driver himself. Honestly, how has he not boarded the Fast & Furious franchise before now? At the very least, he should be a script consultant for these movies. In his documentary series No Limits he took on speed challenges and explored the history of street racing. He's basically living the life of these movies in his spare time.
"If people take one thing away from this documentary that surprises them or makes them look at kids on their streets tinkering around with their cars in a different light, then great," Elba told BBC2 in an an interview about No Limits. "Cars, racing, speed, they are and have been for many people throughout history, a way of life; either a means to make, a living, or a means to escape. For some, like the drivers of the original Cannonball Run, cars were a means to make a political statement, to stage a political protest. For the bootleggers of the Prohibition era, speed was a means to make a living and evade the law."
If he brings even an ounce of that enthusiasm, passion, and drive, pardon the pun, to Hobbs and Shaw, then this is going to be one incredible spin-off. "There is always another car to drive and more roads to race," Elba said in the same interview. How is that not a line of dialogue in a Fast and/or Furious universe film already??
No disrespect to Dom Toretto, Roman, and the rest of the gang, but this is some pretty incredible news. Maybe Elba's character will be so popular that he can cross over to Fast 9 as well. Johnson and Diesel may have Tokyo Drift-ed apart. The use of an "and" in Hobbs and Shaw rather than an ampersand like Fast & Furious has just got to be grammatical shade, right?? However, the core theme of The Fast & Furious is friendship and family — and there's always room for more Elba at that table.