Millennials Will Pay The Price If Trump Abandons Paris Accords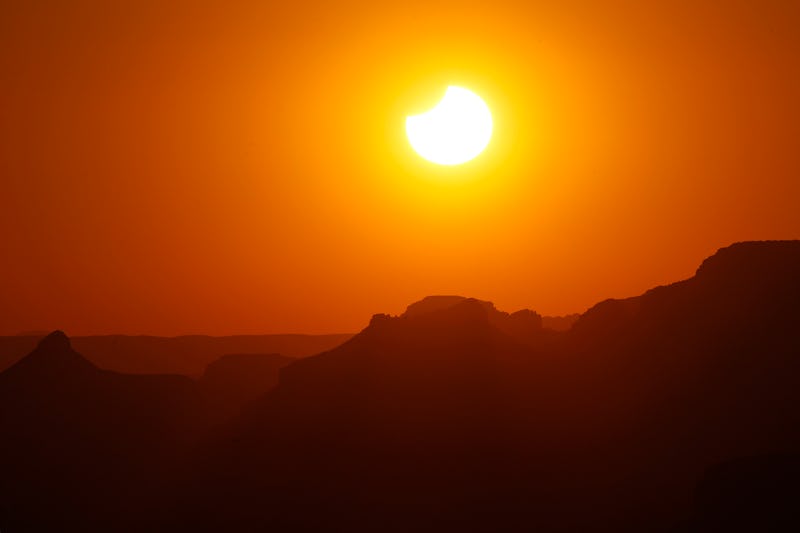 David McNew/Getty Images News/Getty Images
President Trump pulled the U.S. out of the Paris climate accord Thursday, breaking with nearly every other nation in a worldwide attempt to curb carbon emissions over the course of the century.
Experts warned the spiraling global warming crisis will take its hardest toll on millennials, who will inherit a crippled landscape.
"This is the millennials' fight of the century. This is your Vietnam. This is your civil rights movement," Pat Parenteau, Professor of Law at Vermont Law School, says to Bustle.
Climate scientists say the environmental effects of greenhouse gas emissions will begin to become dangerous in the year 2050, when millennials will be between 50 and 70 years old, as increasing temperatures and extreme weather events lead to food shortages, disease outbreaks, wildfires, droughts and floods.
"If someone's twenty years old now, they're going to be in the prime of their life when these really serious climate challengers happen and it's going to be their kids who start baring the brunt when things really start to go wrong," University of Virginia Law Professor Michael Livermore tells Bustle. Livermore says the impact will determine "the economy, where they decide to live, and what the world stage looks like in terms of conflict."
As the world's largest economy and second-largest contributor of greenhouse gas emissions, the U.S. is seen as the backbone of the climate accord, which is backed by 194 other nations.
"The thing about climate disruption is, it takes all of the existing trends and accelerates them and amplifies them," Parenteau says. "Imagine what's going to happen to people who can no longer occupy the portions of the globe that are going to become uninhabitable this century. Where are people going to go?"
"This is the millennials' fight of the century. This is your Vietnam. This is your civil rights movement."
Research shows that people are already paying a price for disruptions linked to climate change, including severe weather events like Hurricane Sandy, which devastated the East Coast in 2012 and caused more than $65 billion in damage in the United States, according to the National Oceanic and Atmospheric Administration.
Disruptions to the climate have spurred events that have cost American taxpayers $10 billion annually over the past eight years, according to an analysis by Demos and Next Gen cited in The Nation. As those events multiply and costs rise, experts say the burden will be carried by millennials.
"If you're in your teens or twenties, this is going to be the defining issue of your adulthood. And it's certainly going to be the defining issue for your kids," Livermore says.
A majority of climate scientists say the planet is on track to warm by four degrees Celsius over the course of this century, which could cause mass displacement of people, beginning with island nations and low-lying countries.
"We're already seeing the warning signs and we're hardly at one degree Celsius [increase]. So what kind of world will millennials be inheriting if we don't get off this four degree Celsius track we're on?" Parenteau says.
Parenteau tells Bustle there's been an effort to integrate womens' rights, including expanded access to education and reproductive rights, into the worldwide climate debate and discussion "because in many parts of the world, it's the women who are most immediately exposed to some of these threats, but it's also the women that are key to moving some of the developing countries in particular out of fossil fuels, whether it's fuel for cooking or electricity."
"What kind of world will millennials be inheriting if we don't get off this four degree Celsius track we're on?"
Only two countries abstained from the landmark climate accord, which was spurred during meetings in Paris in 2015 and ratified last year: Syria's government is struggling to cling to power amid a bloody civil war that's wounded or killed a tenth of its citizens since 2011, and Nicaragua shunned the climate deal to protest an agreement it considered too weak.
China, the world's top greenhouse gas polluter, has pledged to adhere to the agreement whether or not the U.S. pulls out. Trump has called climate change a hoax perpetrated by the Chinese "to make U.S. manufacturing non-competitive."
While Trump's decision is sure to anger America's closest allies, the President is also likely to face heat from Republican members of Congress and a group of his advisors, including Secretary of State Rex Tillerson, who advocated for remaining a part of the deal, as did Trump's daughter Ivanka. Leaders in the energy sector, including the heads of ExxonMobil, Shell, and BP, along with the heads of more than a dozen Fortune 500 companies encouraged the President to stay part of the deal. On a visit to the Vatican last week, Pope Francis gifted Trump a copy of his encyclical on climate change and the environment.
"It's been pretty clear since the campaign that President Trump isn't really serious about doing anything on climate," Livermore says.