If You Don't Have These 7 Conversations With Your Partner After A Year, You May Be Settling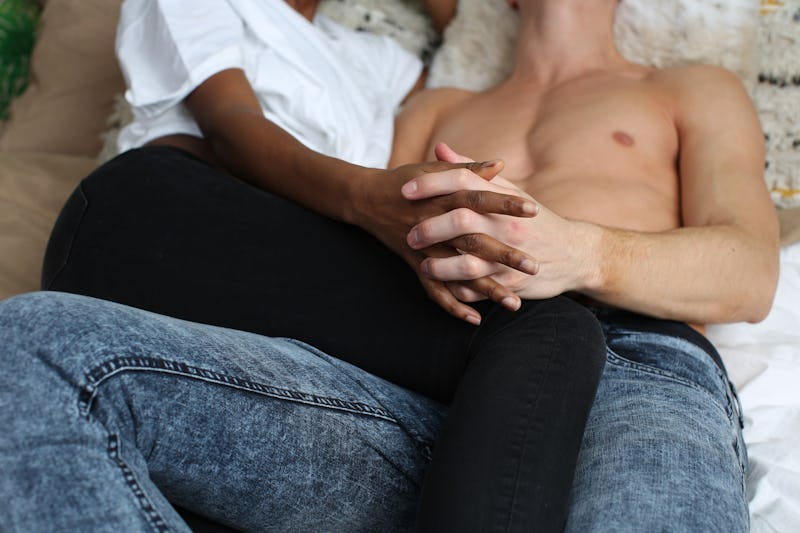 Ashley Batz/Bustle
Settling may conjure images of practical relationship compromises in your head, like dating someone who checks all the boxes but doesn't fulfill your emotional needs. But settling can also look like staying with someone who loves you a little, but not quite as much as you deserve. If you've made it to the first anniversary but skipped the important conversations to have in a relationship, then you may be with someone who isn't quite enough.
Making it to the one-year point is a bit arbitrary, but it's a good way to gauge how your relationship is going, and whether the love you're experiencing is the love you need to make it long-term with someone. "You should be able to tell by one year if your partner loves you for the long -term because by one year, you should have been through at least one really tough situation together or tough fight," LGBT-affirming therapist Katie Leikam, tells Bustle. Plus, you likely know how your relationship is going by the conversations you have when things are good, as well.
But even if you do love each other, it may not be enough if one person is putting in all the work. "I don't think that relationship longevity is just about how much you love one another," Dr. Jess O'Reilly, Astroglide's resident sexologist, tells Bustle. " [...] A year is certainly an adequate amount of time to gauge compatibility in terms of effort [...] It doesn't matter how much you love one another if only one of you is willing to try to make the relationship work."
Here are the seven conversations you likely will have by your first year if your partner loves you the way you deserve, according to experts.