7 Signs You Have High-Functioning Anxiety, Based On How You Act Around Your Partner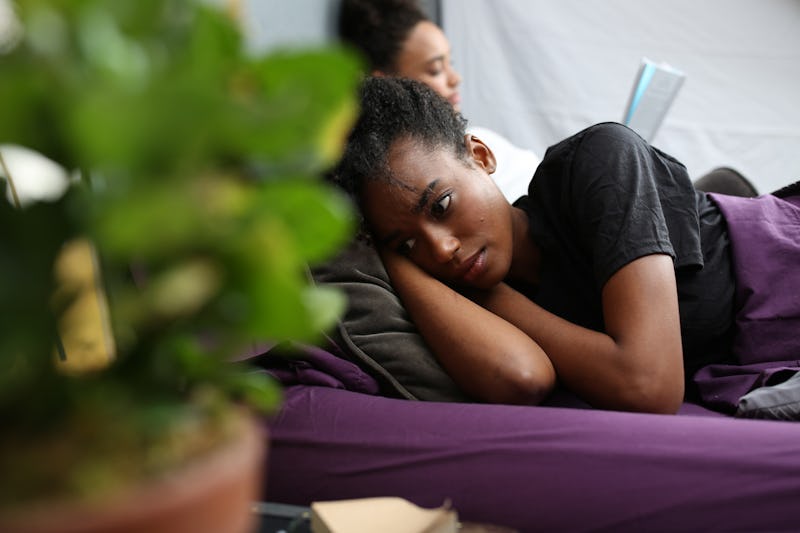 Ashley Batz/Bustle
I've been a perfectionist for as long as I can remember. I did exceptionally well in school. I've built a successful career as a writer, making more money than many of my peers. I create interesting and odd clothing in my spare time. I've traveled the world. By most external measures, I've got it together. But, internally? I'm usually a mess.
Here are some not so impressive facts about me. I pick at my skin to the point of drawing blood. At any given time, you can be sure there is a cluster of scabs somewhere on my body. It's a habit I've had since childhood. I've had an unhealthy relationship with alcohol that I'm only now working through. I need frequent verbal reassurance from my partner that he loves me, despite him showing me he loves me every day. I'm prone to irrational jealousy and I pretty much always think that something bad is going to happen. I create with my hands because it gives something for my brain to latch on to. If I'm not making things, I'll get stuck on a hamster wheel of problems instead. Is my partner the right person for me? How do I know? Is my work significant? Should I be making more money?
It's only in the past couple years, when I started having breakdowns every month, that I recognized my "perfectionism" as a form of anxiety. I'm not crippled by it. If anything, my "perfectionism" or "anxiety" more often than not pushes me to achieve some pretty impressive things.
But when the negatives started to outweigh the positives, I realized that there might be something problematic with this way of dealing with the world. And that's when the term "high-functioning anxiety" popped on to my radar. I read a couple of articles about the symptoms of high-functioning anxiety and felt like my name could be at the top of every one. It me! It me! My brain screamed, picturing a little meme jumping up and down on that hamster wheel.
High-functioning anxiety isn't a technical medical diagnosis. Instead, it's a popular way for people who don't fit the exact requirements of Generalized Anxiety Disorder (GAD) to describe what's going on inside their brains. A big difference between GAD and high-functioning anxiety is that while people with GAD may find themselves paralyzed by their anxiety, people with high-functioning anxiety feel propelled forward by it. But that doesn't mean that high-functioning anxiety isn't a problem. Sure, it may help with getting good grades or getting ahead at work. But the internal turmoil is a high price to pay for those accomplishments.
While the contrast I experience in my own life between outward appearances and private bad habits and internal thoughts is a textbook example of high-functioning anxiety, there's another area of life where this shows up: Relationships. Below, experts weigh in on what habits people have around their partners that may be a sign of high-functioning anxiety.