This New Color Spray Is The Easiest Way To Try The Pink Hair Trend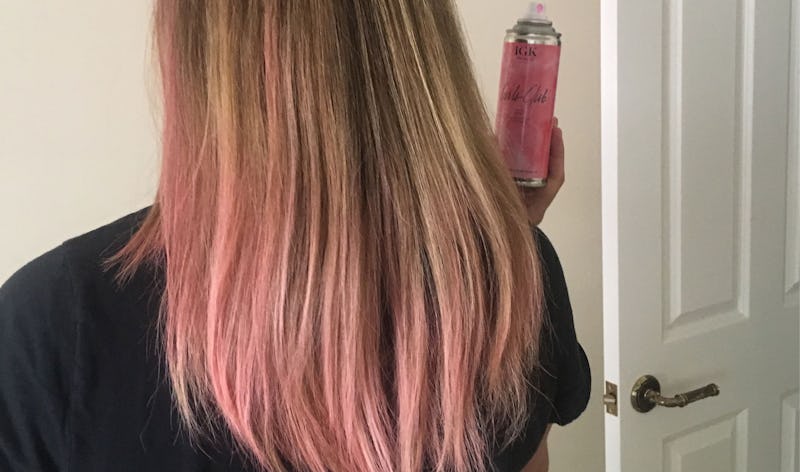 Alexa Tucker
While I'm no stranger to playing with my cut and color at the salon, I've always stopped short of any truly bold hair dye moves. While a former hairstylist made a convincing argument that I should consider taking the plunge with a salmon hue, ultimately, the commitment and the risk of not loving it kept me sidelined. Until IGK's Girls Club Color Spray arrived at my doorstep, that is.
If you're not familiar with IGK, here's the lowdown: Created by a team of rock star hair stylists, it's a group of NYC, Miami, and L.A. salons as well as a hair care line made up of of innovative, effective products that are a dream to use (and look pretty on a bathroom counter, too). So when they drop a new product, you know it's going to be luxe enough for an A-list crowd.
And their pink color spray is no exception. Unlike the janky colored hairspray of your childhood (oh, the memories), IGK's Girls Club Color Spray is the real deal — without actually being, y'know, the real permanent deal. It's made with nourishing coconut extract, so it won't put your hair through the ringer in pursuit of a fun, colorful style.
And that's good news, because it's pretty addictive. I gave IGK's Girl Club Color Spray a test run, and I'm definitely tickled pink. Here's what you should know about the new product.
IGK's Girls Club Color Spray Is Simple To Use And Super Buildable
I've got a light brown to dark blonde balayage sitch going on, so my hair is relatively light at the ends. And as it turns out, this made it perfectly suited for a little pink makeover with IGK's Girls Club Spray.
There are a few different looks you can create with the can of pink spray. First, I tried a couple highlights, and I was surprised by how pigmented the formula was. It's super buildable, so the more times I went over the same highlight, the pinker it got.
After my initial highlight test, though, I decided to focus on the ends of my hair to give them a rosy ombré-esque touch. To avoid getting the spray on my clothes (which is a little tricky when you're spraying your ends), I used one hand to hold a paper towel under my hair and the other to spray away like a hair graffiti artist.
I Was Impressed By How Natural The Temporary Color Turned Out
While the two pink highlights were a fun touch, spraying the ends was definitely my preferred way to use the product. After brushing it out, it blended right into my hair — it looked natural, convincing, and grown-up for a pink 'do (rather than tacky). It also didn't feel sticky or heavy in the least, so it earns major points there compared to many other color sprays.
The spray is supposed to be transfer-resistance, too. So while I didn't test this supposed feature by wearing a white shirt, it definitely didn't feel like the product was sitting on top of my hair, ready to rub off on whatever fabric it came into contact with.
That said, it did rinse out easily in the shower, which is a good thing (and there's something oddly satisfying about seeing all of that pink-tinted water, I admit).
IGK Girls Club Color Spray, $29, Sephora
Psst — it comes in a purple version called Sutro, too.
Bottom line: I'll certainly break out IGK's Girls Club Color Spray next time I'm in the mood to go pink, whether it's for a fun concert or just a random Thursday (and maybe it'll inspire me to take the real pink plunge one day, too).