Solange Knowles Has An IKEA Line Coming Out & Twitter Could Not Be More Into It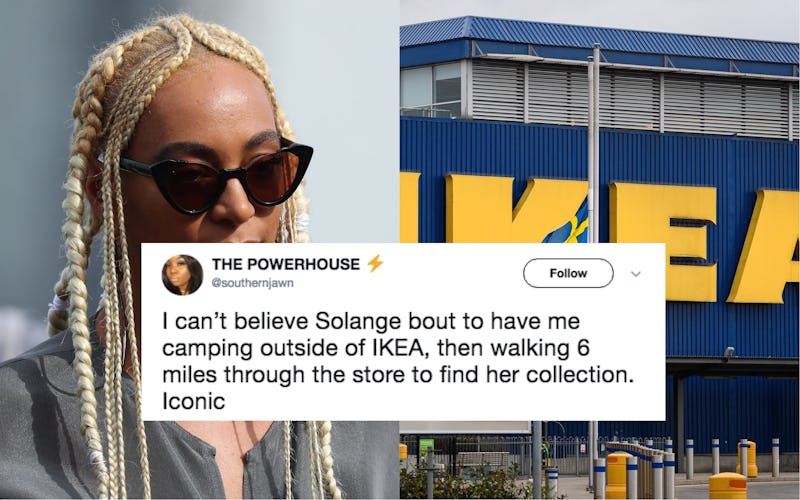 Leon Neal/Getty Images News/Getty Images; JP Yim/Getty Images Entertainment/Getty Images; Twitter
Beyoncé may be the Reigning Queen of Music and potentially God herself, but Solange Knowles is her incredibly cool baby sister, creating A+ tunes and sporting an even funkier style. So it is with great pleasure, then, that I peruse IKEA's new collaboration with Solange Knowles' Saint Heron, the much-touted collaborative compilation album and multimedia hub that was launched to elevate unique independent artists from across the artistic mediums.
It's not entirely clear what the new line will hawk, since, as Apartment Therapy reports, details about the collaboration are still under wraps. Saint Heron announced the collaboration via Instagram. Per the 'gram:
Saint Heron is excited to announce an upcoming creative collaboration with @ikeatoday, exploring architectural and design objects with multifunctional use.Saint Heron has been at the forefront of beautiful creative pieces that challenge intersectional culture themes, foster thoughtful fellowship, and push the conversations of our communities to the forefront. We're excited to continue to push the conversations forward. Stay tuned for more information!
Obviously, there's a lot of excitement regarding this collaboration online. After all, buying Saint Heron furniture and home accessories is basically the same thing as having Solange personally decorate your apartment, right? If you buy furniture connected to one of the world's coolest, most talented humans, doesn't that mean that you will absorb some of that coolness and talent, by osmosis? Isn't that specifically what sofas are for? No? Then why did I spend $500 on mine???
As you can see, the hype for this is already very real.
IKEA is pretty excited about the collab, too. Marcus Engman, the head of design at IKEA Range & Supply, released the following statement: "At IKEA we are curious about the creative space in between architecture, design, art, and music and how that could come alive in the homes of the many people. This is what we want to explore together with Saint Heron." A trip to IKEA with your partner might still be a breakup catalyst, but at least you'll go home with Solange's lamp.
Of course, the Saint Heron collaboration isn't the first time IKEA's been the headline for some excellent design-related news. Here are a few more fun IKEA plotlines, for your perusing pleasure: