Ilhan Omar Brilliantly Shut Down A Pastor Who Complained About Her Hijab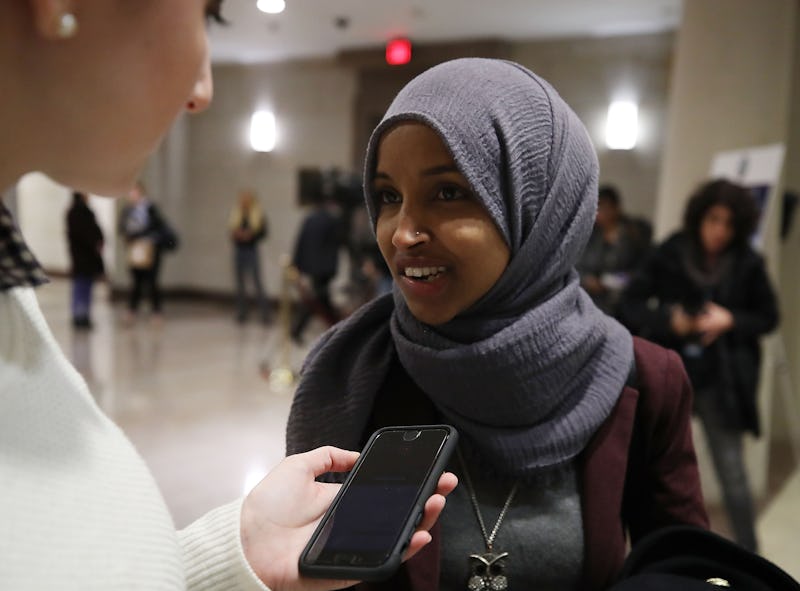 Mark Wilson/Getty Images News/Getty Images
Although the 116th U.S. Congress hasn't even officially gotten underway, a few of its freshman class members are already having to defend themselves against inane criticisms. Representative-elect Ilhan Omar pushed back on a conservative pastor worried her hijab would make Congress look like "an Islamic republic."
"Well sir, the floor of Congress is going to look like America," Omar tweeted Friday. "And you're gonna have to just deal."
Earlier in the week, conservative Pastor E.W. Jackson bemoaned reports that Democratic legislators planned to reverse a law prohibiting headwear of any kind from being worn on the House floor. "The floor of Congress is now going to look like an Islamic republic," Jackson said on his radio program, according to The Hill. "We are a Judeo-Christian country. We are a nation rooted and grounded in Christianity and that's that."
Jackson went on to say that "anybody that doesn't like that" can "go live somewhere else."
"It's very simple. Just go live somewhere else," he said. "Don't try to change our country into some sort of Islamic republic or try to base our country on Sharia law."
But the rule Jackson apparently abhors to see changed isn't grounded in any religious reason. In fact, it appears to have had more to do with men's hats than religious headwear. According the History, Art, & Archives of the House or Representatives, the 181-year-old law, which reads that "every member shall remain uncovered during the sessions of the House," was strongly opposed and debated. Indeed, similar measures failed to pass at least four times in the years prior.
Democrats are seeking to clarify in the rule "that religious headwear is permitted to be worn in the House chamber" to "ensure religious expression," according to ABC News.
What's more, Omar isn't wrong in her claim that the 116th Congress is going to "look like America." Earlier this year, the Pew Research Center estimated that there were roughly 3.45 million Muslims living in the United States last year. Moreover, Omar is set to represent Minnesota's 5th Congressional District, which The Washington Post has called one of the state's most diverse, with 36 percent of residents reported to be people of color.
In November, Omar defeated Republican Jennifer Zielinski at the polls in Minnesota to become the first woman of color elected to represent the state in Congress. Omar is also the first Somali-American woman and one of the first Muslim women to ever be elected to the governing body. She shares the title of first Muslim woman to serve in Congress with Rashida Tlaib, a Palestinian woman who won her race in Michigan to represent the state's 13th Congressional District.
But while Jackson has bemoaned the diversity freshman members like Omar will bring to Congress, the representative-elect herself has argued that a more diverse Congress will lead to better policymaking for all Americas. "In a time where there is a lot of religious bigotry, it's almost perfect to have this counterbalance," she recently told Roll Call of her and Tlaib's election wins. "My sister Rashida and I are from the heartland of America. To be elected to Congress is a real rejection of that message."