An Illinois Lawmaker's Ex Claims He Posted Her Nude Photos Online Without Consent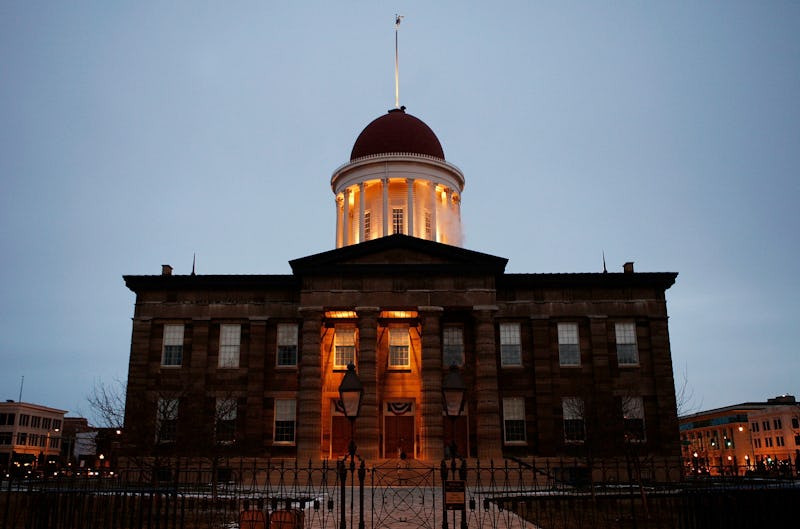 Mark Wilson/Getty Images News/Getty Images
A first-term Republican lawmaker in Illinois has been accused of posting nude photos of his ex-girlfriend, Kate Kelly, on social media, according to a complaint she filed with the Office of the Legislative Inspector General. In her complaint — which was obtained by Politico — Kelly accused Illinois Rep. Sauer of publishing her nude photos on a fake Instagram account to trick men into talking to him. Bustle reached out to Sauer for comment, but did not hear back at the time of publication.
UPDATE: On Aug. 1, Rep. Sauer stepped down, according to The Washington Post, "as a result of the allegations by Kate Kelly, a former girlfriend," he wrote in a letter. He continued:
It is important that the citizens of the 51st District be fully represented. My ability to fulfill my obligations as a State Representative and public servant will be affected by the distraction of addressing these allegations.
EARLIER: Kelly alleged in her complaint that Sauer created a fake account in her name and used it "to catfish other men using my privately shared naked photos."
"Nick would use this account to direct message men with my photos to engage in graphic conversations of a sexual nature," Kelly claimed. "The men believed they were communicating with me and Nick shared private details of my life."
Sauer, who was elected to the Illlinois House in 2016 and who is now seeking re-election for his seat representing Illinois' 51st district, declined to comment for Politico's report about Kelly's allegations. According to Politico, Kelly stated in her complaint that she had also filed a police report with the Chicago Police Department. Kelly said that the CPD had launched "an active investigation" into her allegations, but Politico was unable to obtain her police report from the department after filing a Freedom of Information Act request. Bustle also reached out to the CPD, and they declined to comment.
Meanwhile, Julie Porter, the acting Legislative Inspector General, did not confirm or deny that that her office had opened an investigation into Kelly's accusations.
"I do not comment on issues relating to investigations, including whether or not a matter has been presented to me or is open," Porter told Politico in an email. Bustle also reached out to Porter for comment, but did not hear back at the time of publication.
Kelly told Politico that she and Sauer met on Tinder in 2016, after which they started a long-distance relationship. In June 2017, Kelly moved to Chicago to be closer to Sauer, but she told Politico that the two of them broke up earlier this year after she learned that he had reportedly been dating other women. It was during this relationship — before she moved to Chicago — that Kelly said she and Sauer shared "very private photos with each other, as many couples do."
Kelly told Politico that Sauer reached out to her in June, a few months after their break-up, with an apology, but she soon stopped talking to him once she "realized things wouldn't change." She says that at her request Sauer subsequently reimbursed her for travel expenses she had amassed during their relationship. Shortly thereafter, Kelly claimed to Politico that a man reached out to her on Instagram in July, alerting her to a fake Instagram account's existence. Kelly said she got Instagram to take the alleged account down and claimed that Sauer had admitted to using the account for two years in order to catfish other men.
In 2014, Illinois passed a law criminalizing "revenge porn" that included harsh penalties. This measure, which was signed into law by then-Gov. Pat Quinn, made the "non-consensual dissemination of private sexual images" a felony offense. Sauer's critics have already taken to Twitter to accuse him of publishing revenge porn and are calling on him to resign, but Politico reported that no charges have been filed against him yet.
Sauer is currently running for a second term against Democrat Mary Edly-Allen and Independent Jay Murphy.