I'm A Chicana Reporter Covering Femicide In Mexico & I Won't Let Women's Stories Be Erased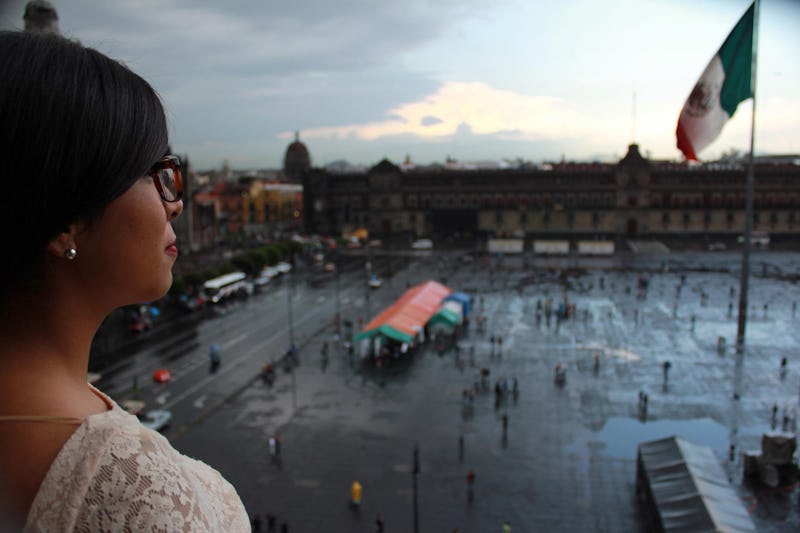 Courtesy of Nidia Bautista
Lesvy Berlin Osorio was found lying against a telephone booth in the middle of the National Autonomous University of Mexico campus in Mexico City. She was strangled by her boyfriend. Mariana Baltierra left her house in Ecatepec but never returned home from her walk. She was found later that day inside a meat shop called Carnicasa, killed by the local butcher.
I learned about the brutal murders of Lesvy and Mariana while on a reporting trip to cover gender violence in Mexico last summer. They were killed by men and grieved by their families in a country plagued by femicide — when women are violently murdered for being women. As a Chicana reporter writing about this topic, I have had to reckon with the apparent disposability of Mexican women.
In Mexico City and Ecatepec, a city just north of the capital, women's bodies are often left in empty lots, parks, and on public transit. Stories of gruesome murders of women regularly shake the entire country. By some accounts, Ecatepec has surpassed Ciudad Juarez, once considered Mexico's femicide capital, to become the focal point of violence against women.
I've traveled there to report on femicide for the past two years, after hearing that more than 1,500 women had been murdered over a decade in the State of Mexico alone (there are 31 states in Mexico).
Like so many other Latinx writers from the United States, I'm deeply concerned about what happens in the region. Even though violence against journalists is another pressing issue — 22 journalists were killed in Mexico just last year — I am compelled to continue reporting these stories to help readers understand that it's easy to gloss over the magnitude of the problem when femicide is so prevalent. I want them to understand that violence is inflicted on these women to erase them and render them invisible.
The way the Mexican media reports on femicide illustrates this erasure. Outlets publish women's selfies juxtaposed with images of their abandoned lifeless bodies. Their faces are censored but the violence inflicted on their bodies is emphasized in photos.
I'm more committed than ever to writing about gender violence in Mexico.
I won't let women be erased. By reporting on femicide in Mexico, I've helped shed light on gender-based violence that has reached alarming levels. Mexico's public safety department recently ranked January 2018 as the third deadliest month for women in Mexico's recorded history, with 64 femicides. And these are crimes committed with almost total impunity — perpetrators are rarely detained and prosecuted. Often, families take it upon themselves to investigate the murders. I've interviewed women like Irinea Buendía, a tireless activist whose daughter was murdered by her husband in 2010. Despite death threats, Buendía has pressured the Mexican government to detain her daughter's killer and helps other families seek justice.
The murders of Mariana and Lesvy shocked all of Mexico, and they emphasized for me just how terrible and common the violence has become in the country my parents emigrated from. But through the years, I've also recognized that women are as vulnerable to violence in the country where I was born than the country my parents were forced to leave. As the national conversation over #MeToo forces us to recognize the acute degree to which gender violence is pervasive in the United States, I know Mexico has a long way to go in addressing violence against women.
Reporters don't often publish insights into their work in the field, but I want to tell people about mine, because it's important work when Latinx writers and reporters focus on issues affecting their countries where they or their parents or grandparents came from. Often, I've found that Latinx reporters aren't given the opportunity to explore issues abroad, as foreign correspondents are overwhelmingly white. A look at the lack of diversity in newsrooms shows a historical trend of exclusion. Like other young reporters, I find that my identity is tied with my writing.
Many people in Mexico know that men murder women without punishment in places like Ecatepec, but not enough is being done to stop the violence. Laws and institutions are failing women and their families. Parents like Buendía have to fight for justice. After years of writing about violence against women who look like me, and in a time where Latinx writers are disputing a legacy of predatory reporting in their communities, I'm more committed than ever to writing about gender violence in Mexico. All I can do is hope to honor these women by sharing their stories.
This op-ed solely reflects the views of the author, and is part of a larger, feminist discourse.