I'm Newly Single, And Here's Why I'm Not Going Back On My Dating Apps This Month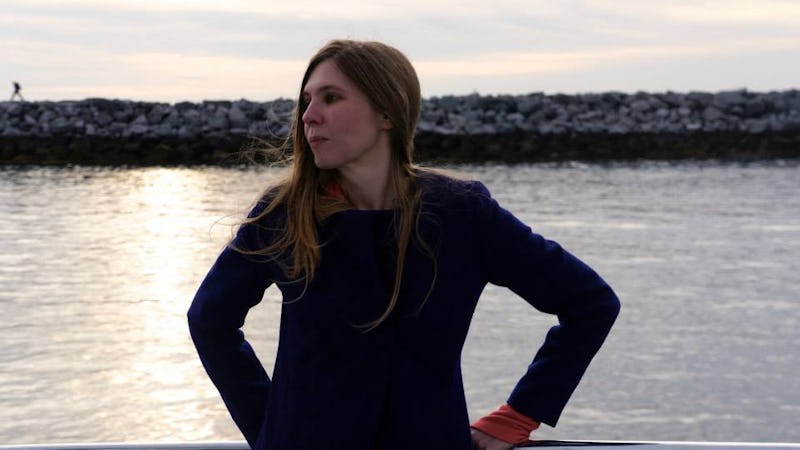 Natalia Lusinski
Whether dating apps are causing a "dating apocalypse" or are merely the easiest way to get a date, there's no denying these tools have been total gamechangers in the dating scene within the last few years. And even though dating apps are most popular among Millennials, according to a recent SeatGeek survey of 1,000 singles, 95 percent would rather meet people IRL versus online or on an app. That's why for the second year in a row, Bustle is deeming April, "App-less April" and encouraging our staff and readers to delete their dating apps for 30 days and meet people the old-fashioned way: offline. With participants tracking their progress and tricks and tips from dating experts, we'll be helping you feel empowered to meet people IRL all month long.
Let's say you just got out of a relationship. What is one of the first things you do? Reactivate your dating apps? Well, I'm newly single, and here's why I'm not using my dating apps during Bustle's App-less April, a 30-day challenge to delete your dating apps. Yes, dating apps are an easy go-to, especially when you're feeling emotionally fragile and could use the I-just-got-100-matches-in-a-row! validation and ego boost. In fact, LendEDU recently surveyed 9,761 Millennial college students about Tinder and found that 44 percent use Tinder for "confidence-boosting procrastination." So add in some heartache, and you have a perfect combination of using Tinder for all the wrong reasons. Which is not my intention rn. So, App-less April comes at a ~perfect time~ for me to take a dating app detox.
"I'd say taking a break from dating apps is essential, whether you're on a dating break or actively dating," Camille Virginia, Founder of Master Offline Dating, tells Bustle. "Dating apps aren't reality — lots of people don't even look like their photos, or completely lie about themselves, their interests, their relationship status, what they're looking for, etc. I say go for as long as you can without reinstalling the apps. Make it a challenge."
I love that advice, and here are six reasons why I'm not using my dating apps during App-less April.
No matter who ends a relationship, I think both sides need time to heal and grieve before either person jumps right back into dating. I think this is especially true if you have yet to take their pictures off your social accounts, are still friends with them (or stalk them!) on social platforms, talk about them a lot (to anyone who will listen), and/or have some of their possessions at your place.
I mean, how would the new BF or GF feel if he or she knew about any of that?! Exactly. But, putting the imaginary new person aside, it's good to see what you did right and what you did wrong in the relationship, as well as to assess what you liked about it (was the ex spontaneous like you, yet emotionally available?). Let's face it — you can't evaluate it as clearly if you have new dating app matches swirling around in your head.
I don't think anyone can disagree that dating apps are ~addictive AF~. Just like that LendEDU study discovered — "confidence-boosting procrastination" — which can also mean "boredom" and "nothing better to do," and "just one more swipe..."
But also, OBSESSION. Match's 2017 Singles In America Survey of over 5,000 singles across the U.S. found that Millennials are 125 percent more likely than other generations to admit they're addicted to the process of dating. Did the person read my message yet? I better check again. Still nothing! Why not?! But while I'm on it, I might as well see how many new matches I have. If I'm on Bumble, I have to write the guy within 24 hours, so I might as well write these dozen guys now before they disappear — literally. Then it's an hour later, but I'd better go check Tinder and OKC, too...
So, imagine a life without all this worry/anxiety/insanity — you'll have FREE TIME! Plus, you'll have more mental clarity and won't have to worry about juggling what you said to each of your matches.
Aside from having more free time, I'll also have more time to go to events in real life. I can finally do things I've been meaning to do, like take a cooking class, train for a Tough Mudder, and/or volunteer more. And, I can just have good old one-on-one time with friends again, since I spent ~way~ more time with my ex than with them.
As much as seeing my friends more is important, I'll also be able to have more "me" time. "It is actually a very important process to give ourselves that time and space alone to unplug, work through things, or just disconnect from everything around us to truly relax and get centered," Psychologist Dr. Nikki Martinez tells Bustle. For instance, I have about five books that are half-read, and I really need to redo my personal website. Now that I'll have all this free, non-boyfriend, non-dating-apps time, it's the perfect opportunity to spend more time with myself. Plus, I'll be reminded of what truly makes me happy, whether it's hiking every day or reading every night, in addition to exploring new things that will (or won't).
On dating apps, you know how you start out writing to someone in perfect sentences, but then you start to message them as you would a friend, as though you've forgotten how to capitalize and spell out words?! (And you and I may agree that receiving such messages is not exactly the way to woo someone!) Now, by being offline and talking to people in real life, you'll (hopefully) talk in complete sentences, no acronyms or abbreviations! And seeing how someone speaks IRL (oops!) is key! As you may know, some people seem to struggle with having conversations in person, since they're so used to having typed conversations instead.
"Push yourself to meet people offline as you simply go about your day," Virginia says. "Meeting people in person, even if you're not quite ready to date, is fulfilling our basic human need for connection. Humans are social creatures — we need in-person interaction with each other in order to feel fulfilled and connected. Dating apps and social media give us a false sense of that connection; it's making us think we're being social when we're not — we're not experiencing other peoples' actual energy."
I love that advice, particularly because I don't want to meet people to date right now because of the newly-single factor. However, I agree that it's still important to talk to people in person more versus behind the often-superficial phone or computer screen. In fact, a few years ago, I stopped texting just so I could focus more on offline communication. I know for a fact that it works, and I'd like to think that to stop messaging complete strangers should not be a problem.
As you can see, I have plenty of great reasons for not using my dating apps during App-less April. Hopefully, you'll get inspired to take time off from yours, too. After all, they'll still be there in May (for better or worse).
Join the campaign and share your stories with #ApplessApril and ​by ​tagging @Bustle.