In Bustle's Second Issue, We're Celebrating "Something New" — & Welcoming Bustle UK!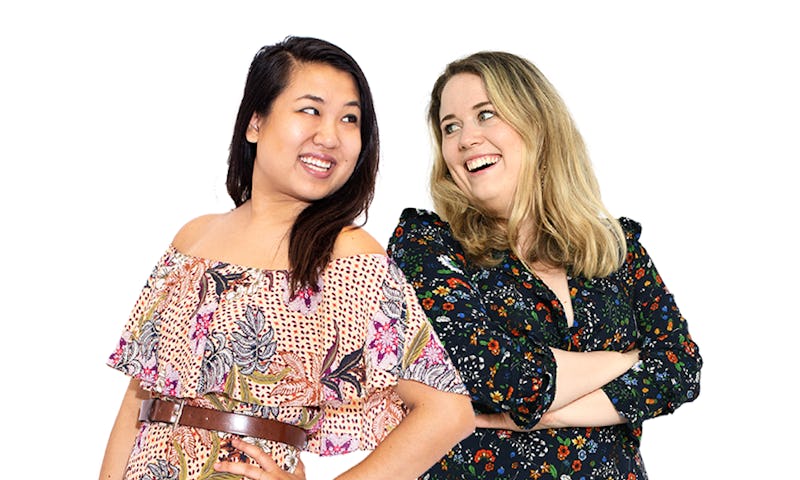 Bustle Managing Editor Amanda Chan: The official first day of summer is still a couple of weeks away, but there's just something about the warmer temps and changing season for me that invites a completely new mindset. It's the promise of starting fresh, the possibility of welcoming Something New — which also happens to be the theme of Bustle's second issue. And in this one, we're celebrating an especially exciting something new: the launch of Bustle UK.
No, we didn't have tea with Hugh Grant.
Bustle UK Executive Editor Charlotte Owen: It's finally happening! Bustle has a vast and fast-growing audience across the pond, so we couldn't be happier to be setting up shop in London and serving our British readers with content tailored to their interests. After all, for all our transatlantic similarities — and mutual love of reality TV — the U.K. has its own unique set of obsessions and concerns.
Amanda: So I'm learning. While The Bachelor reigns supreme in the U.S., Love Island dominates in the U.K. We know Americans are partial to splurging at Ulta, while Brits head to Boots for their fill. So whether it's the Grammys or the Brits filling up your Instagram feed, we're here to hook you up. (Did I get that right?)
Charlotte: You were brilliant. Anyway, it's differences like these that form the core of Bustle UK's offering — think of us as your new British BFF — and more specifically, of our Hello From The Other Side package in this issue. With four unique contributors, we've unpacked what's wonderful and challenging about being a British woman in 2018 — plus a very scientific experiment in online dating here versus stateside. Some of it will surprise you, but we also couldn't do a U.K. package without throwing in some of your British faves. No, we didn't have tea with Hugh Grant, but we do have a Practically Perfect dose of Harry Potter, Shakespeare, and your favourite — or favorite — royals.
Amanda: Bustle UK isn't the only new thing we're celebrating in our Something New issue. We go in-depth with cover star Sarah Paulson, who is redefining the Ocean's franchise with her role in the all-female Ocean's 8 being released in the U.S. later this week and the UK later this month. In our cover profile written by Patti Greco and shot by Jason Bell, the hilarious and critically revered actor opens up about the next big phase of her career and gives us a glimpse of that famous, now-deleted Ocean's 8 cast group text.
Charlotte: I'm not over them talking about nasal spray.
Amanda: They're just like us!
Charlotte: Except we aren't BFFs with Rihanna — yet. Anyway, any issue about starting anew wouldn't be complete without some reflection on our own relationships, both with ourselves and with others.
Amanda: Maybe you need to correct course in your current relationship, or perhaps you're looking to reset your overall attitude about dating. No matter what your rut is, you'll hopefully find some wisdom in our Relationship Refresh package that includes not only tips from the experts, but also a series of first-person experiences — including one from writer Laken Howard, who's moving 7,000 miles from her partner to improve her relationship with herself, and writer Iman Hariri-Kia, who journaled what happened when she and her partner swapped living spaces for a week.
Charlotte: Summer also tends to be synonymous with travel. In this issue, Bustle's Books editor, Cristina Arreola, wanted to reimagine the concept of the travel memoir through our Have Books, Will Travel package, in which we ask some of our favorite writers to describe what their travel memoirs would look like.
Amanda: And of course, June is also peak wedding season, so in this issue, we bring you I Do It Differently, a series of real wedding stories (and real wedding budgets!) that prove you can have a wedding that you actually want to attend. You can also wear something that feels totally you, and to prove it, our Fashion & Beauty editors have you covered with looks that offer new takes on what's expected, whether you're walking down the aisle or attending as a guest. Something New, indeed.
Charlotte: Finally, Jill Filipovic investigates what the new milestones in women's lives are now that we know marriage and kids aren't everything, and we re-watched every rom com you loved in the '90s — really — to figure out what happened to the genre that informed so much of our lives. (OK, there's a little Hugh Grant.)
Amanda: Hopefully, you'll find in this issue the inspiration to start fresh, whether it's just a small tweak or a total overhaul.
Charlotte: And if you're in the U.K. (or are just a lover of all things British), we're excited to be delivering more of the things you love. Here's to our very own "special relationship"!