In The Bustle Booth With Haley Lu Richardson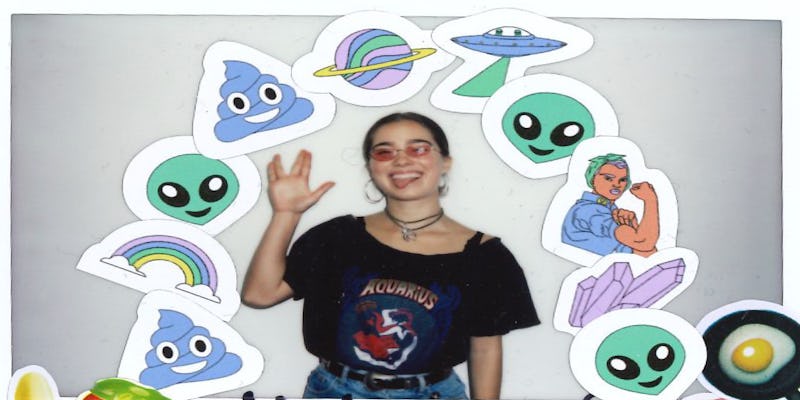 Guillermo Perez/Bustle
When celebrities come into Bustle HQ in New York, whether it's for a photoshoot, videoshoot, or a Facebook Live, we want to give them the chance to leave their mark. Literally. So we hand them a pen, a piece of paper, a few questions, and ask them to get creative. The rest is up to them. This time, Columbus' Haley Lu Richardson is leaving her mark in the Bustle Booth.
Haley Lu Richardson is quickly becoming one of the most versatile young actors in Hollywood. In the past year, she's had supporting roles in two major films, as a teen in love in the critically acclaimed The Edge of Seventeen and as a horrified kidnap victim in M. Night Shyamalan's Split. It's a pretty impressive resumé for any actor, let alone one who burst onto the scene just four years ago with a starring role in the Freeform show Ravenswood. Now, Richardson is taking the leap into leading roles with Columbus, a moving drama in theaters now.
In Columbus, Richardson plays Casey, a recent high school graduate stuck in her hometown who is inspired to share her passion for architecture when she meets Jin (John Cho), the son of a famous architecture professor. The film, currently enjoying a limited release, has clearly stuck with the actor. During her Bustle visit, she drew Columbus' First Christian Church and North Christian Church, both designed by Eliel Saarinen and favorites of Casey. She also still has Columbus, IN, as a weather location in her phone. Aside from her commitment to her work, Richardson revealed her love of John Lennon and more during her stop in the Bustle Booth.