In The Bustle Booth With Jodie Comer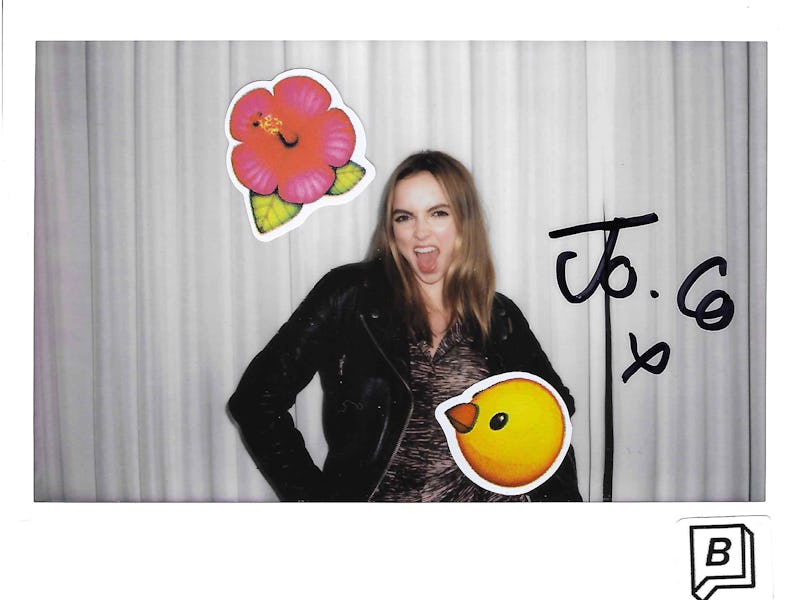 When celebrities come into Bustle HQ in New York, whether it's for a photoshoot, videoshoot, or a Facebook Live, we want to give them the chance to leave their mark. Literally. So we hand them a pen, a piece of paper, a few questions, and ask them to get creative. The rest is up to them. This time, actor Jodie Comer is leaving her mark in the Bustle Booth.
Jodie Comer's work speaks for itself. The British actor made a huge impact in BBC America's thriller series Thirteen in 2016, which left viewers hoping for a second season. Now playing Elizabeth "Lizzie" of York in The White Princess, Comer has only solidified how awesome of a performer she is. The Starz miniseries, which is based on Philippa Gregory's novel of the same name, focuses on Elizabeth of York, as she gets married to Henry VII and gives birth to infamous Tudor King Henry VIII.
The actor grew up in Liverpool, England — home of The Beatles and birthplace of Sex And The City's Kim Cattrall. Comer's role models include Diane Keaton and Dame Helen Mirren, so she clearly has impeccable taste.
Comer stepped into the Bustle Booth to answer a few fun questions, and her "super power" is incredibly relatable.