In The Bustle Booth With Melora Hardin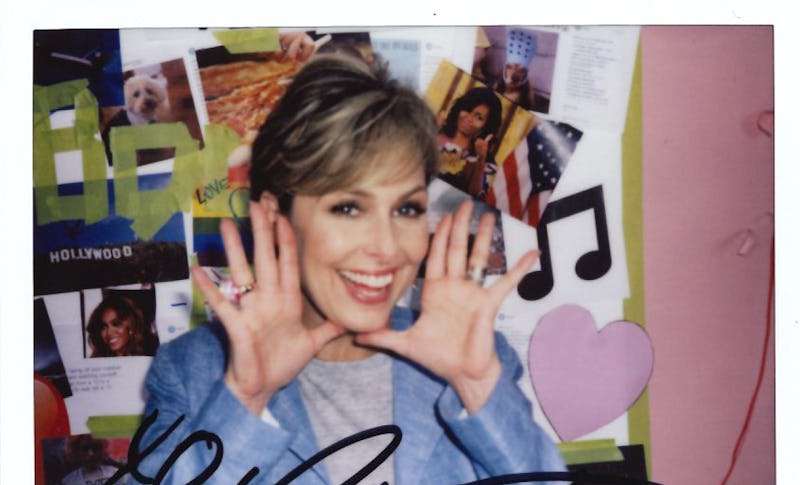 Sepp Dasbach/Bustle
When celebrities come into Bustle HQ in New York, whether it's for a photoshoot, videoshoot, or a Facebook Live, we want to give them the chance to leave their mark. Literally. So we hand them a pen, a piece of paper, a few questions, and ask them to get creative. The rest is up to them. This time, The Bold Type actor Melora Hardin is leaving her mark in the Bustle Booth.
Every good story about the inner workings of a news publication or magazine needs its glamorous, intimidating-yet-inspiring editor in chief. The Devil Wears Prada had Miranda Priestly; Supergirl had Cat Grant. But Freeform's The Bold Type really takes the cake with Jacqueline, who can mentor an employee on the importance of political "woke-ness" while using a standing desk elliptical in stilettos, all without breaking stride.
The Bold Type fans might recognize actor Hardin from her various other TV roles, especially as Michael Scott's on-again off-again boss/lover Jan Levinson on The Office. She also appeared in Monk flashbacks as the dearly departed Trudy Monk, and in 2015, she was nominated for her first Emmy Award for her recurring character, Tammy, in Amazon's Transparent. Plus, if you were a special kind of nerd growing up in the early '90s, you know she was the singer at the South Seas nightclub in The Rocketeer.
In real life, Hardin can be just as empowering and politically savvy as her on-screen counterpart, as she revealed when she stepped into the Bustle Booth to answer some personal questions. Although, her answer to her coffee order may shock anyone who relies on caffeine to get through the day let alone start a revolution.