In The Bustle Booth With Rent The Runway CEO & Co-Founder Jennifer Hyman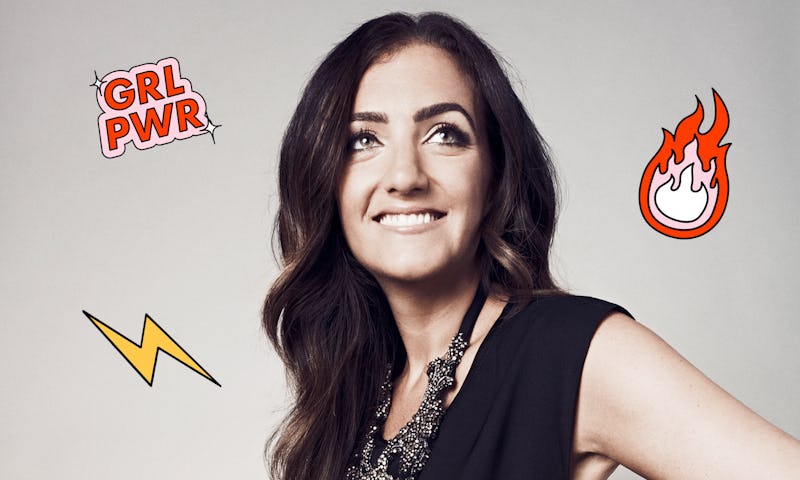 Photo: Courtesy of Jennifer Hyman; Design: Allison Gore/Bustle.
When influential women hang out with Bustle editors, we want to give them the chance to leave their mark. Literally. So we hand them a pen, a piece of paper, a few questions, and ask them to get creative. The rest is up to them. In this special edition, we partnered with JPMorgan Chase to showcase women on the move in their careers — who are finding success on their own terms. Here, Jennifer Hyman, CEO and Co-Founder of Rent the Runway, leaves her mark in the Bustle Booth.
In the startup world, an organization's funding often depends on an entrepreneur's elevator pitch — or the brief, persuasive speech founders use to spark interest in their company. But Jennifer Hyman took a different approach.
Armed with the knowledge that just two percent of venture capitalist investment dollars go to female founders, Hyman knew that to make a lasting impression, she couldn't just sell an idea. She had to sell a dream.
So when it came to her own elevator pitch, Hyman didn't just describe the inner workings of a clothing rental company. Instead, she explained how Rent the Runway would improve women's lives.
"I presented a picture of the world we could live in, where customers would have a subscription to fashion with virtual closets in the cloud, and be able to access any designer products they wanted," Hyman said. "I had to be really bold about a vision that didn't exist nine years ago, but show the reasons, trends, and data that supported why it could exist in the future."
Today, Hyman's innovative vision as become a reality. Rent the Runway employs over 1,200 individuals and has grown from an e-commerce company to one with brick-and-mortar retail locations in select cities including New York, Chicago, and Los Angeles.
At a recent JPMorgan Chase Women on the Move event — organized to share ideas on how to best support women's career development — Hyman encouraged women with big ideas not to be overly cautious by caveating yourself, and believe in the power of your dreams. "You can make something happen by just being confident that it will happen."
Read on to learn a bit more about this true trailblazer:
This article is brought to you by JPMorgan Chase.