The 'Incredibles 2' Credits Feature A Few Sneaky Details To Look Out For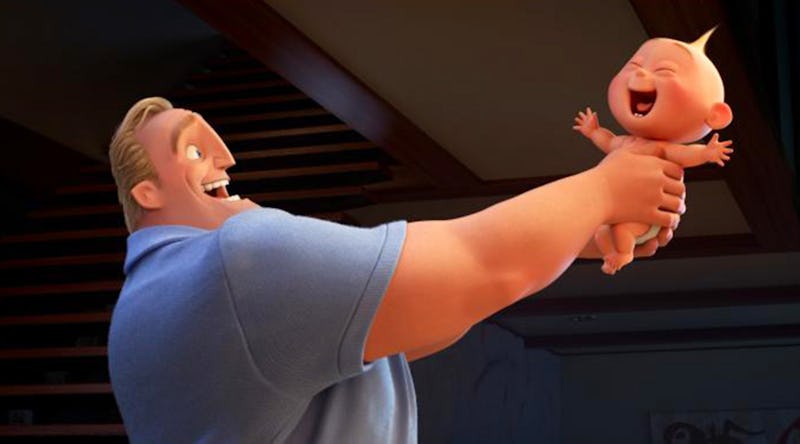 Pixar Animation Studios
The long-awaited Incredibles 2 has finally arrived, continuing three months after the beloved 2004 Pixar film. This sequel focuses Elastigirl, with DevTech tycoon Winston Deavor using her as the face of a publicity stunt to bring back superheroes after they're made illegal. In the process, Elastigirl encounters a mysterious villain called the Screenslaver and it's up to the Parr family to join forces fighting evil. Fans who have been waiting for this sequel since their first time watching the Pixar classic are left wanting more, but sadly, there's no Incredibles 2 post-credit scene to leave them with something extra.
There are a few fun things to look out for when the credits roll, though, including a shout-out to the movie's "production babies" (aka all the kids born to people who worked on Incredibles 2 while the film was made), a nod to Usher (who voices a character), and as a more serious dedication to Bud Luckey, a Pixar animator who passed away in February.
Yet, as said, there's no post-credit scene. That's not totally out of character for a Pixar movie; the studio tends to prefer shorts airing before their features rather than post-credits scenes added afterwards. The few post-credits scenes that Pixar has put in its movies have typically been blooper or humor-based, as done with A Bug's Life, Monster's Inc., Toy Story 2, and Cars. These scenes are meant solely to add humor, rather than expand the story like Disney-affiliated Marvel Cinematic Universe films tend to do.
The exception was Toy Story 3, which features an ending that shows what happens to the toys in their new homes. It's a particularly touching conclusion to the Toy Story anthology, showing how happy Woody and his best friends are in their new home, complete with a musical montage featuring a Spanish version of "You've Got a Friend In Me" as Buzz and Jessie show off their flamenco dance moves. Even though Pixar eventually decided to continue the story by making a fourth movie coming out sometime in 2019, this still offered closure to Andy's journey with his toys. It showed that although it might've been heartbreaking to see Andy give Woody and the rest away, it was for the best.
As such, the lack of post-credits scene for Incredibles 2 means the movie doesn't have closure, and it increases the speculation of whether there will be a third film down the line. Unfortunately, that doesn't mean there's actually an Incredibles 3 coming anytime soon, but that's not to say it'll never happen — and the lack of closure in the sequel means it's pretty likely. Still, Comic Book reports that during an IMAX and AMC Q&A about the film, director Brad Bird was asked if he's considering making a third film and jokingly answered, "Let's find the maternity ward and ask all the new mothers how they feel about the next kid! 'Come on, you can do it!'"
That's totally fair, considering how much time and effort was put into making this sequel. In a recent interview with IGN, Bird explained that it took 14 years to create Incredibles 2 mostly due to its story. The filmmaker wanted to create a sequel that felt true to the original story, making fans fall in love with the Parr family all over again.
"There's a saying in the business that I can't stand, where they go, 'if you don't make another one, you're leaving money on the table,'" said Bird. "It's like, money on the table is not what makes me get up in the morning; making something that people are gonna enjoy a hundred years from now, that's what gets me up. So if it were a cash grab, we would not have taken 14 years — it makes no financial sense to wait this long – it's purely [that] we had a story we wanted to tell."
Even though there's no post-credit scene in Incredibles 2, this means that Bird is instead focusing on bringing fans something much bigger and better than that — when the time is right. Given how much effort was put into creating the perfect sequel, fans can expect the potential third installment to continue the story of what happens long after everything seems to be solved in the Incredibles universe.