What 'The Incredibles 2' Director Has To Say About If There'll Be Another Sequel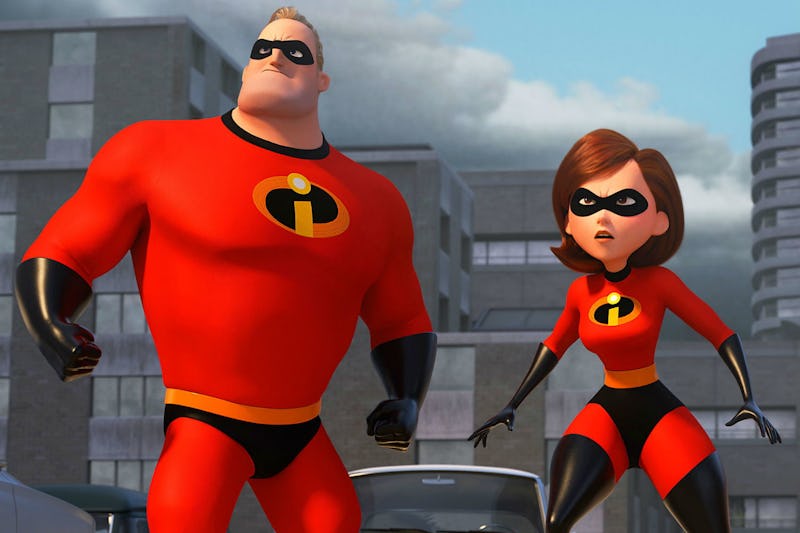 Pixar
When audiences around the world were first introduced to the super-powered Parr family in Pixar's The Incredibles, it was way back in 2004 — practically an eternity in pop culture times. 14 years later, we finally have Incredibles 2, but while fans are absolutely thrilled to get a sequel, we're also pretty frustrated it took this long for the film to get made So naturally, while everyone is keeping their fingers crossed that there will be Incredibles 3 at some point in the future, the main hope is just that it doesn't take another 14 years for the movie to arrive.
Yet when I speak to Incredibles 2 writer/director Brad Bird (who also made the first movie), he says he can't even think about the possibility of making a third Incredibles film — let alone give an idea for when it might potentially come out in theaters. "The worst time to talk about babies is when a mother's just delivered," says Bird with a big laugh, speaking at Pixar's San Francisco studio in April. "Right now it's like asking a person who's just ate a large, living room-size hamburger what they want for lunch. It's not a good time to talk about it."
Bird's apprehension to discuss a third Incredibles movie is understandable; after all, as he says, the long-awaited second film is just being released in theaters on June 15. The movie picks up directly following the ending of The Incredibles, with the Parr family — Mr. Incredible (Craig T. Nelson), Elastigirl (Holly Hunter), force field-wielding Violet (Sarah Vowell) and speedy Dash (Huck Milner) facing off against the evil Underminer. All of fans' most burning questions from the first film, from the Underminer's fate to whether Violet goes on that date with her high school crush, are answered in the sequel, and it's safe to say that most audiences will agree those 14 years were worth the wait.
That said, Bird is well aware that fans were seriously anxious for the sequel to arrive. Although the filmmaker first thought about making Incredibles 2 shortly after the first movie's release, it took years for that idea to become a reality.
"I'd been talking with Pixar for awhile about doing it... I knew that I wanted to do another one, I just didn't know when it would be," Bird explains. He kept ruminating on the idea, but as the years passed, other projects like Ratatouille and Mission: Impossible 4 took his attention, and suddenly, Bird and his fellow filmmakers found that more than a decade had passed since the original Incredibles. "It started to be like, I can't wait any longer or I'm gonna miss the opportunity. So there was a feeling of yeah, it might be too late — I didn't think it was too late, [but] I thought if I wait any longer it'll be too late," the director explains.
Luckily, Incredibles 2 came just in time; the fans who were just kids when the first movie came out are now adults thrilled to get a nostalgia-filled ride back to their youth. And in Bird's eyes, that transition from child to grown-up makes the new movie even more relatable to viewers.
"It's having icons for different moments in your life — I think everyone is at least one of these characters," the director explains. "We all have parents... we all have been the annoying little brother or the slightly embarrassed sister or the baby that is irrepressible or whatever. We've been the best friend."
"If you go through life, a lot of people have been in four or five of the characters' situations," he continues. "So I think there's a way to make people relate that gives us a little advantage over other superhero movies."
The Parr family may be special, but it turns out they really are just like us. And hey, we fans even have our own superpower: being able and willing to wait 14 years for Incredibles 2, and who knows how long for that potential third movie.