This Indian State Has Deemed Virginity Tests A "Punishable Offense"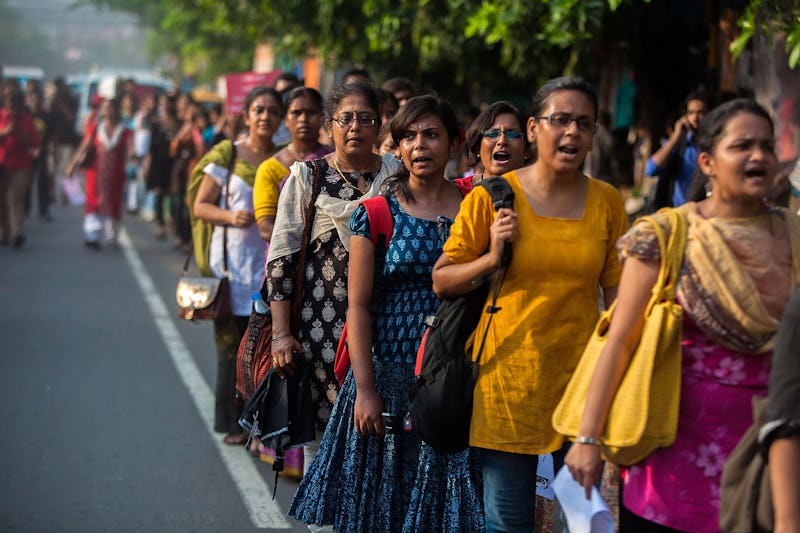 Nicky Loh/Getty Images News/Getty Images
Earlier this week, a state in western India finally prohibited the practice of requiring newly-married women to prove their virginity following months of protest. On Wednesday, the Indian state of Maharashtra banned virginity tests for new brides, and announced that the tests will be considered a form of sexual assault moving forward.
According to The Indian Express, a group of young activists from Maharashtra's once-nomadic Kanjarbhat community have maintained a Whatsapp group called "Stop the V-Ritual" in their efforts to protest their community's allegedly mandated virginity tests. The Times of India reported that virginity tests for newly-married women are allegedly still customary in the Kanjarbhat and multiple other communities in the region.
The "Stop the V-Ritual" group first garnered national attention in India in November 2017, when one of the group's members — 21-year-old Siddhant Dashrath Indrekar — filed a police complaint against their community's caste panchayat, or jury of elders. In the months after Indrekar filed the complaint, members of the group reported attacks either on themselves or on their vehicles. Some of the group's members were also allegedly assaulted at a wedding in the city of Pimpri last year, per Scroll.in.
The practice of requiring a woman to undergo a virginity test is hundreds of years old in certain Indian communities. In the Kanjarbhat community — which originated in the North Indian state of Rajasthan — a new bride is allegedly expected to bleed when she and her husband consummate their marriage, in order to prove her virginity. If she does not, her family may be expected to a pay a fine, VICE reported, and her new husband may demand an additional fee.
After numerous efforts by young activists to draw attention to this issue, the Maharashtra government is cracking down on the practice, with officials announcing this week that forcing a woman to undergo a virginity test will soon be "a punishable offense."
Priyanka Tamaichikar is one the activists who has been campaigning against the practice of implementing virginity tests. As one of the members of "Stop the V-Ritual," Tamaichikar told VICE that she grew up in a community where women were "slapped, kicked, punched and even hit by objects lying around at home" if they did not pass their virginity tests.
"One never knows the seriousness of the injuries because none of the victims will come ahead and speak up against it," Tamaichikar told VICE.
The "Stop the V-Ritual" group was founded by Tamaichikar's cousin, Vivek — whose wife, Aishwarya, was prohibited from participating in some community festivities last year after refusing to participate in a virginity test on the couple's wedding night. In fact, Vivek and Aishwarya — both of whom are part of the Kanjarbhat community, per The Indian Express — urged guests in their wedding invitations to join the fight against virginity tests.
Last week, ahead of Maharashtra's decision to ban the practice, National Commission for Women chairperson Rekha Sharma wrote a letter to Maharashtra's women and child welfare minister, describing virginity tests as "regressive, misogynistic and in violation of basic human rights and dignity." On Wednesday, Maharashtra's government appeared to take a more serious look at the matter, and ruled that the practice should not continue.