These Students Allegedly Caught Their Teacher Snorting Drugs In An Empty Classroom — On Camera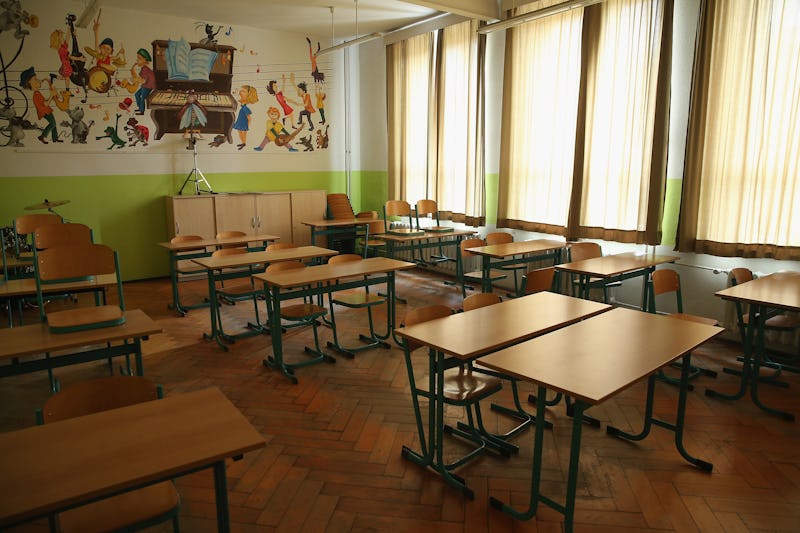 Sean Gallup/Getty Images News/Getty Images
Samantha Cox, an English teacher at Lake Central High School in St. John, Indiana, was arrested after students caught her allegedly snorting drugs in a classroom at the school — and claimed to have filmed it all on Snapchat. Cox, 24, allegedly admitted to using the drugs as seen in the video, according to the Chicago Tribune, and has officially been charged by the Lake County Sheriff's Department with a level six felony, possession of a controlled substance, and possession of drug paraphernalia, a Class C misdemeanor. Bustle reached out to Lake Central High School, but school officials have yet to respond to the request for comment. Bustle also reached out to Cox, but her school email address has been deactivated. We will update this article when we receive comment.
According to Chicago TV channel WGN, Will Rogers, a junior at Lake Central High School, alleges he noticed Cox "in the corner, hiding with a chair and a book and what appear[ed] to be cocaine, putting it into lines." He claims he noticed the door was locked, and began filming through the window in the door. Rogers told WGN, "When I actually watched the footage again and again and I just realized that my English teacher [allegedly] just did cocaine." In the Snapchat video, which has since gone viral on YouTube, Cox can be seen bending over in the right hand corner of her classroom.
After the group of students told school administrators about what they allegedly witnessed, the authorities were called. Igar, a K-9 officer, reportedly alerted police officers to the presence of drugs in Cox's desk, according to The Chicago Tribune. Court records state the law enforcement officers found "a clear tightly twisted bag with multiple small rolled up pieces of tin foil," as well as "a rolled up small piece of paper" the detectives believe Cox used to allegedly ingest the cocaine. After arresting Cox, police reportedly also searched her car and claim to have found additional drug paraphernalia, including a pipe.
Additionally, the court documents report Cox told police she had purchased $160 worth of "dope cocaine" earlier that morning, before classes started, Vice reports. Cox reportedly states in the court records her drug use began four years earlier, while a college student at Purdue University Northwest.
The Northwest Indiana Times reported Cox was hired by Lake Central in August 2016, after completing her student teaching requirements at the high school. The English teacher was well-liked by students, and was considered a popular teacher at the school. "It's a sad situation," Lake Central school district's superintendent, Larry Veracco, told the Northwest Indiana Times. "We are happy that we got her removed from the classroom very quickly after being tipped off by a student. But we are also concerned about her welfare, too. She seemed to be a very good teacher."
Though Veracco said "swift and forceful action was taken" by the school in regards to the situation, students and parents were still a bit shaken by the viral video. Shannon McGrath, a parent of a Lake Central High student, told WGN she was "grateful" that the school administration was fast-acting. Anthony Rios, a junior at Lake Central High School, added, "You're told as a child to listen to [teachers], respect them and stuff like that [...] But it's kinda hard to respect somebody who [allegedly] does cocaine in a classroom," WGN reported.
According to the Tribune, Veracco declined to comment on whether or not Cox had been fired by the school district, and declined to offer any further insight that could interrupt the ongoing investigation. Court records showed Cox posted a $945 bond, and no court dates have been set yet for the English teacher.