Instant Pot Says To Stop Using This Model Immediately After Reports Of Overheating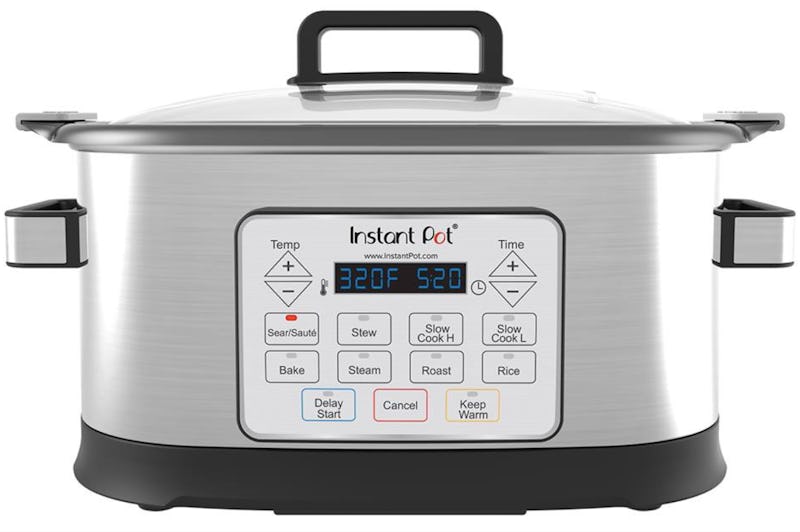 Instant Pot/Facebook
The Instant Cooker has long been a popular kitchen tool as a jack-of-all-trades for cooking — it can serve as a slow cooker or an electric cooker, can sauté meats and vegetables, cook rice, and even, supposedly, make yogurt. But people who have invested in the tool may want to check the model and the barcode on them today, because Instant Pot issued a recall on their Facebook page due to reports of overheating. The model in question is the Gem 65 8-in-1 Multicooker, which can be identified by its oval shape. Specifically, the company says they believe at this time that the only models affected by the recall are machines with the batch codes 1728, 1730, 1731, 1734, and 1746.
"We want you to know that we take any problem with our products extremely seriously as safety and quality are our primary concern, and we are working cooperatively with the US Consumer Product Safety Commission (CPSC)," reads the statement on Instant Pot's Facebook page. "We anticipate providing updated information and next steps regarding receiving a replacement Gem 65 8-in-1 Multicooker within the next few weeks."
Instant Pot advises that customers cease using the product immediately, and that if they have any questions to contact the customer care team at 1-800-828-7280 x2. At this time, Instant Pot hasn't issued any plans to refund customers for the product; they also have not yet clarified the degree or manner of "overheating" that the reports have experienced.
As CBS News reports, before comments were closed on the post, users claimed that it was not a "small number of reports" as Instant Pot indicated. One person wrote, "There are countless people who have been waiting MONTHS since receiving this message as an email," alleging that Instant Pot was aware of the problem before the Feb. 18 message.
"While we're glad that Instant Pot says it's working with the CPSC, and has given some limited guidance to consumers, the company should do more," said William Wallace, senior policy analyst for Consumers Union, to Consumer report. "It should pin down the problem, identify which products are affected, and clearly inform consumers about a remedy and what steps they should take to stay safe," he said. "If this turns out to be a safety defect, Instant Pot should call it one, and carry out a recall."
This post comes hot on the heels of yet another recent slow cooker controversy, courtesy of the popular television show This Is Us. An incident in the show involving a slow cooker — specifically a Crock-Pot — prompted Crock-Pot to go on the defensive. The night the episode aired, viewers tweeted en masse vowing to throw away their Crock-Pots; their public relations team replied to some users directly.
"... Don't further add to our heartbreak by no longer using Crock-Pot® Slow Cookers, rest assured our products have been generationally tested by your family and friends. DM us with any questions, and we'd be happy to tell you more about our safety standards!" wrote Crock-Pot in a tweet to a user (the first sentence of which isn't written here, as it involves spoilers for the show).
At one point, even the creator of the show came to Crock-Pot's defense, tweeting, "Taking a moment to remind everyone that it was a 20 year old fictional crockpot with an already funky switch? Let's not just lump all those lovely hardworking crockpots together."
For safety's sake, we should all remain aware of possible safety hazards in the home, and make an effort to check on any kind of device we leave on for long periods of time. In the meantime, if you own an Instant Pot, make sure to check the batch code today and keep up with Instant Pot's Facebook page for further instructions.