International Women's Day Fashion & Beauty Items That Give 100 Percent Of Proceeds To Charity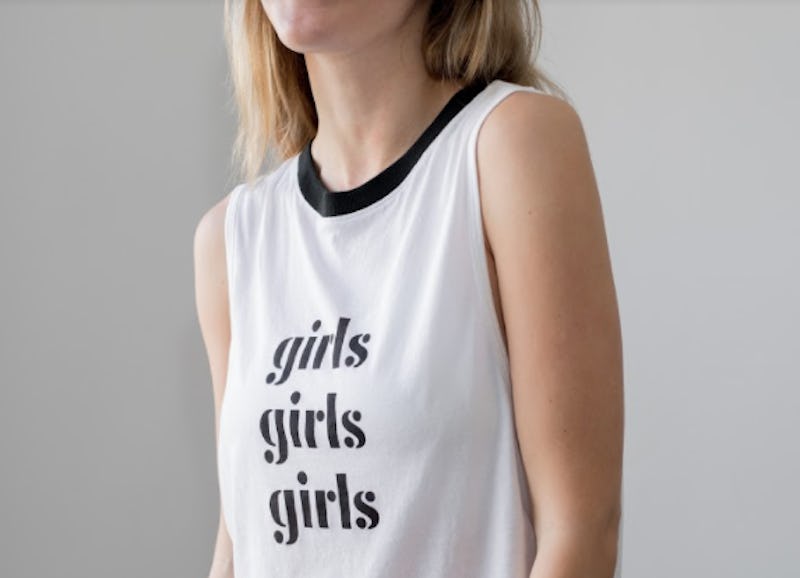 Girls Inc.
International Women's Day is all about celebrating the strong women surrounding us and those that came before us. While there are tons of different ways to celebrate the holiday, one foolproof way is to support organizations that are here to help women. There are fashion and beauty items that donate all proceeds to charity for International Women's Day, so you can look good and feel great about giving back.
What you buy has the power to change lives. Not just the items, but the people who make it, company that creates it, and beyond. These brands are stretching their dollar even further by adding charities into the mix. With each purchase of these fashion and beauty items, all of the proceeds will go to charity.
Giving a monetary donation is good, but getting a little reward for doing so is also pretty great. Whether you're looking to stock up on beauty items, fashion finds, or just give a little back, these brands are giving in a big way. Not to mention that you'll be spreading a little girl power every single time you wear or use the item.
While there are some brands who are giving some proceeds of products to charity, this list is filled with the ones who are giving all proceeds back. Where you give your money is important every day of the year, and these brands are making it a little easier to know where your money is going this International Women's Day.
Mark your calendars for March 8 and get your wallets ready, because these are items that you won't want to miss out on.
1. Akola
Annette Hoop Earring, $25, Akola
This is one brand that you can feel good about shopping no matter what day of the year it is. Akola has a 100 percent business model, which means that every single penny ensures that "women can meet the basic needs of their families" in Dallas, Texas and Uganda.
2. Stella & Bow
You might remember these bracelets from last year's International Women's Day. The products sold so well that Stella & Bow decided to keep selling them and giving back to Planned Parenthood.
"I wanted to create something fun that people would want to buy and wear," says Stella & Bow founder Lauren Brokaw. "When I saw how well the bracelets did (and how nothing within the government has changed) I decided I wanted to continue making them so I could continue to donate to Planned Parenthood. "
3. Function Of Beauty
This company allows you to personalize your perfect shampoo and conditioner by taking a simple quiz, picking your perfect scent, color, and size. On March 8, you can choose to donate all proceeds from your purchase to Breast Cancer Research Foundation, No More, and Step Up.
4. Lunya x Girls Inc.
Lunya x Girls Inc., $88, Lunya
This custom muscle tee is created in support of Girls Inc. — an organization that to empowers girls in high poverty areas by keeping them excited about school and optimistic about their future. All proceeds from the tee will be donated to charity on IWD and beyond.
5. Skylar Body
Arrow Perfume, $78, Skylar Body
On March 8, 100 percent of pre-order proceeds for the new scent will go to Step Up, a non-profit organization dedicated to helping underprivileged girls succeed.
6. La Ligne
La Ligne x Cleo Wade AccountabilitEE, $35, La Ligne
This AccountabiliTEE will go live on March 8 and continue to sell throughout the month. Every single penny from this purchase will go towards Time's Up, an initiative founded by women in entertainment for women everywhere, to fight systemic inequality and injustice in the workplace.
7. Aday
The sustainable fashion brand is launching limited edition postcards on International Women's Day and 100 percent of the proceeds will go to the Malala Fund — the organization works in regions where the most girls miss out on secondary education.
8. Rituals
For one day only, the vitamin subscription service will donate all proceeds of ever subscription to Girl Who Code — a nonprofit organization that aims to support and increase the number of women in computer science.
9. Aerie
Aerie x Yara Shahidi City Sweatshirt, $44.95, Aerie
You'll be able to purchase the entire #AerieREAL Role Model Collection on March 8 online and at the flagship store while supplies last. All proceeds from the clothing designed by Aly Raisman, Yara Shahidi, Rachel Platten, and Iskra Lawrence with all proceeds going to each individual charity Darkness To Light, Innocence Project, I Am That Girl, and National Eating Disorders Association (NEDA).
10. SoulCycle
SoulCycle Tank, $48
This tank is only available in-studio starting on Mar. 8. All proceeds going to StepUp — a charity propelling girls from under-resourced communities to fulfill their potential by empowering them to become confident, college-bound, career-focused and ready to join the next generation of professional women.
11. Eileen Fisher
The Future Is Female Tank, $98
This top say "The Future Is Female" written in morse code. The shirt goes live on Mar. 8, and all proceeds from the $98 purchase will go towards Ignite, an organization that's building a movement and empowering young women to become tomorrow's leaders.
12. Urban Decay
Outspoken Vice Lipstick, $18
On Mar. 8, Urban Decay is launching this limited edition Outspoken Vice Lipstick in honor of International Women's Day. The entire $18 will go towards The Ultraviolet Edge — the brand's in-house charity. You can shop the shade on the UD website or at Sephora, Ulta Beauty, and select Macy's stores.
13. Olivia von Halle
Explicit Silk Pajamas, $650, Olivia Von Halle
This pajama collection is filled with sets and sleep masks all embroidered with some of the most iconic women's march sayings. All the profits made will be donated to Bloody Good Period — a charitable organization that gives menstrual supplies to asylum seekers, refugees & those who cannot afford them.
14. The Little Market
Fair Trade Reusable Girl Power Bag, $10, The Little Market
This brand gives back to women each and every day. The non-profit brand supports female artisans with every single penny. This particular Girl Power Bag supports female workers in Corr Jute in Bangladesh.