Hailey Baldwin's Cousin Ireland Truly Believes The Model & Justin Bieber Are Soulmates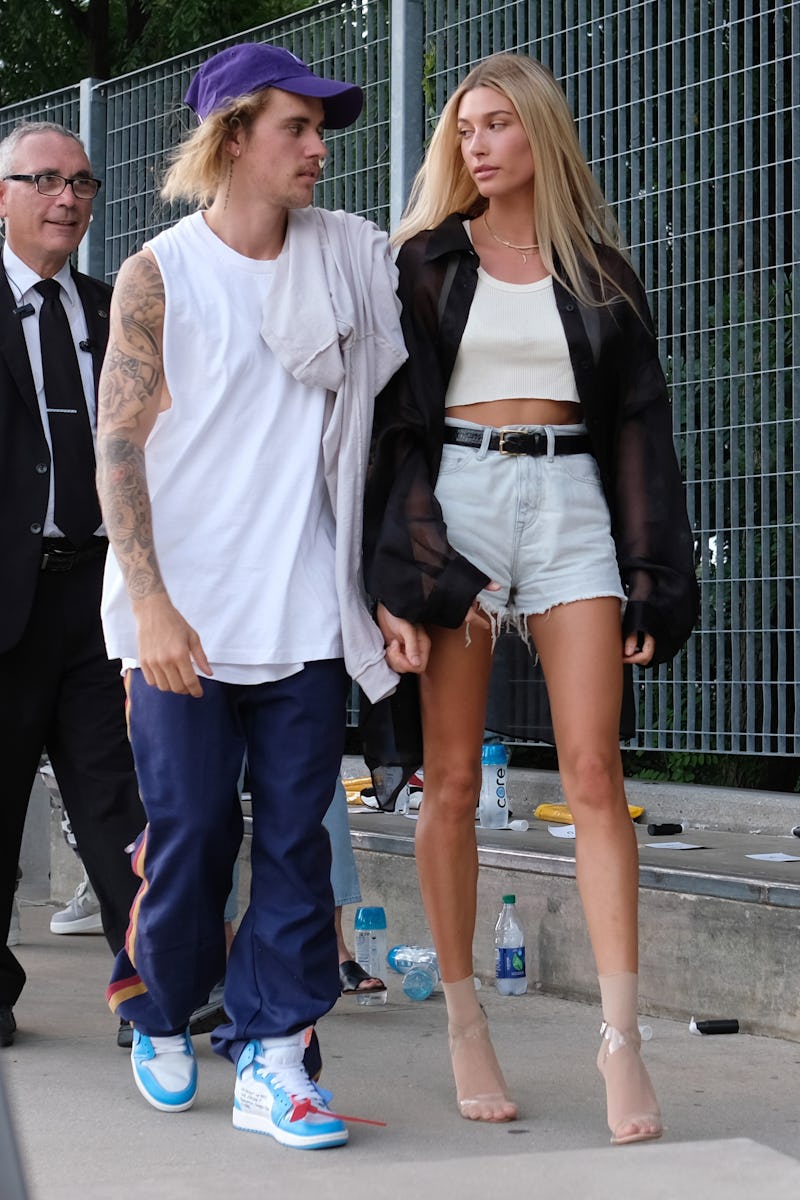 Nicholas Hunt/Getty Images Entertainment/Getty Images
To the public it may seem like Justin Bieber and Hailey Baldwin have had a whirlwind romance, but Hailey's cousin Ireland Baldwin has a different view on the relationship. Ireland Baldwin thinks Justin Bieber and Hailey Baldwin are soulmates and that their engagement has been a "long time coming." In a recent interview with Entertainment Tonight, Ireland shared her thoughts on the famous couple.
Ireland declared, "It was meant to be a long time ago." If anyone is going to have accurate insight on this relationship, it does make a lot of sense that it would be Hailey's own cousin. In that same interview, Ireland said, "It was just a long time coming, and we're all like, 'Alright, thank god, let's move forward.'" The July engagement may have been a surprise to the fans, but apparently the duo's friends and family felt otherwise, especially Ireland.
Based on her comments, Ireland firmly believes her cousin and the "Sorry" singer have "proved" that they are soulmates. She also remarked that the two of them have endured "a lot of trial and error as individuals and together." Even so, she really kept the conversation positive and remarked,
"They're so in love and they really do a lot of good for each other, and that's the most important thing for me, that he makes her so happy."
This ET interview is not the only time that Ireland has given the relationship her stamp of approval. On July 9, Ireland shared an incredibly adorable throwback photo on Instagram of herself, Hailey, and Hailey's older sister Alaia Baldwin Aronow wearing swimsuits and playing with toys together in a bathtub.
Ireland even referenced Bieber's 2009 hit song "One Less Lonely Girl" in the caption. She wrote, "There's gunna be one less lonely girl... and only one lonely girl left. my other chicken is soon to be a beautiful bride. congratulations to the two of you @haileybaldwin @justinbieber."
Her post was the perfect way to congratulate her husband and future cousin-in-law (if that's a thing?), because Hailey and Ireland caught Bieber fever long before Hailey started dating the pop star.
In October 2012, the Baldwin girls attended one of Bieber's concerts together. Hailey posted the photo to Instagram and wrote, "Taking in Bieber." Now the two Baldwins are taking Bieber into their family.
Even though the cousins were huge fans of Bieber and his music, Hailey seemed to be the one who was paying closest attention to the singer. In a July 2014 tweet, Hailey corrected Ireland's incorrect spelling of Bieber's last name. Hopefully Ireland knows how to spell it now. She's probably seen the word "Bieber" a million times since then, and it's going to become her own cousin's last name. That means she has to have the spelling down. Right?!
Getting into a relationship with one of the most-talked-about singers on the planet comes with a lot of speculation from the Beliebers, the media, and even some haters. Luckily Hailey has her cousin Ireland to support the relationship and set the record straight when needed. Now if only Ireland shared some wedding details with the public, that would be everything, or at least it would be to the fans. Hailey and the Biebs would probably prefer the privacy.