Kylie Jenner Teased A Concealer & It Looks Pigmented As Hell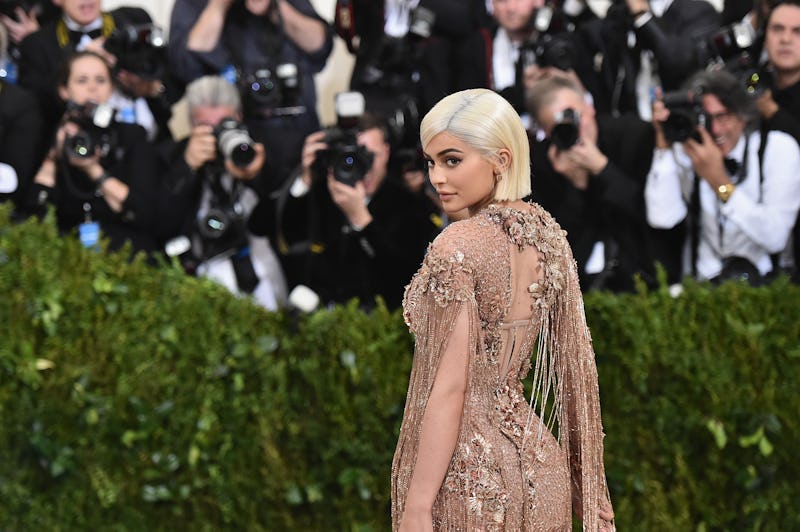 Mike Coppola/Getty Images Entertainment/Getty Images
On the heels of KKW Beauty announcing its Ultra Light Beam Collection, Kylie Jenner may have just teased Kardashian-Jenner fans with another new beauty product. A Kylie Cosmetics concealer seems to be on the way — and like always, Jenner took to her social media to give an ultra-coy tease about the potential new product.
On Tuesday, the Kylie Cosmetics mogul and Life of Kylie star took to her Snapchat to showcase how she uses her holiday collection palettes. While seeing how Jenner uses her own products is always a cool sight for fans, it wasn't the biggest news from her social media that day.
After applying her eyeshadow, Jenner next applied concealer under her eye. While that seems totally normal and perfectly innocuous, she accompanied the short clip with two bulging eyes and a smiley face — emojis she had not been using on her previous posts and seemed suspicious. It was pretty clear that the Kylie Cosmetics creator was teasing a potential new product, and it's been a long time coming.
In fact, Jenner has been discussing foundations and concealers since 2016. In a video posted to her app in honor of her birthday last year, Jenner revealed that her hope for Kylie Cosmetics was to release concealers along with several other products. Now, she just may be doing it.
This actually isn't the first tease that Jenner has given. Back when she initially gave fans a tease about the Kylie Cosmetics 2017 Holiday Collection, she also explained that there would be a "traditional" collection and then a "Drop Two" of products that are brand new to Kylie Cosmetics. In the Snapchat video, Jenner also said she was wearing one of the new products. Based on the video, she doesn't seem to be wearing anything other than complexion products.
Fans immediately latched on to the tease, and the idea of "koncealer" has taken over Jenner's Twitter fandom.
The fans also seem to think that the concealer is part of the alleged "Drop Two" of the Holiday line. In the original tease, she explained that the second edition of the would be coming the following month. Now that it's almost December, will Jenner's concealer teases be ramping up?
Fans are definitely curious if this product is truly from Kylie Cosmetics.
They're definitely making guesses online.
Meanwhile, others are already getting stoked for the potential new Kylie Cosmetics product.
Since Jenner posted the Snapchat video, there have been zero new clues about whether or not the tease was legitimate. However, it wouldn't be out of line for the reality star to expand her range. She's been growing Kylie Cosmetics since it's inception back in 2015.
Jenner's brand all started with just three lip kits. Now, Kylie Cosmetics has grown to include eyeshadow (aka KyShadow), loose pigment and pressed highlighters, blushes, bronzers, glosses, and velvet and creme formula lippies. Essentially, Jenner has conquered everything except complexion and brows. But it wasn't brows that she appeared to tease on her Snapchat, now was it?
Of course, there's no way to know whether or not Jenner was simply being coy or was actually giving her fans inside information. However, while this is all conjecture, it wouldn't be out of character for the brand owner. Not only does she commonly tease products before their debut, but she's been steadily expanding her brand over time. Introducing a complexion product certainly seems like a logical next step.
If you love the brand and want to get your hand on a Kylie Cosmetics concealer, keep your eyes peeled to social media because it just may be coming soon.