This New AMC Series Takes A Terrifying Look At The Mob & Is Based On An All-Too-Real Book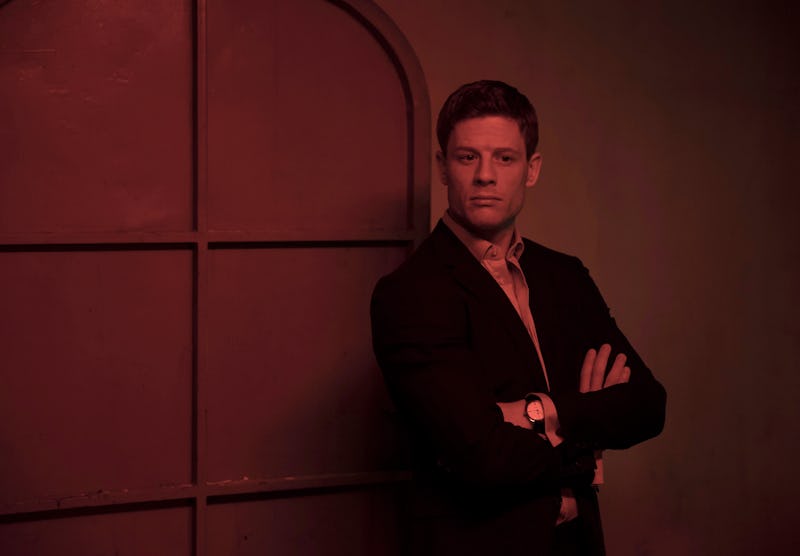 Nikola Predovic/Cuba Pictures/CPL Godman/AMC
Despite the silly name, the premise of AMC's new series McMafia covers some serious territory. Based on the nonfiction book of the same name, the eight-episode Season 1 follows Alex Godman as he enters the organized crime world of his Russian family. Because of the origin of the TV series, people may wonder if Alex Godman in McMafia is a real person, but this character was created strictly for television. Alex isn't a featured crime boss in the book, so the drama miniseries takes liberties with its source material. But the creation of this fictional character is all in an effort to tell the truths about the international nature of today's mafia. So while Alex Godman isn't real, his story in McMafia is apparently a familiar tale when it comes to the mob.
Like The Night Manager before it, McMafia is a British series based on a book that has made its way across the pond courtesy of AMC. But unlike The Night Manager, which was adapted from a John le Carré spy novel, McMafia's origins are not fictional. Journalist Misha Glenny published McMafia: A Journey Through The Global Criminal Underworld in 2008 and the book reports on the global expansion of organized crime. For the TV series, Alex Godman's story is a fictionalized look at how the Russian mafia's powers have grown internationally with the British-raised banker Alex getting sucked into his Russian family's illegal business ventures.
Radio Times interviewed McMafia writer and co-creator Hossein Amini, who explained how the book didn't provide a storyline for the TV series to follow. But because "the tone of [the book] was so authentic," he thought it would make for a fascinating TV series. "Alex doesn't exist in the book. Literally none of the characters are real," Amini said. "But I thought it was just such an exciting canvas. Some books give you great characters, and it's easy to invent scenes. This gave you a great world, so it was very easy to invent a story around it."
James Norton, who portrays Alex, also spoke to Radio Times about the show's source material and how the characters will emotionally move viewers. "We have a storyline that looks into human trafficking and the sex trade. You read endless articles in this book, but to see a specific example is so much more powerful and heartbreaking," Norton said. Beyond the horrific crime of human trafficking, Alex's transition to the dark side will also help to humanize the story.
Book author Glenny worked on McMafia as an executive producer and said in an AMC interview that it's fairly rare for a nonfiction book to be adapted into a fictional TV series, so he was thrilled for the opportunity. He said that he worked with co-creators Amini and James Watkins on "how we could maintain the authenticity of the world of the book and at the same time, develop it through a compelling narrative story."
Although Alex is pure fiction, Glenny noted that other characters — like Alex's father Dmitri — are composites of real people he covered in his book. "Most of the characters have some reference to the book, but essentially they're composite because we don't want them to be identified with specific people," Glenn said. He also noted that most of the crimes depicted in the TV series are based on real crimes he learned about during his research — even if not all them were featured in his book.
Regardless of his fake origins, Alex Godman gives a personal perspective on how the mafia can span generations and countries. And the idea that the mafia has kind of become an international franchise — à la McDonald's — is where the title of McMafia comes from, USA Today reported. So while Alex's journey to organized crime isn't based on any one person's story, author Glenny wants viewers to realize that he represents a very real world.