Alicia Keys Just Got A SUPER '90s Haircut That You'll Want To Copy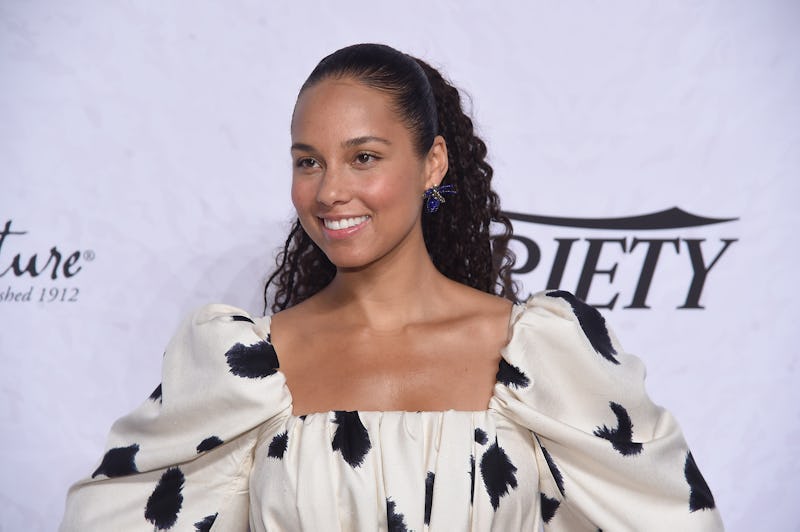 Jamie McCarthy/Getty Images Entertainment/Getty Images
Even though the '90s were nearly 30 years ago, the trends from the decade are still alive and well. Step into any store and you will find high waisted pants, acid wash jeans, fanny packs, and bucket hats — and now hairstyles are having their moment, too. Alicia Keys just got a '90s-inspired bob, and you will feel so nostalgic over the voluminous and short crop.
The 15-time Grammy award winner previously had chest-long hair that she kept in tight curls, in cornrows, or slicked back into tight buns, but recently she debuted a brand new hair transformation on Instagram. Trading in her length, she chopped off her locks into a short bob that grazed her cheekbones. But this doesn't feel like a throwback to the Gilded Age, where the bob is slick and sharp like a flapper's hairstyle. Her particular look is more voluminous and blowed out, creating a healthy swing with lots of body. It looks just like the short bobs that were popular during the peak hip hop and grunge era, making you think of color blocked windbreakers and spaghetti strap slip dresses.
She posted the photo without much context, leaving her fans wondering if the look was real or not. Standing in a light pink, structured bralette, she's posing in a wash of pink and blue lights.
There is no caption and no hairstylist tagged, which could possibly mean it was a campaign or editorial photo that she personally liked and wanted to share. Either way, her soft, bouncy bob is a major transformation from her usual hair aesthetic.
And that doesn't only pertain to the length. Since the picture is back-lit by saturated hues, at first glance it might look like her hair is flooded by the red light, but it looks like she actually colored it instead. Keys usually has black hair, but it appears that she changed it to a dramatic, vivid red, adding more drama to the transformation.
Keys is known for her au natural beauty aesthetic, when in 2016 she penned an article for Lenny Letter explaining why she chose to stop wearing makeup. In it she revealed that she felt like she was putting on makeup for the wrong reasons — because she felt like she didn't look beautiful without it, and that people would judge her bare face. Releasing herself from her palettes and contours was a way for her to reset her self-confidence and begin to explore an aesthetic that made her feel happy.
Since then, she has swung from all sorts of looks, putting on cosmetics when she felt like it or wanted to glam up, and now her hair is following in the same varied path. The fluffy bob is very different from what she usually sports — in both color and style — but she looks amazing and retro in it.
Since she hasn't tagged any stylists or added any new photos to her account or Instagram Stories since the photo reveal on Thursday, there's no way of telling whether the style is a permanent one or just a look she tried on for fun for an afternoon. Either way, one can bet that Keys just inspired a whole new slew of salon appointments that are going to be bringing the '90s back.