Amanda's Relationship Status After 'BiP' Is Probably A Good Thing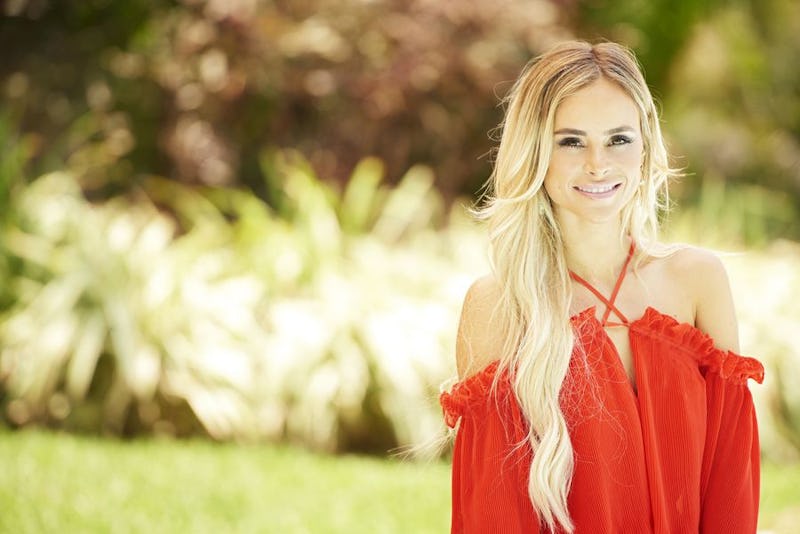 Bob D'Amico/ABC
Bachelor in Paradise Season 4 has been such a whirlwind, it's hard to believe that it's already coming to a close. Between addressing the production shutdown scandal and the usual drama of the show, the episodes have been pretty action packed week after week. But even though filming was way shorter than usual, some of the cast members managed to find love, and on Monday night, we'll get to find out who's still in relationships after leaving the beach. And speaking of relationships, Amanda Stanton seemed to have a really good thing going with Robby Hayes. So is Amanda single after Bachelor In Paradise, or is she still with Robby?
Even though they were so into each other on the show (or at least, they seemed to be) they've decided to call it quits. It doesn't sound like Amanda is with anyone at all right now, and definitely not a certain former Bachelorette contestant. Although it's impossible to tell whether or not they'd split when the finale's after show was filmed until it airs on Monday night, recently, she revealed that she and Robby have gone their separate ways.
Last week, while talking to Us Weekly at a Bachelor Nation party, Amanda officially broke the bad news, keeping it simple and to the point, without sharing any details about what might have happened between them. "Robby and I are not together," she told the magazine. "I'm not really sure how Robby's handled the situation."
So Amanda 100 percent isn't dating Robby anymore, and according to her Instagram account, it doesn't seem like she's dating anyone else, either. When she's in a relationship, she tends to share lots of couple-y shots (anyone remember the endless photos of Josh Murray while that was still happening?) but that's the opposite of what she's been posting lately. Instead, her Instagram is filled with pics of her by herself or with her adorable daughters. It seems like there isn't a special guy in her life right now — at least, not one she's willing to share with her fans and followers just yet.
If Amanda is single right now, it's probably a good thing. For the last couple of years, she's spent most of her time in very serious relationships, from being engaged to Josh Murray after last year's edition of Bachelor in Paradise and their dramatic breakup, to then, Robby. It seems like she could probably use some time to chill out without having to worry about a boyfriend. Her life seems so full without one, anyway — she seems to have a solid group of friends from her time on The Bachelor, and it looks like she always has a blast with her daughters, too. Single or taken, it's clear that Amanda is going to be just fine.
Besides, it's not like she's going to have a hard time when she decides to date again. Just from her time on The Bachelor and Bachelor in Paradise, Amanda has made it obvious that she's a total catch. Whoever she eventually ends up with is going to be a lucky guy. And it sounds like she's not going to meet him with the help of Chris Harrison, because she told People, "I'm done with all the Bachelor shows."
Now that we know she's likely unattached for now, it's time to wait and see what happens on the BiP finale. Will she and Robby go through a heart wrenching breakup? Will there be tons of bitterness on the after show, or will we see them still in loving couple mode? The answer to those questions (and probably more) are on the way.