Andrew Garfield's Appearance At The 2018 Golden Globes Isn't Guaranteed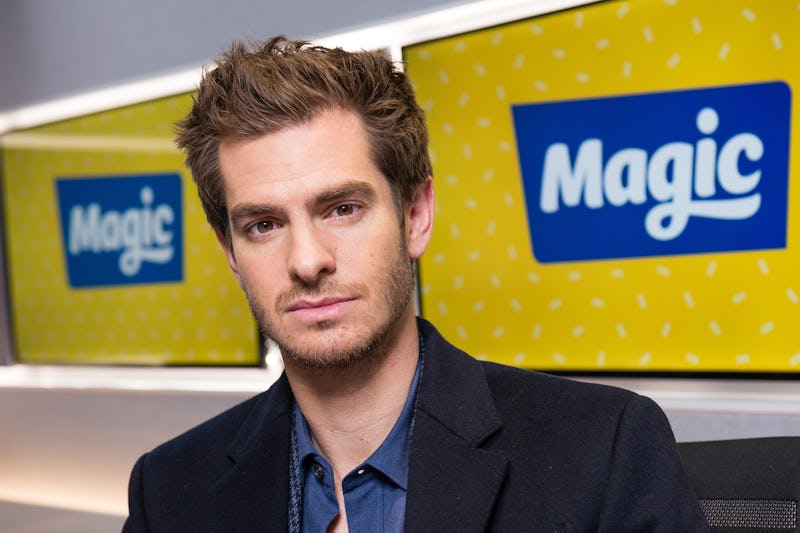 Jeff Spicer/Getty Images Entertainment/Getty Images
Andrew Garfield, the lanky gent from The Amazing Spider-Man and The Social Network, has lived the quiet life since his breakup from longtime girlfriend Emma Stone. That's why people are wondering if Andrew Garfield is at the 2018 Golden Globes. He hasn't appeared in too many recent projects, but the actor is a certified part of the Hollywood A-List. Garfield has dual American and British citizenships, so there wouldn't be any strange travel requirements in his way. But do the 2018 Golden Globes require Garfield's presence, and, if so, is he bringing a date?
After starring in big-budget Hollywood films like Hacksaw Ridge, Garfield stayed in London for the majority of 2017. For the first half of the year, he was on stage in "the 25th anniversary revival of Angels in America at the National Theatre," according to People. Of course, that was coming directly off of awards season, where he made appearances at the 2017 Golden Globes, the Academy Awards, and more to support his films. But despite the busy way that he started this year, it actually would make sense if Garfield chose not to attend the 2018 Golden Globes. In fact, there are a couple of reasons why that might happen.
Garfield can be difficult to keep tabs on when he's not making official appearances; the actor does not use any form of social media, and he's famously camera-shy too. At the moment, it hasn't been announced that he's presenting at the 2018 Golden Globes, and, without a project to promote or a partner to support (as far as fans know, of course), he'd likely welcome the opportunity to stay home. As a result, it's safe to assume that no Garfield appearance will be necessary at the 2018 Golden Globes, and the actor is probably not in attendance. It's a shame, really; the Globes are the only award show where alcohol is served, and it would be delightful to watch Garfield cut loose.
After a robust awards season circuit, the actor spent most of 2017 on stage in London. Fans shouldn't worry, though, as his next two projects are films, so there's no transatlantic travel required to see those. First up is Breathe, which stars Claire Foy from The Crown and Hugh Bonneville from Downton Abbey. After that, it's Under the Silver Lake, about which little is known other than its absolutely fire cast. He won't be able to dodge the press next year — another reason it makes sense that Andrew Garfield is not at the 2018 Golden Globes. He needs a vacation from the spotlight.
If Garfield attends the 2018 Golden Globes, though, he will be easy to spot. He's tall and gawky, in a sweet way; his gentle manner and reluctance to be photographed makes him stand out on a red carpet. Garfield may pose for a few photographs, but, without a performance in a film or a television show to plug, photographers wouldn't spend too much time on him. He won't be obligated to do interviews, either.
In short: Garfield's appearance at the 2018 Golden Globes would be surprising, if it occurs. And, if it doesn't, that's honestly OK. He's had a busy few years running the awards season gauntlet, and the years between promoting his Oscar-nominated films were spent starring in a Disney-Marvel franchise. Let the actor watch this year's ceremonies from home, with a blanket and a nice cup of tea. He's earned it. Oh, and if Andrew Garfield is at the 2018 Golden Globes, and he does come as a certain ex-girlfriend's date, he should be prepared for the Internet to freak out accordingly.