This 'Riverdale' Theory Suggests Yet *Another* Main Character Is Secretly A Blossom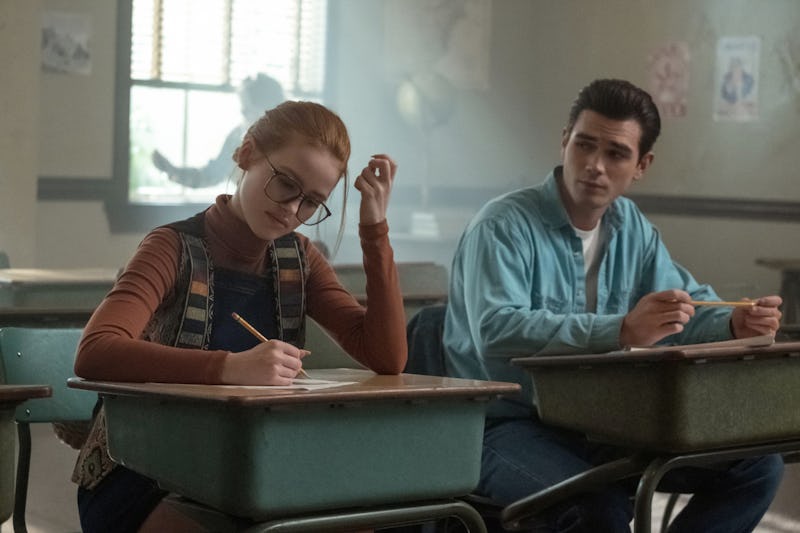 Katie Yu/The CW
On Nov. 7, Riverdale will finally air its much-anticipated flashback episode, offering a peek at what the town's parents were like in high school. Hopefully, it will provide a few answers about what's going on with Griffins & Gargoyles in the present, but a small detail in the previews already has funs buzzing. Could it be possible that Archie Andrews is actually a Blossom?!
The Riverdale flashback episode will feature the main teen cast playing younger versions of their parents, meaning that Archie's actor, KJ Apa, will become Fred Andrews, Cole Sprouse will portray Jughead's father FP Jones (Skeet Ulrich), and so on. Madelaine Petsch, who plays Cheryl Blossom on the show, will be taking on the part of her mother, Penelope, during the episode — but some viewers are convinced that won't be her only role.
As Buzzfeed pointed out, teaser pictures for the episode seem to suggest Petsch is playing two different characters. One of these characters is clearly Penelope, with her slick glasses and confident gaze, but some pictures of Petsch show her wearing a very un-Penelope hairstyle, different glasses, and a less glamorous wardrobe. This could hint Petsch won't only be playing Penelope during the episode, but perhaps Archie's mother, Mary Andrews, as well.
That alone doesn't prove that Mary Andrews is a Blossom, but it is incredibly suggestive. If each actor is meant to represent earlier generations of that character, having Petsch play Mary (portrayed as an adult by Molly Ringwald) is a pretty deliberate choice. Besides, the defining trait of the Blossoms is their red hair, and Ringwald is one of the most famous redheads of all time. This may have even been planned from the beginning, as eagle-eyed Reddit user franlcie noticed that in the season premiere of Season 2, Mary is seen sitting with other Blossoms during Archie's fantasy of getting married to Veronica. Perhaps deep down in his mind, Archie knows that he's related to the Blossoms — where else would his iconic red hair come from?
You may be thinking "hasn't Riverdale already pulled the 'this person is actually a Blossom' trick before?" and you'd be absolutely right. It was revealed at the end of Season 1 that Betty is of Blossom blood, which is why the romantic relationship between her sister Polly and Jason Blossom was frowned upon. If Archie is, in fact, half Blossom, then it means he's kissed at least two people he's technically related to — Betty and Cheryl. Gross!
At this rate, by the time the series comes to an end there will be more characters who are extended members of the Blossom family than characters who aren't, and they'll all have kissed each other without knowing they share DNA. The revelation that Archie is secretly a Blossom would be one of Riverdale's biggest twists yet — and this is a show that has revealed two character's fathers to be murderers. The truth won't be known until "The Midnight Club" airs on Nov. 7.