This 'Riverdale' Season 3 News Will Make Falice Fans So Excited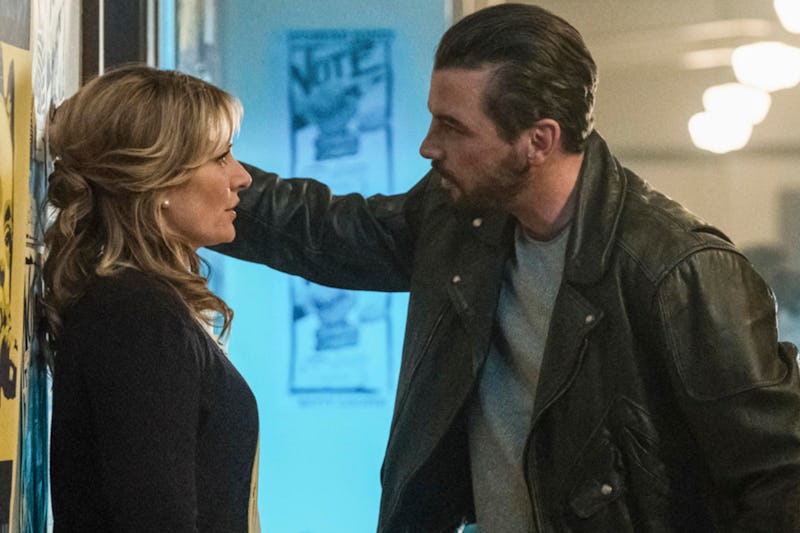 CW
Next season, the parents of Riverdale are going to get even more screen time — sort of. At their San Diego Comic-Con panel this past weekend, showrunner Roberto Aguirre-Sacasa revealed that Riverdale Season 3 will include a flashback episode that will hopefully take a closer look at the relationship between FP Jones (Skeet Ulrich) and Alice Cooper (Mädchen Amick). Yes, this very special episode, which is slated to run early in the season kicking off October 10, might prove once and for all that, as Amick said during a Facebook Live Comic-Con interview, "Falice is the original Bughead."
According to The Wrap, Aguirre-Sacasa said that the flashback episode will focus on the parents' teenage years with their kids playing them. This means that FP will be played by Jughead, his onscreen son Cole Sprouse, while Alice will be played by Lili Reinhart, better known as her daughter Betty. Clearly, this is going to be a fun one for everyone, including the show's stars.
But, Ulrich and Amick will also get a chance to act out their romance on screen, too. Aguirre-Sacasa said that Episode 3 will delve deeper into how FP and Alice's budding relationship is affecting their children's current relationship. For those who are nervous about how exploring FP and Alice's high school relationship will effect Jughead and Betty's love life, know that the stars of the show are torn, too.
During a Facebook Live session with the Riverdale cast from Comic-Con, a fan asked that very question only to have Sprouse say "it makes it incest," while Luke Perry, who plays Archie's dad Fred Andrews, said it makes "double-dating easy." But, Amick totally disagreed with Sprouse and let him know it. "It does not! They're not blood!" she shouted. "They're the original Bughead; just get over it."
Last year, Aguirre-Sacasa told TVGuide that "both Madchen and Skeet, I think, would love" if FP and Alice became official. "But I'd be lying if I'd say it was all smooth sailing ahead," he added.
Don't worry too much about Bughead, though. During an interview with Entertainment Tonight from Comic-Con, Reinhart said that Betty and Jughead are going strong in the beginning of Season 3. Betty is even ready to become a Serpent Queen alongside her king, Jughead, and the two are falling back into a groove. "Betty and Jughead are back to being the investigative sleuths they were in Season 1," Reinhart said. "They're back to their old selves again, which is kind of fun to see."
Sprouse agreed. "Actually, it's looking like it's going to be pretty good for Bughead this season so far," he told ET. "[It's] pretty constant, pretty nice," adding, "They haven't broken up yet."
While Bughead might be all good, at least for now, two new characters in Season 3 might put a damper on Falice's future. Aguirre-Sacasa said that Jughead's mom, Gladys, and sister Jellybean will make their first appearance in either Episode 8 or 9. "There are definitely going to be some speed bumps along the way," Ulrich told TooFab at Comic-Con.
As of now, there's no word on who will play Jughead's mom, but here's to hoping Riverdale continues it's run of casting former '80s and '90s teen stars for the role. Ulrich even suggested in an interview with TooFab that his Scream co-star Neve Campbell should join Riverdale as his ex-wife. On a recent episode of Watch What Happens Live! Campbell seemed interested in knowing more about the Riverdale role, she just has to watch the show first. "I heard about this a week ago, I haven't seen the show and it's funny that Skeet hasn't called me, he's got my number," she said. "I gotta see it, my friends are like, 'We love that show.'"
From what has been revealed about Season 3, it seems Riverdale is getting even more mature by putting more focus on the parents who have some secrets of their own. Let's expect things to get hot and heavy as they always seem to do in this town and maybe for Falice to become fans very Riverdale couple to ship.