Why Bill Hader Actually Hated Being On 'Saturday Night Live'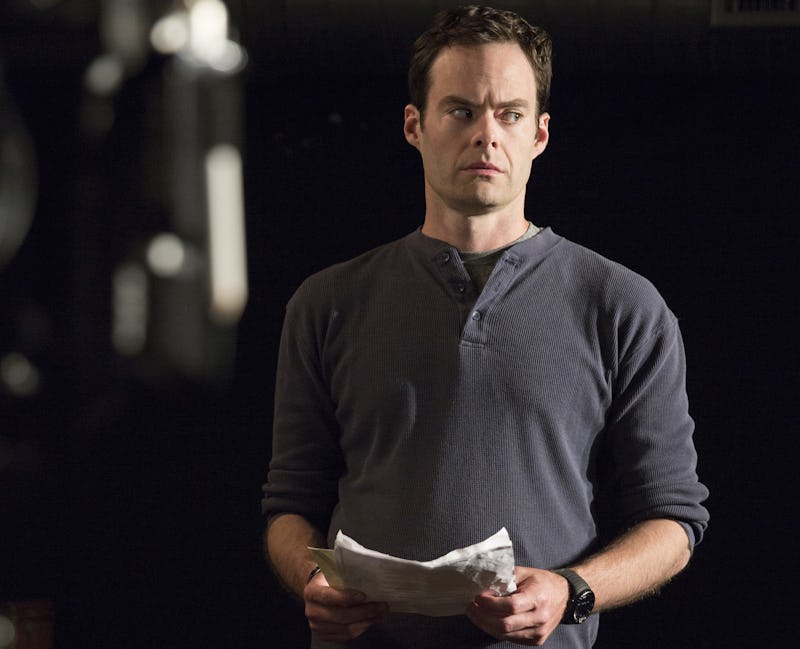 Michele K. Short/HBO
It has been five years since Bill Hader made weekly appearances on TV on Saturday Night Live. And if you have been missing seeing his face on a regular basis, then you'll need to tune into his new HBO show, Barry, when it premieres on March 25. Bill Hader's Barry isn't based on a real person, but the show and character were inspired by the comedian's feelings when he was on Saturday Night Live. And while the inspiration is somewhat dark, perhaps it's comforting to know that there isn't a professional assassin who's crash acting classes out there in the world.
Barry comes from the minds of Hader and Alec Berg, who has worked behind the scenes on Seinfeld, Curb Your Enthusiasm, and Silicon Valley. But it's Hader's experiences that gave life to the character. As he told GQ, Hader had stage fright during his eight years as a cast member on Saturday Night Live. By his stellar comedic performances, you'd have no idea that he was hyperventilating before taking the stage, but Hader said he needed to see a therapist and start meditating to help him deal with his anxiety. "I love the people there, but doing that show was really hard for me. It was this funny thing of being trapped by this thing that was hurting you," Hader said. "It was becoming really detrimental for my performing."
Knowing this, it's interesting to reflect on the fact that Hader just returned to the SNL stage as host a week before Barry premiered. But it's also fitting since he used those mental health struggles to create Barry — a skilled hitman with no passion for killing, who discovers he loves acting when he goes to one of his mark's acting classes. Hader obviously enjoys his real-life career since acting is a turning point for his character, but while Hader dealt with anxiety due to live performances, Barry craves to be on stage — even if he's pretty terrible at it.
"When Bill was on Saturday Night Live, he was incredibly stressed out by the work," Berg told The Hollywood Reporter. "He was like, 'I'm a sketch actor and a comedian and this is the place to be if you're one of those' ... but at the same time, it was really stressful for him and it was hard. I thought that was a very interesting idea, somebody who has a gift for something and feels they have to honor that gift, but they're not deriving a huge amount of pleasure from it."
Berg and Hader also spoke to The A.V. Club about how they came up with Barry during meetings at a diner. Hader was the one to pitch that Barry would be a former marine who just happens to be excellent at murdering people. "What if the thing you were good at was destroying you?" Hader said. "It's a guy who kills people learning to have a life and trying to have a full life and get in touch with himself through a dumb acting class."
And even though Hader is a professional actor, he and Berg went to acting classes in Los Angeles to make sure the scenes of Barry's class, led by Henry Winkler's Gene Cousineau, were accurate. So Barry's main profession of assassin might be a little out there, but his acting attempts are very much based in reality.
While this revelation about Hader's experience on SNL will make you feel for the performer, it also led him to create this dark character on a TV format that's better suited for him. (Berg told GQ that the pacing of scripted television with multiple takes is "the perfect way of working for him.") And unlike Barry, who is despondent about his hitman career, at least Hader clearly wants to keep doing the craft that he's tremendously good at.