Why Ben Button Might Still Have A Key Role To Play In The 'Riverdale' Universe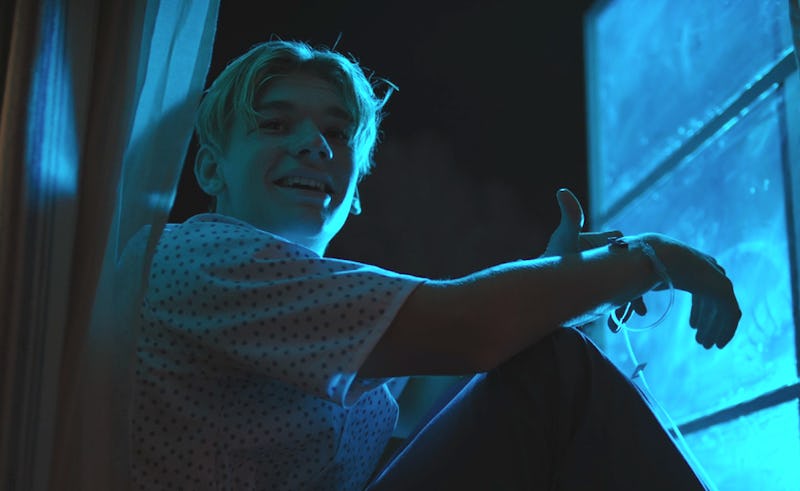 Screengrab via Netflix
Riverdale fans should know by now that nothing in the idyllic titular town is ever quite what it seems. When "Chic" showed up in Season 2 claiming to be Alice and Hal's (actually J.P.'s) long-lost love child, only to turn out to be a fake and morally questionable killer, it seemed like the suspicious story of missing baby Charles had drawn to an unsatisfying close. But now, some fans have suspected that Charles Cooper might have been hiding in plain sight this whole time. Is Ben actually Charles Cooper? Spoilers ahead for Riverdale Season 3 and The Chilling Adventures of Sabrina Season 1.
In Season 3, you probably remember Ben (Moses Thiessen) as Ethel's Gryphons & Gargoyles beau, the one who jumped out of the hospital window to his death in order to (supposedly) be with Dilton and the Gargoyle King. Season 3 might have been the first time fans noticed Ben, but he's actually been in the background of Riverdale this whole time. He appeared three times in Seasons 1 and 2: as one of Miss Grundy's piano students, as a worker at the drive-in, and as the boy who drops by the Cooper house to visit "Chic." One Twitter user, quoted by Cosmopolitan Australia, seemed to think that Ben was actually the one who told Chic to pose as Charles Cooper (i.e., himself) in the first place.
You have to admit, it's not the most far-fetched theory ever written. Clearly, Ben and Chic knew each other somehow. Even though Ben said that he was interviewing Chic for a job at the Bijou Drive-In, have you ever heard of a house call job interview for a part-time job?
Yet another piece of evidence comes from Riverdale creator Roberto Aguirre-Sacasa, who dropped a hint to ET Online back in February 2018 that Ben was actually an important Easter egg in the series. "I can tell you that he is going to continue popping up," the writer and producer teased. "We feel like every time he pops up, he's an Easter egg for people because some people notice him and some people don't."
Aguirre-Sacasa added, "There is a resonance as to why he keeps popping up, but stay tuned. There will be more sightings."
Uhh... that seems like it's going to be a little difficult to pull off, what with poor Ben being presumed dead and all. Up until now, Riverdale has never been a town that contained anything supernatural, so bringing back a boy from the dead seems like it's entirely out of the question. Even if Ben had been Betty's brother, it looks like it's too late for that to matter now.
Instead, it seems more likely that Aguirre-Sacasa might have been referring to something else. Riverdale's sister series, The Chilling Adventures of Sabrina, premiered on Netflix on Oct. 26. Aguirre-Sacasa is also the showrunner of that series, and basically ever since the show was announced, fans have been wishing for a crossover event. While an official Riverdale/Sabrina crossover might not be on the immediate horizon, there was one very big Riverdale Easter egg in Sabrina Season 1: Ben Button appeared delivering pizza not once, but twice: first to the Halloween party at Ros's house, then to Ms. Wardwell's, where she presumably seduced and/or ate him.
So... wait a minute then. Did Ben die on Riverdale? Or on Sabrina? Did he even die at all? Cosmo decided to go right to actor Moses Thiessen and see if he could reveal any further clues about what's really going on with the mysterious Ben Button.
Thiessen admitted that he did suspect that Ben was going to die in both episodes, but that the writers didn't reveal anything to him for certain. "I honestly don't even really know what's going to happen with Ben now, especially now that he's in Sabrina," he said. "They like to leave it a mystery, even with me."
Going off what Aguirre-Sacasa said about the importance of the Ben "sightings," it does seem more likely that the producer was referring to the Easter eggs in Sabrina, rather than a long-winded fan theory about Ben being the real Charles Cooper. Still, given that Riverdale and Greendale are two towns filled with witches and gargoyles and plenty of unanswered questions, I wouldn't count any possibilities out just yet.