Peter Krause Treads New Territory In Ryan Murphy's Latest Show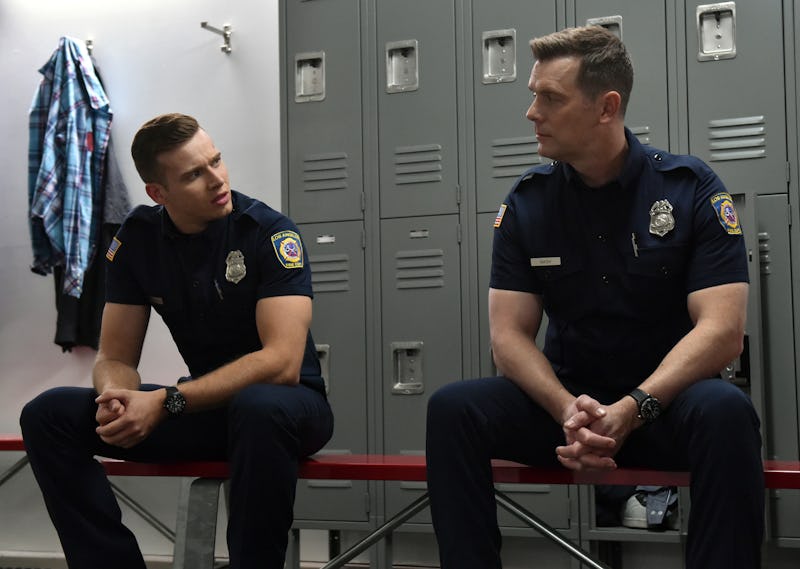 FOX
Fans of Parenthood, Six Feet Under, and The Catch rejoice — Peter Krause is again taking over your screens, this time as a first responder in Ryan Murphy's new FOX drama 9-1-1. Krause will join the ranks of Connie Britton and Angela Bassett, both veterans of Murphy projects, for the project, which explores the personal and professional lives of firefighters, paramedics, and police officers. It seems as though it's definitely a more realistic premise than some others Murphy has taken on — so, is Peter Krause's 9-1-1 character a real person?
For now, there's no indication that Murphy based these characters on any real-life inspiration, though he's certainly no stranger to adapting historical figures into good TV drama — he did just that with his FX hit Feud. Instead, Emmy-winner Krause plays Bobby Nash, a fictional firefighter who works alongside dispatcher Britton and police detective Bassett to handle some intense emergency situations. The interesting thing about Krause's role here is that he's the only top-billed actor on the project to not have previously worked with Murphy in a major capacity. Bassett and Britton are both alums of American Horror Story, perhaps Murphy's most notable work, though they never shared screen time. Britton also appeared in American Crime Story: The People vs. O.J. Simpson.
That's one thing that's distinct about Murphy as a creator and as a showrunner — he tends to cultivate a group of his favorite actors, and stick with them throughout many of his projects. Sarah Paulson is perhaps one of the most notable of these actors, having roles throughout all seasons of American Horror Story, nabbing a Golden Globe for her role as Marcia Clarkson in American Crime Story, and guesting in Feud: Betty and Joan. This could be a wonderful sign for Krause fans (like me) who are dying to see him in even more compelling roles than he's already taken on in his impressive career. Murphy definitely makes a habit of keeping certain actors close, and Krause would be an awesome addition to the cohort.
It seems that Krause has wanted to get away from his (mostly) squeaky clean image that he cultivated in recent years with Parenthood. Adam Braverman was often the moral compass of the show. He had his faults, but ultimately they were always forgivable. Though his character in 9-1-1 still seems to be a good guy, he battles alcoholism — something that's revealed in just a few short minutes in one of the first trailers for the show, seen above. It isn't the first time Krause has moved to put Adam Braverman in his past — he starred as a con man in The Catch after Parenthood wrapped, and it was definitely a starkly different and much more scandalous experience. "[The Catch] is not necessarily wholesome entertainment to watch with your kids," Krause told Good Morning America. "I spent a lot more time with my clothes off than I thought I would, but I wanted to do something very different from Parenthood and this certainly is."
9-1-1 joins the ranks of some existing shows with similar premises. There's certainly no shortage of dramas documenting firefighters and police officers. Television powerhouse Shonda Rhimes even has a Grey's Anatomy spinoff revolving around firefighters in the works — though perhaps the plight of 911 dispatchers is a less explored one. In any case, 9-1-1 will have to hold its own against some new competition as well as mainstays like Law & Order and Chicago Fire and P.D. But if Murphy's past projects and the obvious talent of Krause, Bassett, and Britton are any indication, 9-1-1 has the potential to stand on its own two feet, even in a crowded TV genre.