What 'Real Housewives' Fans Need To Know About Kyle Richards' Mom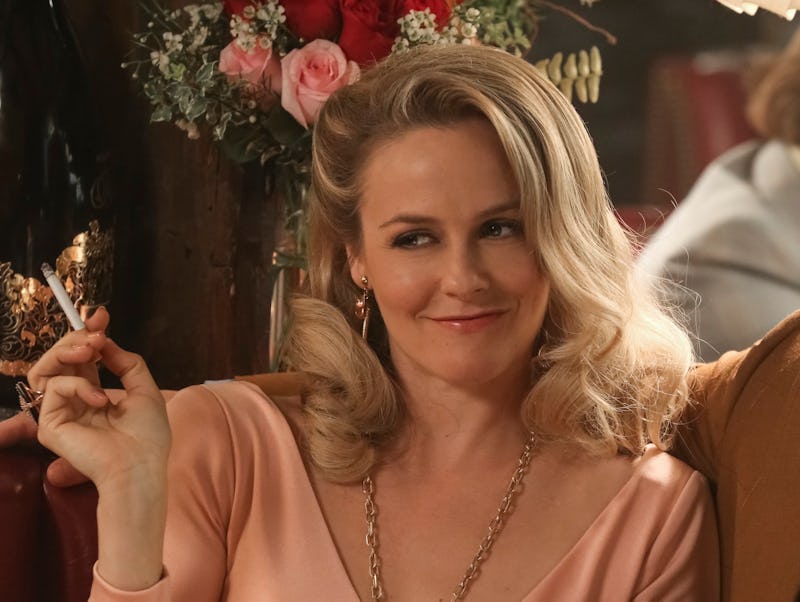 Paramount Network
Any fan of The Real Housewives Of Beverly Hills is more than familiar with Alicia Silverstone's new TV series American Woman. But if you aren't up on Bravo's reality TV franchise, you may not know that Silverstone's Bonnie on American Woman is based on a real person. Kyle Richards is a co-executive producer of the show and the Real Housewife star based the series on her childhood. Bonnie Nolan is a stand-in for Richards' mom Kathleen Richards (also known as Big Kathy). On The Real Housewives and in interviews, Richards has made it clear that American Woman is not strictly autobiographical. Yet, when the series premieres on Paramount Network on June 7, you'll still get insight into what it was like for Richards to grow up with an independent mom in Los Angeles during the 1970s.
While promoting the show on Megyn Kelly TODAY, Richards said that American Woman is a "love letter" to her mom. "My mom was a very strong, outspoken woman and in that time, women weren't supposed to be like that," Richards said. "Now it's like, 'boss lady' — that's a term now. But in the '70s, if you were strong and opinionated and outspoken, it was looked down upon. And my mom was that woman — very strong."
Big Kathy is the matriarch of the famous family that includes Richards, her sister Kim, and their older half-sister Kathy Hilton. Jerry Oppenheimer wrote in his book House Of Hilton that "Little Kathy" is from their mother's first marriage. Kathy Hilton is also the mother of Paris and Nicky Hilton, so that means Bonnie is based on Paris Hilton's grandmother. All three of Big Kathy's daughters were child actors and their mom served as their manager. "I did not have a conventional life growing up — at all," Richards said on Megyn Kelly. "In addition to being a child actor, it was just a very different upbringing."
The Beverly Hills Courier reported that Big Kathy died in March 2002 from breast cancer. And, as shown on The Real Housewives, Richards using her real mom as inspiration for American Woman has caused a rift between her and her sisters. During the Season 8 reunion, Richards said that she hadn't spoken to Kathy in six months. On Watch What Happens Live With Andy Cohen on May 23, Richards gave an update that Kim and she are fine now, but the same can't be said of Kathy and her. On Megyn Kelly, Richards said about Kathy, "We're sisters, we love each other. She hasn't seen the show, so I'm excited for her to see it. It is inspired by [our childhood], it's not autobiographical, so she'll see that."
Richards has outlined some of the differences between their real mother and Bonnie on American Woman. For instance, she noted on The Real Housewives reunion that, "There's two sisters on the show, not three." And in an interview with Variety, Richards cited one specific scene from American Woman that never happened. "My mom never took her jewelry to a pawn shop," Richards said. "She would have probably rather starved!"
But the premise of American Woman is very much based on her mom. In the first episode, Bonnie leaves her husband and must learn how to keep up her lavish lifestyle while being a single mom. (People reported that Big Kathy and Ken Richards split in 1972.) Richards said on Megyn Kelly. "At that time, my mom was all of a sudden suddenly single. She didn't know about money or what they had — she didn't even have a checkbook. So when I was actually 10 years old ... she opened a checking account for me because she wanted me to take control and learn from a young age how to look after myself because she didn't like finding herself in that position in the '70s," Richards said. "It's not easy being a single mom, whether you're in the '70s or today."
"My mom was a very strong woman and she was an amazing mother because she loved her kids so much, but she was very flawed," USA Today reported that Richards said at the Television Critics Association press tour in January. "But you never forgot how much you were loved and I think that's very apparent in the character Bonnie."
As for the actor who portrays Bonnie, Silverstone discussed the real-life inspiration behind her character to Entertainment Weekly. "A lot of the stories that you'll see are things that happened to Kyle Richards and her mother, but a lot of it isn't; it's taking dramatic license," Silverstone said. "My character is inspired by Kyle Richards' mother, but she's also inspired by our creator John Riggi's mom. Like any art form, it then became about everybody's mom. John Wells, the producer, it's about his mom, and I used my mom as inspiration. Bonnie is this collective [mother]."
Even if you don't follow The Real Housewives drama, Silverstone's words prove that Bonnie in American Woman is much more than Richards' mom. And you can follow this fierce character in 1970s Beverly Hills when American Woman premieres on June 7 at 10 p.m. ET.