Britney Spears Just Posted A Super Cryptic Tweet & Fans Think New Music Is On The Way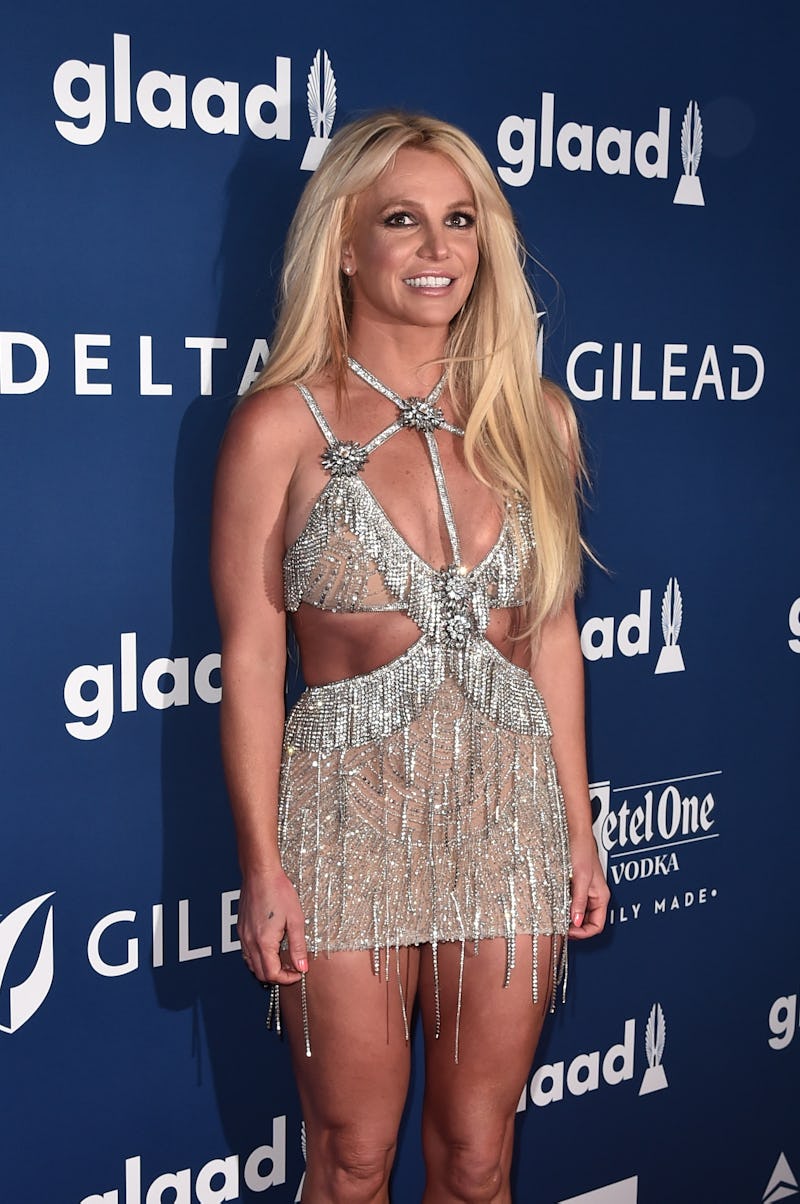 Alberto E. Rodriguez/Getty Images Entertainment/Getty Images
On the heels of the announcement of her second Las Vegas residency, Britney Spears hinted that she's releasing new music and her fans couldn't be more excited. On Wednesday Nov. 7, the 36-year-old singer posted a cryptic message on Twitter which simply shared, "You think you now me? Think again.," leading many to believe that Spears may have a new project on the horizon. It is unclear what the phrase means exactly or whether it is the title or line from a song, or, perhaps, something to do with a new album title. Either way, it goes without saying that a new project from Spears would be pretty exciting.
If she does, in fact, have a new album on the way, it would become her tenth studio project to date and be the first release since her 2016 album, Glory. Heavy notes that Spears hasn't dropped anything new over the past two years and went on to suggest that Spears' probable upcoming project is likely to feature a song with Pitbull since the two recently toured together. The outlet notes that Pitbull frequently collabs with his tour mates and points out that he's released subsequent music with both Enrique Iglesias and Kesha after being on the road with them.
Lending more to this notion is the fact that the Miami-born rapper teased about new music featuring both Spears and Marc Anthony back in June while doing an interview with KTU 103.5 FM, according to AXS. While there hasn't yet been a released date revealed for the song, anything featuring Pitbull, Spears and Anthony is sure to be a hit and will be a great addition to Spears' hopeful new album — should it make the cut.
As one of the best selling musical artists of all time, Spears has sold over 100 million records worldwide and remains one of the most highly sought after performers more than two decades into her career. A new album would certainly help to add to that monumental success and it seems that her fans are totally here for it. Although the basis of her social media message remains unclear, fans who were left to decode exactly what the two sentences meant are all but certain that Spears is on the brink of releasing new music any day now.
The new music hint comes just weeks after the 20th anniversary celebration of Spears' debut single "...Baby One More Time" and wrap of her Britney Spears: Pieces of Me Tour on October 21. The entertainer also recently broke records by becoming the highest paid performer in Vegas with the revelation that she will be returning for a new residency which kicks off in 2019. People reveals that she will reportedly be pulling in $507,000 for each performance during her Britney Spears: Domination stint. Domination is the follow-up to Spears' hugely successful Piece of Me residency, which began in 2013 and ended on New Year's Eve in 2017.
Spears appears to be in the thick of rehearsing for the new gig, recently sharing footage her new dancers on social media. Donning a cropped top and shorts, Spears led the group of performers as they learned the routine to her 2013 hit, "Scream and Shout." Along with the video, Entertainment Tonight notes that she shared the caption: "Teachin' the new boys some new moves at auditions #BritneyDomination"
Another clip showed the group dancing around the "Oops... I Did It Again" entertainer with the caption, "Who do you think is going to make the cut for my new show?! #BritneyDomination"
With a new residency and possible new project on the way, it sounds like Britney Spears is gearing up for a major musical comeback. As one of the biggest pop stars in the world, it goes without saying that anything she releases is going to be a major success.