How Amy Adam's 'Sharp Objects' Character Fills A Serious Representation Gap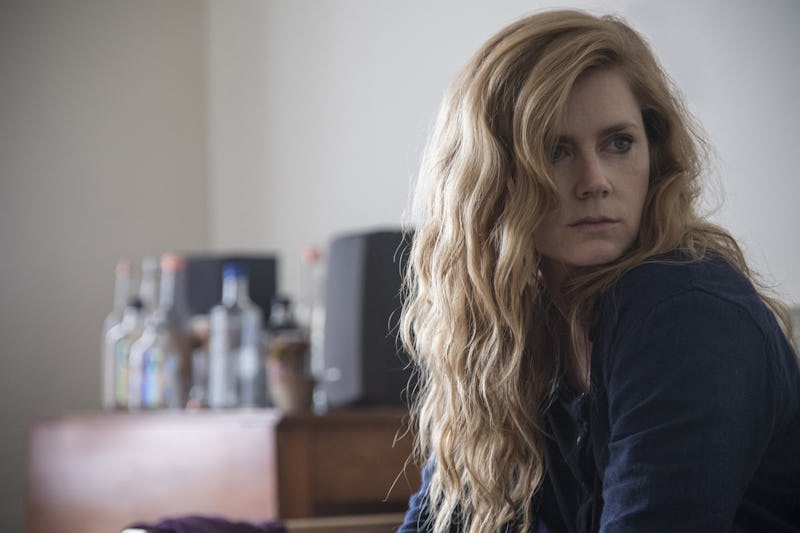 Anne Marie Fox/HBO
While beloved shows like Game of Thrones and Big Little Lies won't be back on the air until 2019, HBO is doing everything it can to provide viewers with their next new obsession. Enter Sharp Objects, premiering on July 8. Based on Gillian Flynn's novel of the same name, this eight-part limited series tells the story of crime reporter Camille Preaker (Amy Adams) who returns to her hometown of Wind Gap, Missouri to investigate the murders of two young girls. But is Camille from Sharp Objects based on a real person or is she simply a figment of the Gone Girl author's imagination? It's a question fans of the new HBO series will definitely find themselves asking and for good reason.
Judging by the Sharp Objects trailer alone, Camille will serve as an intriguing and very complicated character, who is definitely fighting her own set of demons as she tries to uncover the mystery behind these tragic deaths. In fact, she appears to develop a connection with the victims, forcing some of her own difficult memories from her past to resurface. Given how central her role is to the story, it's only natural to wonder if any part of her is rooted in real-life. During a recent panel at the 2018 ATX Television Festival, moderated by Bill Keith of Entertainment Weekly, Flynn took the opportunity to reflect on the inspiration behind the Sharp Objects novel and what drove her to want to tell this particular type of female-centric story.
Back when she was writing the novel 12 years ago, Flynn noticed how many stories had a tendency to focus on how men dealt with violence and rage, but the same couldn't be said about women. Where were these stories from the female perspective? "No one wants to hear that kind of story," Flynn recalled being told when she originally pitched the idea.
One of the reasons for that was because many found Camille to be an unlikable character, therein making her hard to root for from a viewer perspective. But tired of seeing the usual trope of women's stories constantly being centered around men and love, Flynn refused to cater to the norm. And now, over a decade later, her project is now getting its own series on HBO. "Television is in such a renaissance right now," Adams said during the same panel. "It's a great place to tell stories."
So while, no, Camille isn't actually based on one particular person, she represents something much bigger than that: she's the embodiment of a different type of female narrative — one that'll prove to be just as compelling (if not more so) than any love story.
But, of course, this isn't the first novel Flynn has had adapted in recent years. Gone Girl made its big screen debut back in 2014, starring Rosamund Pike and Ben Affleck. But while that story was definitely chilling in its own unique way and provided a vast array of twists to the plot, Sharp Objects may just give projects like Gone Girl and Big Little Lies a run for their money.
Sydney Sweeney, who plays Camille's hospital roommate, Alice, recently told Harper's Bazaar UK that Sharp Objects "will have that Big Little Lies feeling, but it's much darker and way more twisted." So if you think this will be an easy murder mystery to solve, think again. No doubt, fans will be left on the edge of their seats each and every week. Book readers may have a clearer sense about how this will all play out on the small screen, but either way, this is one series that's sure to quench your crime-thriller thirst, even if the story itself — and the characters within it — are purely works of fiction.