Canada Offered To Help Out After Harvey & A Texas Lawmaker Reportedly For Prayers Instead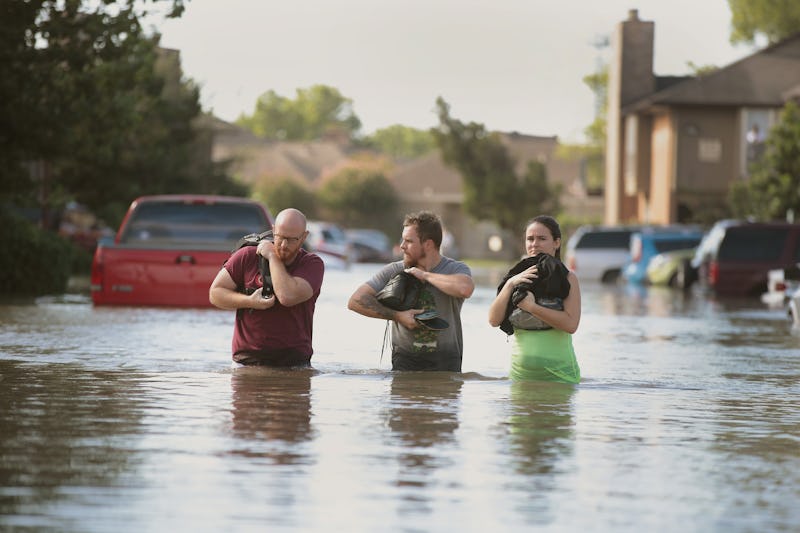 Scott Olson/Getty Images News/Getty Images
Reports claiming a state official in Texas snubbed an international offer of aid for victims of Hurricane Harvey have spurred heavy criticism. But a Texas official is refuting claims he turned down assistance from Canada's Quebec province and asked instead for "prayers." A spokesperson for Texas Secretary of State Rolando Pablos claims the official did not turn away an offer of assistance from Quebec's minister of international relations, but rather referred her to another state agency better equipped to deal with aid distribution during an emergency response.
Texas Secretary of State Rolando Pablos found himself on the receiving end of more than a few incredulous complaints after reports surfaced Friday claiming he'd turned away aid from Canada's Quebec province. Quebec's Minister of International Relations Christine St-Pierre told CBC News she'd called Pablos to express Quebec's concern for those in Texas impacted by Hurricane Harvey. St-Pierre said she'd also wanted to extend a helping hand and had offered to send Texas shipments of blankets, beds, pillows, hygiene products, and a crew of Hydro-Quebec technicians that could help restore damaged electrical lines.
But while St-Pierre reported Pablos was "very touched by the fact we called him," she also claimed Pablos had declined her offer of aid for the moment and instead asked for "prayers form the people of Quebec."
In a statement to the Austin Statesman, however, a spokesperson for Pablos refuted claims the Texas secretary of state had turned away aid. According to Pablos' spokesperson, the Texas official had directed St-Pierre's aid offer to the Texas Department of Public Safety as his office is not equipped with emergency management authority.
According to the Statesman, St-Pierre's press secretary also confirmed reports that Pablos had redirected, and not denied, Quebec's aid offer. "Contrary to what has been reported in the media, Secretary Pablos did not decline the minister's offer, but instead made sure Quebec made contact with the proper Texas state agency that receives assistance and aid from foreign governments," Ann-Clara Vaillancourt, the press secretary for Quebec's minister of international relations, said in a statement e-mailed to the Statesman. "The Quebec Government's office in Houston is in constant contact with local authorities and is arranging for emergency supplies to be shipped shortly."
As complaints against Pablos mounted his office attempted to clear up the issue Friday in a statement that confirmed the Texas secretary of state's office had indeed received many offers of aid and support from around the world in the wake of Hurricane Harvey. "Because our office does not have any emergency management authority, we are directing all offers to the Texas Department of Public Safety's Office of Emergency Management, which is the state agency that handles the challenging logistics of emergency response."
The statement went on to add the office appreciated and welcomed "all the help we can get, especially thoughts and prayers."