Cardi B's New Song Addresses Cheating Rumors Head-On, Because What Else Would You Expect?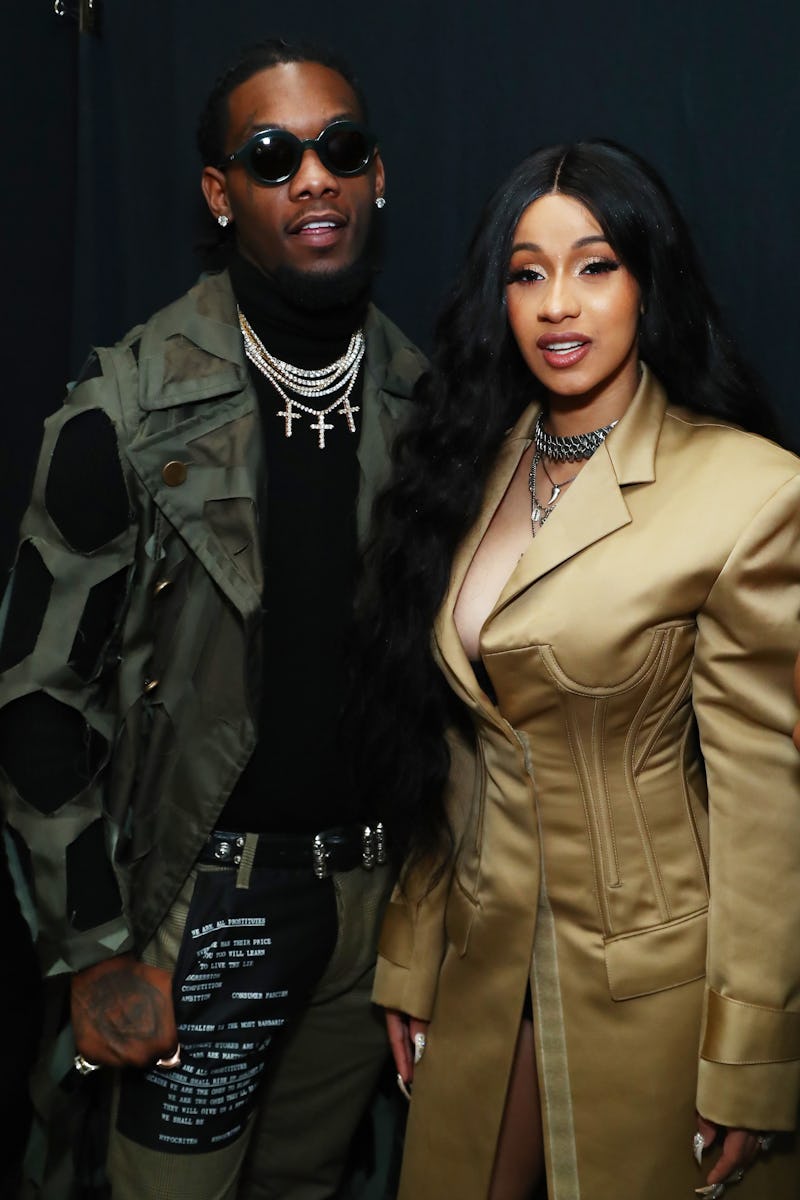 Astrid Stawiarz/Getty Images Entertainment/Getty Images
Their entire relationship has been spent in the spotlight, so it wouldn't be too surprising if Cardi B's "Be Careful" is about Offset. The song was released at midnight on Friday, and its lyrics are already drawing comparisons to the cheating rumors that have dogged the musical power couple. Lines like "Do you know what you doin'? / Whose feelings that you're hurtin' and bruisin'?" and "You gon' gain the whole world but is it worth the girl that you're losing?" suggest that the "Bodak Yellow" singer is directing this new track right at her real-life fiancé.
"Gave you TLC, you wanna creep and sh*t," she sings, which Genius pointed out is a play on words with one of the most popular tracks from the "Waterfalls" group. "Poured out my whole heart to a piece of sh*t," she continues. The former Love & Hip Hop star suggests that some of the rumored infidelity might be an ongoing behavior with the line, "Man, I thought you would've learned your lesson' / Bout liking pictures, not returnin' texts," and that it later verged into a full-on deception:
"Said that you was workin', but you're out here chasin' culo
And putas, chillin' poolside, livin' two lives
I could've did what you did to me to you a few times"
The rapper accuses the subject of her song of living two lives, which is certainly criticism that her future husband has faced. Cardi B and Offset have been linked for just over a year, since dating rumors began at Super Bowl LI in February 2017. And they were engaged just months after that, when the Migos rapper popped the question during a Cardi B concert in October. But trouble came close on the heels of their engagement for the duo.
Rumors of infidelity began swirling in December of the same year, when photos of Offset and a nude woman in a hotel room were allegedly stolen off of his phone in an iCloud hack, according to TMZ. And those rumors heightened in January 2018 when the existence of a full sex tape was alleged. Offset made no comment on the allegations, and Cardi neither confirmed nor denied them, though she seemed to at least acknowledge the rumors on Jan. 8. People reported that she took to Instagram to post the now-deleted message, "No, it's not right for a n*gga to cheat… But what you want me to do?" and to ask her fans to respect both her privacy and her judgement.
Nevertheless, many of Cardi B's fans seem to have opinions about how she should best handle the allegations. But she's stayed true to herself — and to her man — throughout. As the reality-star-turned-rapper told Cosmopolitan for their April cover story, she's committed to resolving her issues with Offset and moving forward as a couple:
"It's like everybody is coming down my neck, like, 'Why are you not leaving him? You have low self-esteem.' I don't have low self-esteem. B*tch, I know I look good. I know I'm rich, I know I'm talented. I know I could get any man I want—any basketball player, football player. But I want to work out my sh*t with my man, and I don't got to explain why. I'm not your property. This is my life."
It's a sentiment that's reflected in "Be Careful" as well, where Cardi B largely avoids passing judgement on those involved in the infidelity. One exception is a line where she references the fact that she could've retaliated and cheated on her partner in return, but that she chose not to: "That's not my M.O., I'm not that type of b*tch / And karma for you is gon' be who you end up with." This line points particularly hard at Offset because it includes a direct reference to his rumored infidelity.
In addition to its original meaning, "Karma" is also the name that the woman who claimed to be carrying Offset's child has chosen for their offspring, according to Newsweek and tweets from Celina Powell herself. (Offset has denied Powell's claims on social media, tweeting that he didn't know her.)
But aside from that cutting reference, for most of the track, Cardi B merely presents information to the listener, and even to the subject of the song himself. She makes no specific demands, asking nothing except that he consider the consequences of his actions.
"The only man, baby, I adore
I gave you everything, what's mine is yours
I want you to live your life of course
But I hope you get what you dyin' for
Be careful with me"
Cardi seems fully aware that she can't control her partner; that he's going to make the choices he makes regardless of her actions, informing the subject that "it's not a threat, it's a warnin'." At the end of the day, she sees that the power lies with the other party to disrupt their own pattern, and it's refreshing to hear that message come through, even in a song about infidelity.