Cardi B Now Has Super Long, Mermaid Blue Hair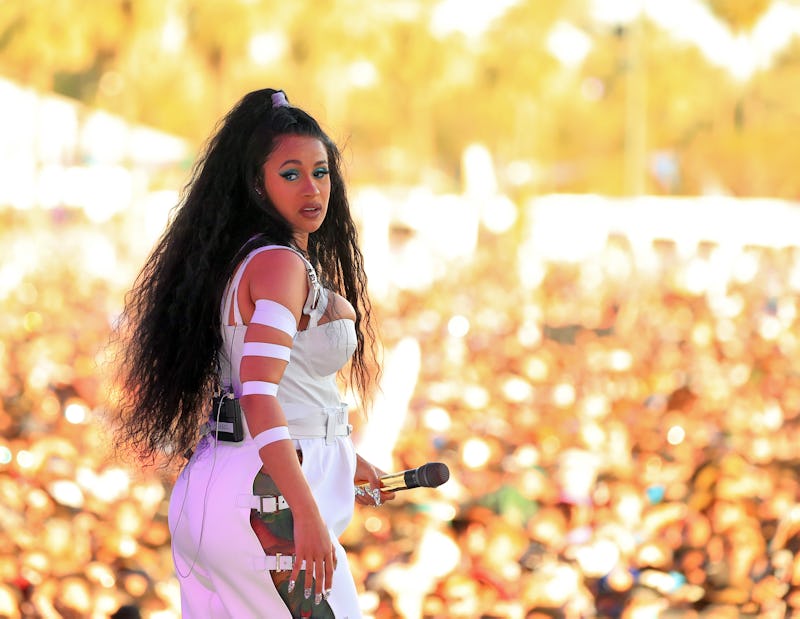 Christopher Polk/Getty Images Entertainment/Getty Images
The pastel hair trend is alive and well, where celeb after celeb is trading in their natural locks for dreamy cotton-candy-like creations. The newest A-lister on this roster is Cardi B who has blue hair now, debuting her brand new look on Instagram. Her particular shade is a mermaid-like aqua blue, and she appeared in her Instagram video with her bangs parted in the middle and part of her hair thrown into a top knot, instantly inspiring everyone's summer style.
The video wasn't about her new hair transformation, though, but was a clip of her rapping. A few days ago Cardi B dropped the bombshell that she was working on a new project that will drop in the fall — but didn't mention if it was a new album, mix tape, or single — and her six second rap was part of a never-heard-before song. In it she spit her lyrics (one of which was "I look good in anything, Fashion Nova on clearance,") and we were treated to her shiny aqua hair and matching blue nails along the way.
But is the dye-job permanent? It turns out that it was a wig and a custom creation from HYM Hair and designed by hairstylist Cliff Vmir, who owns the brand. Vmir is a celebrity master hairstylist and also 19-years-old. Talk about talent.
The wig that Vmir made for Cardi B reaches past her waist, and he shared the entire process of creating the wig for the artist on his Instagram, giving fans an intimate peek into how much work goes into creating such a beautiful piece.
In a series of six posts, followers were walked through the exact dye brand he chose, which four colors he mixed to get such a mermaid-like pale shade, how the hair looked as it was having its dye applied, how the color came out once it was washed out and dried, and finally how it looked straightened and styled on the mannequin head.
In the last photo, he teased followers by asking them who they thought the wig was for, hinting that it was for someone well known and famous.
While it could have been for a whole slew of celebrities, the majority of commenters guessed that it was made for Cardi B. The color and the style was just so synonymous with her bold and playful aesthetic that it was a clear guess.
The last photo in the series was one of Cardi B but with her back turned to the camera, where we got to see the full impact of the hair. With it cascading nearly to the floor, the end result packed a punch.
Cardi B isn't the first celeb this summer to swap out their locks for a pastel hue, where Ariana Grande tried out silver-blue pastel color for a week before swapping it out for a lilac shade.
Amber Rose also traded in her peroxide blonde buzz cut for a waist length lilac colored wig, trying out something new for the weekend.
Seeing how fabulous Cardi B's color is, here is to hoping she wears it often and for a long time.