Cassandra Seems To Be Keeping Her Options Open, Even Post-'BiP'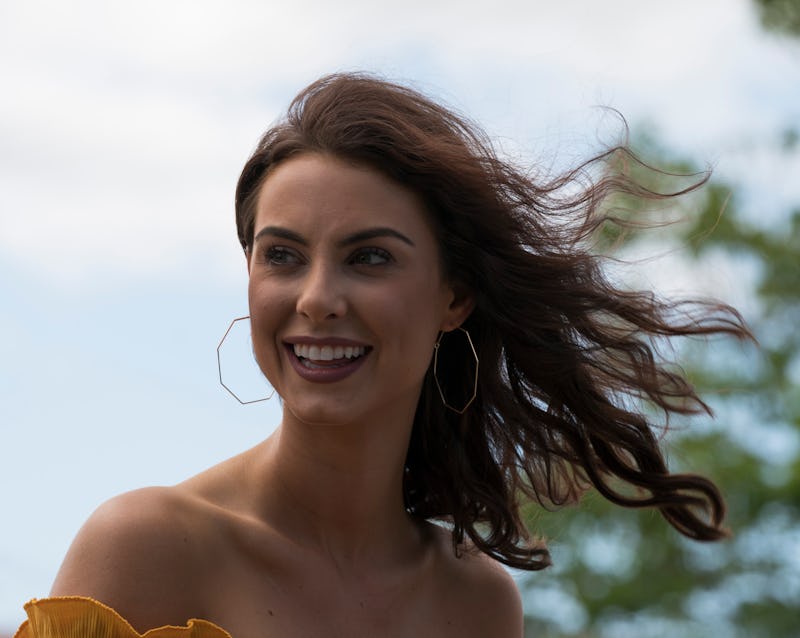 ABC
Now that Season 5 is coming to a close, men and women are pairing off and making things as official as Bachelor in Paradise will allow. With the more time that passes, the more on-edge these couples become. Why? Because their newfound relationships could easily be imploded by a new, attractive, bathing suit-clad arrival at any given moment. Unfortunately, that's what happened to Eric and Angela. Paradise alum Cassandra Ferguson waltzed onto the beach and into Eric's heart, right quick. Going back on his word to Angela, he agreed to a date with Cassandra. But when Angela revealed Eric's lies, Cassandra had second thoughts. That left her current relationship status up for interpretation — is Cassandra single after Bachelor in Paradise, or has she decided to move on from finding love on TV? After all, this isn't her first rodeo.
Up until last week's episodes, Eric and Angela were one of Paradise's steadiest couples. They even used the words "all in." Over a cheese plate. While wearing fuzzy robes. It seemed like a pretty real and serious commitment. So when Eric agreed to attend a date with Cassandra because well, he found her attractive, Angela's shocked and betrayed emotions seemed completely warranted.
Angela didn't sulk in her sadness, though. Instead, she felt the need to warn Cassandra of Eric's deceitful ways, and when she did, Cassandra wasn't impressed. She called their newly established relationship "tarnished" and "icky" because of what Eric did. So although they had a pretty rad date, it's unclear whether or not the two of them have a real future together.
Since then, Eric and Angela have since left the show and Cassandra seems to have happily moved onto spending time with Jordan Z., who fans last saw on Bachelor Winter Games. The New Zealand native had some trouble finding available partners — there are so many "solid couples" in Paradise at the moment — but him and Cassandra seemed to have some sort of connection. Even if it is just to have each others' back for the final few days in Mexico. Seriously, who wants to go home from a paid vacation like that early?
Cassandra is taking things seriously, too. She's a seasoned suitor who has dated multiple fellow Bachelor Nation friends in recent years (Paradise alums Justin Reich and Jonathan Holloway, for example) and that didn't bode well for her. Not to mention, she has a 7-year-old son in the mix, so she can't keep playing games. The third time could bring her the charm she's looking for.
As expected, Cassandra's Instagram doesn't reveal much about her love life, so whether or not she's single IRL, again, is a mystery. But it does reveal a few other things: she's one badass single mom, a talented makeup artist, and it doesn't seem like she's opposed to getting married sometime soon. Multiple photos on her grid show her flaunting wedding gowns, yet there's no fiancé to be found ... yet. Only time will tell if she finds that person on the beach or later on, when the cameras stop rolling.