You Can Now Buy CBD-Infused Biscuits For Dogs That Supposedly Calm Them Down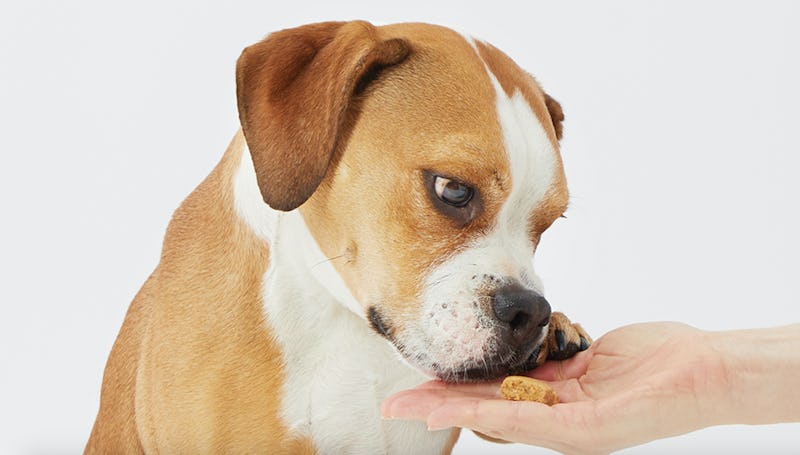 BarkShop
If your pup has long suffered from anxiety, you've probably tried every treatment option in the book — which might have left you wondering as an alternative, "Is CBD OK for dogs?" There's evidence that cannabinoid oil, which is derived from the cannabis plant but has no THC in it, can help humans with everything from anxiety to pain management — so why not dogs? As it turns out, CBD is OK for dogs — and what's more, online dog supply retailer BarkShop has a whole bunch of dog-friendly CBD treats and extracts available for purchase now. If you and your veterinarian have run out of other ideas, this one might be worth trying.
According to PetMD, cannabis oil can treat a wide range of health conditions in dogs, including not just anxiety and stress, but also seizures, nausea, arthritis, back pain, and gastrointestinal issues. (Indeed, the FDA recently approved a CBD-based medication for the treatment of epilepsy in humans, so it's not too far of a stretch to examine CBD oil as a treatment for seizures in dogs, too.) And yes, it's safe for your pup; in fact, it even has a leg up on some traditional pet medications in that, when properly dosed, it doesn't have any life-threatening side effects. Said Dr. Tim Shu, veterinarian and founder of pet CBD company VETCBD, to PetMD, "It doesn't damage the kidney, liver, or GI tract. The dogs aren't high or sedated." Additionally, according to holistic veterinarian Dr. Gary Richter, who spoke to cannabis information and lifestyle site Herb in February of 2018, "The worst-case scenario from a CBD-only standpoint is it could potentially make the dog a little sleepy."
According to Mashable, BarkShop began offering health and wellness supplements for dogs in 2017 and started work developing dog-specific CBD supplements in January of 2018. They're available in both treat form and straight extract; the treats can obviously be eaten as is (think of them as CBD gummies for pets), while the extracts can be mixed with food. The treats are available in a number of different flavors and come in varieties meant for different-sized breeds, while the extracts, which come in dropper bottles, are available in concentrations ranging from 100 mg to 500 mg of CBD per dose. Research tested and sourced from "family farms in Colorado," the supplements claim to be useful for everything from anxiety brought on by thunderstorms or car rides to relieving nausea and treating seizures.
But do they work? As Mashable notes, the results seem a little mixed: According to reviews on the BarkShop website, the biscuits and extracts have worked wonders for some dogs, but had virtually no effect on others. On the positive side of things, wrote one reviewer of the Blueberry Cranberry Edibites meant for small breeds:
"My dog suffers from severe separation anxiety, noise phobias (fireworks, thunder, [etc.]), and car anxiety. These treats have helped calm her down completely! She no longer shakes in the car or during thunderstorms or fireworks, and she is able to left home alone without any destruction."
While another wrote of the Big Breed Beef CBD Biscuits:
"We got this for our 65 lb. mutt, who is almost two years old. He is very anxious and barks at everything, and can be really high-strung at times. We wanted to try this out to see if it would help reduce his anxiety and calm him down. We've been on this for about one week, and we give him 1/2 treat twice a day (so just one full biscuit a day). We have definitely noticed that he's much more calm now, but he still has all the energy of a puppy. He barks a lot less (I'm sure our neighbors are happy) and doesn't seem to get so anxious about everything."
Several reviewers of the 100 mg extract also noted that the CBD "definitely took the edge off" and "has made a huge difference" for anxious pups.
Others, however, noted that their dogs either refused to eat the treats or extract or that they had little to no effect. Wrote another reviewer for the same Big Breed Beef CBD Biscuits that worked for the 65 pound mutt, "We've been giving these to my 60 pound dog — one a day for about 10 days now. So far no help in his anxiety reduction"; this reviewer also noted the cost of the biscuits, saying that they were "too expensive to try to up the dose." (The biscuits run between $20 and $140 per package, while the extracts cost between $23 and $80.) Additionally, said one user of the 100 mg CBD oil, "I've been giving it to [my dog] twice a day, as directed on the package, and it hasn't helped her at all. She's still highly anxious!"
So, as is the case with most humans, the answer to whether or not the CBD treats and extracts work for dogs seems to be, "Your mileage may vary." Ultimately, it might be worth trying, but don't go into it expecting miracles.
For what it's worth, BarkShop's CBD supplements have proven to be quite popular nonetheless; according to Mashable, the two-month supply released at launch sold out in a day, with the extract in particular having sold out five times since they initially arrived. That, as they say, isn't nothing.
CBD laws vary by state, so make sure you check yours before buying these supplements or giving them to your pup; you'll also want to check with your vet about dosage details. Good luck!
Readers should note that the regulations and data surrounding marijuana, CBD, and other related products are still developing. As such, the information contained in this post should not be construed as medical or legal advice. Always consult with your doctor before trying any substance or supplement.