Chelsea's List Of What She Wants In A BF Fits 'Bachelor' Arie Perfectly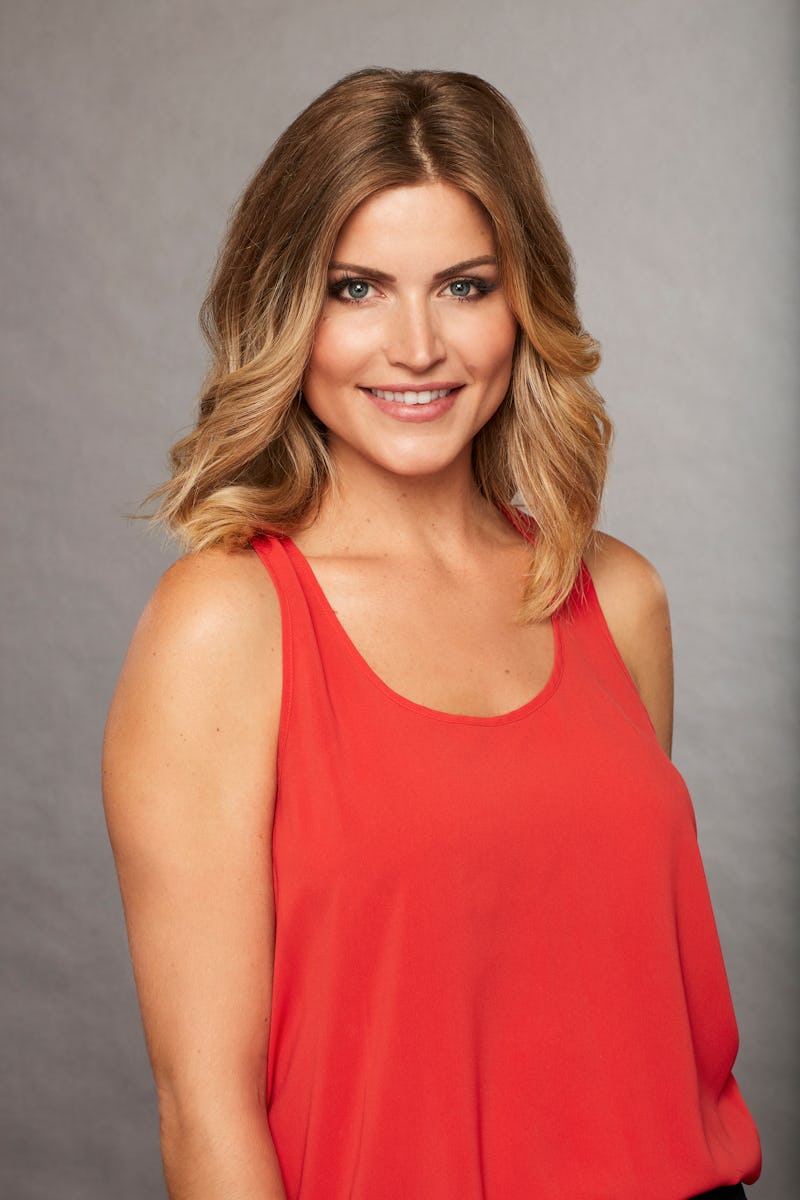 ABC/Craig Sjodin
Chelsea was immediately one of the frontrunners Arie's season on The Bachelor (senior producer: Lindsay Liles). She scored the first impression rose, and seemed from the beginning like the one to watch. Though she's largely faded from the main spotlight — that's been taken over by Bekah's age drama and Krystal's everything drama — she's still big competition to the contestants around her. She still hasn't been eliminated yet, and has even seemed to grow closer to Arie as the season progresses. But there is still plenty to investigate when it comes to whether Chelsea from The Bachelor is single now that filming has wrapped.
Her Instagram account isn't exactly laden with clues, though she has been sharing some cute snaps with her son, Sam, who is obviously very important to her. If she did bring a new guy into Sam's life, he'd have to be the right one, and it seems like, at least during the show, she thinks Arie could be that man. Arie definitely didn't seem opposed to being with a single mom, either — he was pretty receptive when Chelsea talked with him about Sam, and, when Arie was a contestant on The Bachelorette, he was vying for the affections of another single mother Emily Maynard.
No man (besides this little one) is present in any of Chelsea's Instagram photos, so that could mean that she's single, or simply that she is refraining from posting anything that might potentially spoil viewers even a little bit. She does have high standards for any potential beaus, though. In an interview with Glamour last month, Chelsea said that she has some non-negotiables when it comes to her partners. "I definitely need loyalty. I need someone that has their mind made up and is fully invested in a relationship, and that wants it, and wants to grow from it," she said. "And I need a confident man — someone that is secure in who he is and is ready to leap forward with someone else. Someone who is also is ready to become one with someone."
That definitely sounds like Arie in terms of being ready for commitment, and he told E! News that she impressed him right off the bat after seeking him out several times during the first night in the house. "That first night was really nerve-wracking, and for me, I didn't really know who was there for me," Arie said to E! News. "So for her to take that initiative and to see me twice and to really make it known that she was interested, really sort of gave me confidence and really showed me that she was there for me."
Chelsea's super inactive Twitter account also doesn't reveal any potential romances that are either lingering or newly forming since filming wrapped on The Bachelor. She has a grand total of three tweets, all Bachelor related, and none of them offer any information regarding her post-show life. One thing seems clear, though — she's got friends rooting her on. "It's been years in the making. After the separation from Sammy's dad, my girlfriends kept harassing me that I need to go on The Bachelor. I never listened to them, and I've never really watched the show before, except with girlfriends having a glass of wine at their house," she said in the same Glamour interview. "They'll have it on in the background. I can't sit still through shows, so I'll end up talking the whole time. But I know enough about The Bachelor and I felt like after two years of being single, I'm confident now and I definitely am ready to find love."
Regardless of if she nabs that final rose, or if she has a new love in her life now, or if she's simply focusing on herself and her son, Chelsea seems to know exactly what she wants, and won't ever be afraid to go for it.