Chelsea From 'The Bachelor' Is More Than An Olivia Caridi Look-alike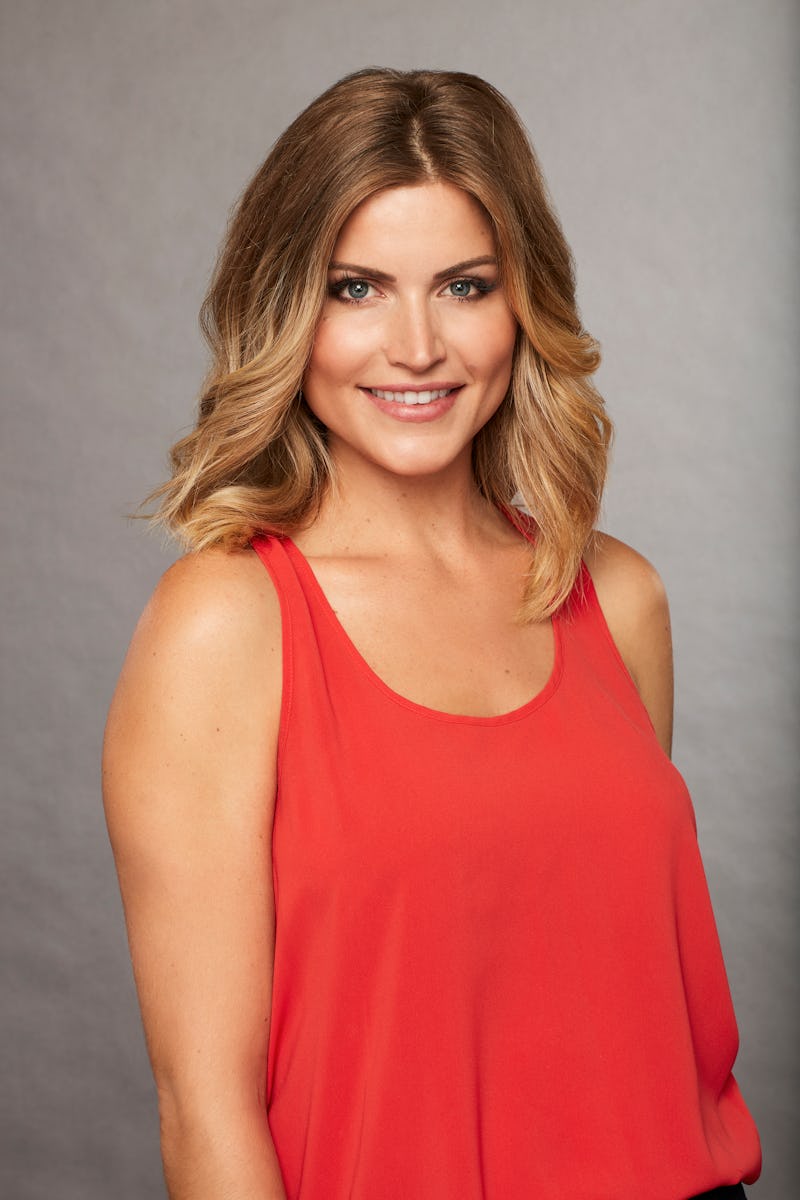 ABC/Craig Sjodin
Is Olivia Caridi back for another shot at love on The Bachelor? No, but there is a contestant who looks an awful lot like her. Aside from being an Olivia look-alike, Bachelor contestant Chelsea Roy is someone to watch out for on the upcoming season.
According to her official bio on the ABC website, Chelsea is 29 years old and is from South Portland, Maine. She is currently a real estate executive assistant, but an Entertainment Weekly post describes Chelsea as a "former model," which makes a lot of sense with just one glance at the photos on her Instagram. Obviously, she's beautiful, but there are also a lot of professional photos, so a past in modeling is not at all surprising.
In that same Entertainment Weekly article, Bachelor host Chris Harrison named Chelsea as one of his top five contenders for Arie Luyendyk Jr.'s heart. He revealed that Chelsea "goes out of her way to make a first impression on Arie."
Is that a hint that she ends up getting that coveted first impression rose on the first night in the mansion? If that's the case, than she and her doppelgänger Olivia have another thing in common (aside from their strikingly similar faces and hair). Olivia received that honor during night one when Ben Higgins was the Bachelor.
Chris added, "He is very taken by her. But he can tell she's holding back. She has a little bit of a secret. She will reveal it into the show." What could that secret be? It's not listed in her cast biography, but Bachelor expert Steve Carbone aka Reality Steve reports that Chelsea is a single mother with a 3-year-old son named Sammy. This can also be easily confirmed with a glance at Chelsea's Instagram account. It's clear that these two spend a lot of time together.
It makes sense that this would be the "little bit of a secret" that Chris is alluding to since other single mothers of Bachelor history have waited until after the first night to open up about their children. Amanda Stanton told Bachelor Ben Higgins that she had two daughters during Week 2 of Season 20.
Chelsea really has nothing to worry about, though, if being a single mother is the "secret." Arie is very much on board with dating a mom. He fell in love with single mom Emily Maynard when he was on her season of The Bachelorette. He even got to the final two and intended to propose. Not only that, but Arie also revealed that had he dated (and lived) with a single mother with kids during an episode of The Bachelorette.
One thing that might not fly with Arie is that Chelsea revealed that she hates it when a date "displays over-the-top PDA." Ummm, does she know who the Bachelor is? Arie has been deemed "the kissing bandit" thanks to his much-discussed make out skills.
The Reality Steve post also says that Chelsea was never married and that she is an alum from the University of Southern Maine. She has a lot of pride in her home state. She's made some crafts inspired by Maine, and even posted a picture of herself reading a book about Maine to her son.
And there's no better way to incorporate her love of Maine than with her current job in real estate.
Aside from her strong love for Maine, something else that Chelsea displays with pride are her tattoos. In her ABC bio, Chelsea shared, "I have simple wave lines on the side of my palms on both hands."
Scrolling through Chelsea's Instagram page is a great way to get some insight until the show airs. Just like many moms, she loves posting photos of her son. She also has modeling experience, so it makes sense that she would appreciate photography enough to have her own camera instead of snapping all of her Instagrams from an iPhone.
You heard it from Chris Harrison himself: Chelsea is a serious contender for Arie's heart this season, so that means that the fans will find out even more about her once the episodes air.