Donald Trump Jr.'s Coordination With Russia May Have Been Illegal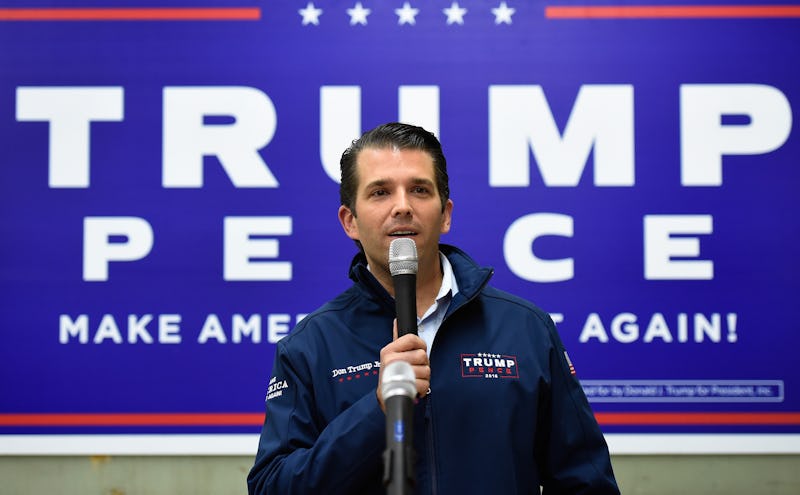 David Becker/Getty Images News/Getty Images
A New York Times report claimed Monday that Donald Trump Jr. had coordinated with the Russian government to receive incriminating information on Hillary Clinton. The next day, it was confirmed that the president's son fully believed he would be getting information from the Kremlin after he tweeted out emails that proved what the Times had reported. Now, the term "collusion" is being bandied about, and many are wondering if collusion is illegal, and if Trump Jr. might be in very hot water.
In late May, Fox News host Greg Jarrett asserted that collusion is not a crime, but merely violates an antitrust law, and stated, "You can collude all you want with a foreign government in an election. There's no such statute." PolitiFact rated that claim false, and spoke to three legal experts who indicated that even though the term "collusion" may not appear in specific legal statutes, the activity itself would be forbidden under several criminal laws.
Those laws include the Bipartisan Campaign Reform Act, which states that if a foreign national spends money to influence a federal election — and if a U.S. citizen coordinates or assists in that spending — it can be a crime. They also include the law against fraud, which states it is a crime to conspire with anyone "to deprive another of the intangible right of honest services," as well as a public corruption law and an anti-coercion federal election law.
However, Amy Jeffress, who worked as a national security lawyer in Obama's Justice Department, told NBC News she doesn't see an easy crime to prove when it comes to Trump Jr.'s meeting with the Russian lawyer. "Collusion is wrong, but I'm not sure it's a crime," she said.
Both Trump and Russia have denied any collusion in regards to the 2016 election. Responding to the new claims of Trump Jr. possibly colluding, senior adviser Kellyanne Conway said "there's no evidence of collusion," and Deputy White House Press Secretary Sarah Huckabee Sanders said, "Don Jr. did not collude with anybody to influence the election."
Meanwhile, President Trump cheered his son's "transparency" in releasing the emails and called him a "high-quality person."