Colton's Relationship Status Post-'BiP' Could All Be Part Of His Strategy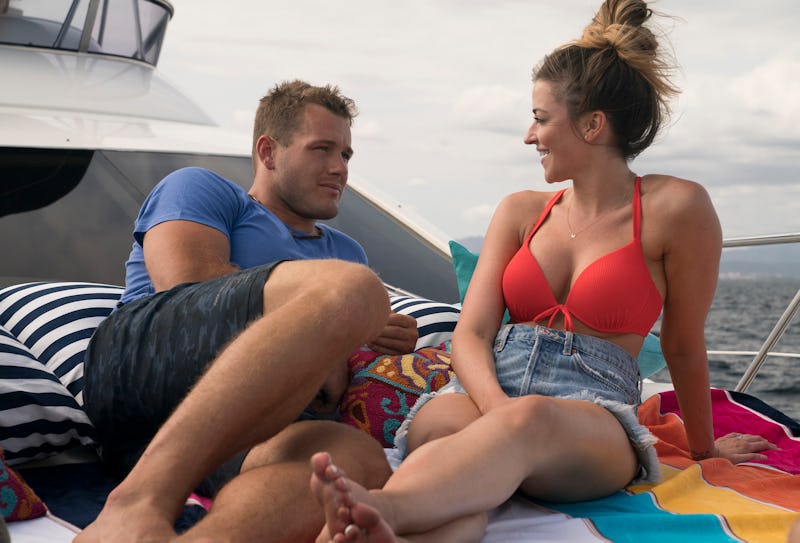 Paul Hebert/ABC
Colton Underwood has managed to create a bit of a mess during the short time he's been a part of Bachelor Nation. First, he was caught between Bachelorette Becca and one of her BFFs from Arie's season, Tia, whom he had dated prior to appearing on the show. Now, Colton and Tia are reunited in Paradise just weeks after he had sworn up and down that he was into Becca. Sparks are already flying between the two, but their relationship has already angered some of their fellow cast members, and previews for the rest of the season seem to indicate that everything might not run smoothy for Colton and Tia. So is Colton dating anyone after Bachelor in Paradise, or has he left another Bachelor Nation experience heartbroken?
Even though Colton and Tia's date on last week's episode of Paradise went well, it wouldn't be entirely surprising if he went home alone. For one thing, it seems that even though Tia and Colton have a history together, Tia might be more open to finding love with someone else than she initially thought. Though she seemed upset that she received the first date card before Colton arrived, Tia ultimately picked Chris for a romantic dinner date that seemed to go really well.
In a preview for the rest of the season, it seems like the love triangle brewing between Colton, Chris, and Tia will cause some serious drama. One shot even shows Colton lying on a bed, crying: Clearly, Paradise isn't romantic 24/7. Maybe after all of this drama, Tia picks Chris over Colton.
Though it would be a little bit surprising if Tia (who seemed to be pretty much only interested in Colton coming into Paradise) ultimately ditched him for someone else, it's definitely a possibility. If she does end up with Chris, Colton might not be sticking around much longer. Tension was already brewing among the other cast members in Paradise, who felt like it was unfair that Tia and Colton seemed to have joined the show only to reconnect with each other.
After all, the whole purpose of Paradise, as BiP alum Evan Bass reminds us, is to be open to finding a connection with anyone, and not to come in with an expectation that you're going to end up with one person in particular. If the other women on the show sense that Colton is only there for Tia, he might have a hard time receiving a rose from someone else if she ditches him in favor of Chris.
It seems that Colton might already have his eye on a bigger prize post-BiP: becoming the next Bachelor. In an interview with Us Weekly, Colton revealed that he would love the chance to star in his own fairytale. "If I was single after Paradise, I would love it," he told Us Weekly during the Disney/ABC Television All-Star Happy Hour. "I know that this show can work. I've seen it with Garrett and Becca. I know what it did for me as a person and how it helped me grow into the man I am today. I would love the opportunity if I'm single after Paradise."
But that interview occurred on August 7th, well after the first episodes of BiP were filmed. So presumably Colton knows whether he's single or not, and yet he's still hinting at being open to becoming the next Bachelor? Hm. Not to mention that BiP bartender Wells Adams tweeted in reply to an article asking whether Jason, Blake, Colton, or Ben Higgins should be the next Bachelor, "I'd say, finish paradise before you vote...also, you're missing someone on this list." What does this all mean? Something tells me that Colton and Tia's relationship might not be as solid as some people might believe, and they might not still be together after Paradise.
To muddy the waters even further, Tia recently Instagrammed a pic of her and Colton on their date, with the caption "The moment he realizes he can't handle your crazy ass, but there's no going back now🤗" So maybe they are still together? Or maybe Colton is dating someone else? I don't know, my head hurts.
No matter what the outcome of their relationship is, you can always count on these star-crossed Bachelor Nation lovers to create some great dramatic television.