Tia's Angst Over Colton On 'Paradise' Broke An Unspoken Rule, Says Evan Bass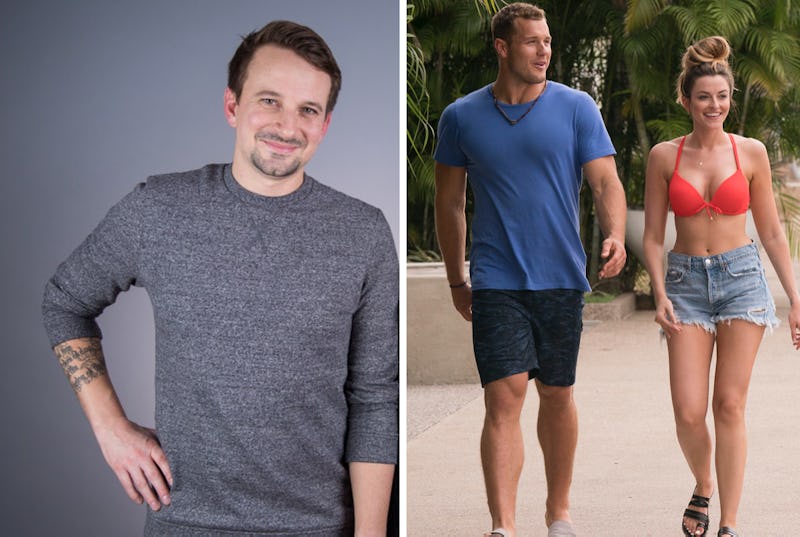 Bustle; ABC/Paul Hebert
Bachelor in Paradise Season 3 star Evan Bass knows Bachelor franchise love: He married Carly Waddell after meeting her in Paradise, and they now have a daughter, Bella. Read what Evan has to say about the all the drama — especially Tia and Colton's — on Bachelor in Paradise Season 5.
It's time for the most dramatic television of the year: Bachelor in Paradise! Watching BiP transports me back to many beautiful memories, a couple of bad ones, and fuels my insatiable desire to watch people implode under the stress of Paradise's bizarre Bermuda triangles of love.
But first, a disclaimer: I write about the show through the rosiest colored glasses possible because my baby girl Bella — a literal product of Paradise — is sitting beside me smiling and cooing. So I can't help but be overwhelmingly grateful to the show.
I love Bachelor in Paradise for a variety of reasons, but mostly because personalities have more time to shine in this format versus on The Bachelor or The Bachelorette. But despite the fact that the show thrives on being a dumpster fire, BiP is actually pretty successful: Jade and Tanner, Adam and Raven, and of course myself and Carly have all found beautiful beach love. So I'm wildly excited to see who might get a free and televised wedding like us.
This first episode was a little different than I was expecting. I was expecting high drama right out of the gate from Jordan the male model and David the chicken, but then I remembered the headspace everyone tries to find before a Paradise entrance. Most contestants go through a process of trying to learn lessons from how they were portrayed on The Bachelor or The Bachelorette, so they walk in "rising above the drama," and "only being here for love." So because of that, typically the first couple of days are pretty chill. Of course, once relationships start forming, jealousies creep back in and those old wounds are laid bare, leading to drunken fights. I CAN'T WAIT. The teasers for this season look incredible. (Also, I'm super excited for y'all to see our cameo later in the season.)
The big drama of this episode is, of course, Tia and Colton. BiP did something with Tia that's never been done before — they actually showed her saying Colton's name before he shows up. Now, everyone walks into Paradise with at least someone in mind who could potentially be a good match and oftentimes on the beach we would talk about it, but IT'S NEVER SHOWN. It appears that literally the only words coming out of her mouth were, "Where is Colton?" so the editors were probably like, "Oh, screw it, we have nothing else to show from her so let's just roll with it." If you had a drinking game where you took a sip each time Tia referred to Colton, then you're probably reading this from a hospital bed.
Tia apparently never got the memo to keep her options open, so when she inevitably receives a date card, she has an existential crisis and is forced to go look pensively out into the ocean. That works pretty well and she picks Chris as a date-mate. An odd choice. He came into Paradise needing redemption almost as badly as Glittery Krystal, but maybe Tia didn't see his super creepy Bachelorette "journaling." Tia immediately forgets about Colton and then everyone is left scratching their heads, except Chris and Tia, who are now furiously making out.
In typical Paradise fashion, Colton shows up the very next day attempting to ruin Chris' plan to look really good on TV. Colton decides to play the traditionally 6th grade game of "Make the girl jealous by ignoring her " — it works of course — and after some guffaws from the rest of the guys, they go out on a yacht, talk about how they hooked up before Becca's season, and generally give the audience collective cringe-y shivers. Now, I love Tia, will always love Tia and think she's fantastic TV, but lord have mercy she really put herself in quite the pickle here. But it's Paradise — who the heck needs common sense?
Chris is back home inciting a throng of angry Paradise villagers ready to burn Colton's love shack down. Unfortunately, we have to wait until next week to see the un-merry band of Wrong Reasons Experts expose Colton for the fame-craving leech they accuse him of being.
Believe it or not, other events actually happened on Paradise. We see a large group of relatively unknown "favorites" and a few memorable ones. Kendall is in attendance, thank god, providing a calming influence and a rare glimpse of sanity among the group. She shares a sweet conversation and kiss with Grocery Store Joe, who America loves despite knowing nothing about him other than his undying commitment to produce.
Wills shows up, does the obligatory name joke with Wells (I'm currently mad at Wells for recently moving away from me to California so I'm not going to say much about him, although he didn't get a lot of screen time) and promptly says he wants to be more outgoing. Frankly, I never listen to what he's saying because I'm too distracted trying to figure out what the heck he's wearing. Bibiana is trying to get her "Hoo-ha" to speak, which I'm told is difficult to accomplish. Didn't really see any vagina whisperers but I hope one comes in, because I love Bibiana.
Venmo John has bought his way onto Paradise, judging by the amount of pesos he's counting in his intro. He also has an interesting way of speaking. I like him and love that the show has allowed more "nerdy" guys to be a part. GO NERDS. Annaliese, who was traumatized by bumper cars on Arie's season, mentions me and Carly so I instantly love her. Glitter Krystal has dropped the vocal fry and I'm sad about that.
Aside from Tia and Colton and/or Chris, no one really coupled up, so Chris Harrison saunters in with the always-shocking announcement that there is an odd number of men and some will have to leave, forever sacrificing their chance to make Instagram advertisements for a living. The men are rightfully concerned, because no one has made any real moves except Venmo John and Grocery Store Joe.
In lieu of the last ten minutes of the show, we get the extended preview of the season promising more drama and a few engagements. Frankly, I fast-forwarded to the .35 seconds of my screen time in the preview. As a washed-up reality TV person, I take what I can get these days.
I'll see y'all next week to hopefully debrief a whole lot more drama, make bold couple predictions, and try to find a nice theme to make up for the shame I carry for still being so emotionally invested in this show.