This New Thriller Series Gives Old-School Spy Intrigue An Unexpected Twist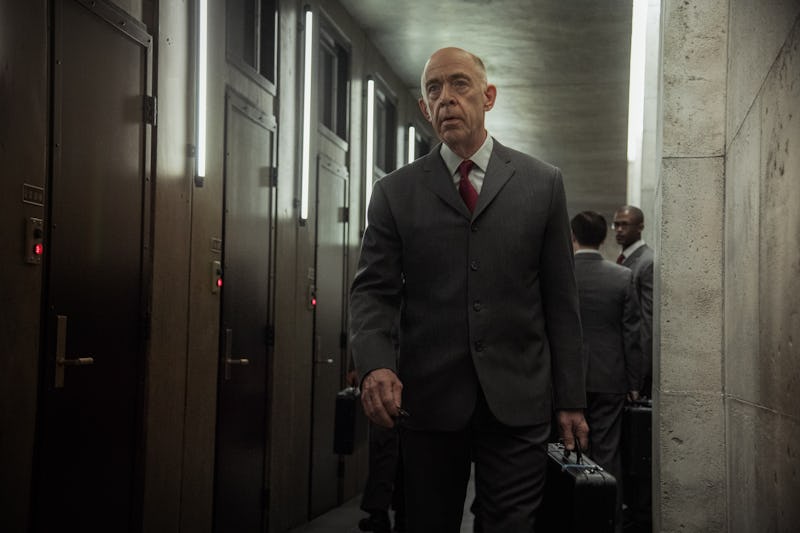 Starz
Many prestige drama series are adaptions, from Outlander (writer: Diana Gabaldon) to Game Of Thrones (executive producer, 11 episodes: Carolyn Strauss). And it makes sense, as shows based on previously existing source material come with a built-in fanbase, can drop clues and hints about what's coming, and have a blueprint where they can follow to huge moments. But bucking that trend, the upcoming Starz drama Counterpart is not based on anything — not a book series, like the previously mentioned shows; not the work of a specific author, like Amazon's Philip K. Dick's Electric Dreams (executive producer: Maril Davis); not comic book characters, like Runaways (executive producer: Stephanie Savage); and not an existing movie, like Westworld (executive producer: Lisa Joy).
Counterpart (executive producer: Amy Berg) takes place in a space between two parallel worlds, after one man, Howard meets his double from another dimension, referred to as "Howard Prime." The differences and similarities between both Howards and the worlds they inhabit are the building blocks for what looks like a dark, paranoid thriller. There will certainly be a few familiar elements, like mysterious figures in trenchcoats, an everyman in way over his head, and definitely some kind of conspiracy. Double performances have been all the rage lately, with doppelgänger horror stories like The Double and Enemy to A-list actors playing two identical characters in shows like Fargo Season 3 and The Deuce.
At a Counterpart preview event for press, creator Justin Marks explained that this story — while not based on specific source material — has been inspired by spy novels and other realistic science fiction. "I grew up reading [Tinker Tailor Soldier Spy author] John le Carré," Marks says. "And I always wanted to do a spy story that was sort of set more in that world ... My favorite genre is the kind that tricks you into realizing it's genre to even begin with. And to not take from the tropes of science fiction, which I love. But to take from the tropes of the spy genre — the Cold War spy genre specifically."
Marks also tells reporters that the creative team was very particular about how each individual universe was portrayed, down to the types of cell phones used and periodicals lying on tables. For his part, star J.K. Simmons immersed himself in whichever version of Harold the scene called for. "When J.K would show up on set," Marks says. "I didn't need to look at the call sheet to know which Howard he was playing that day, because he walks differently and he acts differently." The Counterpart star would shower and redress as part of his ritual in switching from one character to the other.
According to Entertainment Weekly, Counterpart was ordered for two seasons, so there should be plenty of time for Marks to build his two parallel worlds. Nazanin Boniadi, who plays Claire, told SyFy that the entire first season of Counterpart was written before the actors began shooting, though the series was not shot in chronological order. Though the actors knew where each of their characters would end up by the end of the season, those arcs are going to be brand new to fans.
Viewers might not have specific scenes or set-pieces to look forward to on Counterpart yet — think of how long Game of Thrones fans were waiting to see the Red Wedding or Outlander fans waited for the realization of the printshop scene — but can be fully along for the ride. And with Season 2 a foregone conclusion, the series can take its time with story and themes. Harold has discovered a whole new world, but there's plenty still left to be seen.
Additional reporting by Sage Young