'The Punisher' Could Be Reuniting With More Than One 'Daredevil' Co-Star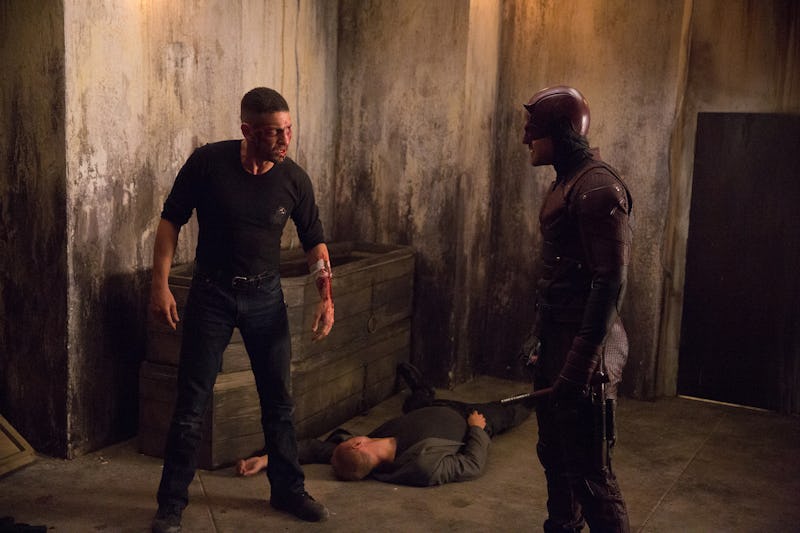 Patrick Harbron/Netflix
Part of the point — and a lot of the fun — of a cinematic universe is watching as beloved characters cross over between franchises, forcing them into unfamiliar situations and revealing new dimensions to those characters in the process. So will Daredevil be in The Punisher Season 1? Netflix's Marvel shows have a long tradition of sharing heroes and supporting characters between them, whether in major recurring roles or guest cameos; and given that Frank Castle himself made his small screen debut in Season 2 of Daredevil, it makes sense that his frenemy Matt Murdock would drop by Season 1 of his own spinoff series as well.
However, just because it makes sense doesn't mean it will actually happen. In fact, there has been no official announcement that the Devil of Hell's Kitchen is involved in The Punisher in any way, and actor Charlie Cox hasn't appeared in any of the show's photos, trailers, or other promotional materials. (There's also the matter of where Matt ends up at the end of The Defenders.) His absence will likely come as a disappointment to viewers who were hoping to see the uneasy allies trade fisticuffs and then form a tentative team once again. But just because Matt Murdock probably won't appear in Season 1 doesn't mean there won't be any familiar faces for fans to latch onto.
While Daredevil will be out dealing with his own business, another character will be making the leap from that series to this one: Matt Murdock's colleague Karen Page will appear in The Punisher in a major way. "I have such affection for Jon [Bernthal] and I was really sad when Daredevil Season 2 ended because I didn't think I'd get to do Karen and Frank again," Deborah Ann Woll said about her co-star in an official Netflix statement, as reported by Movie Pilot. "I really mourned the loss of that. So it was exciting when they said we could come back and continue this and we could push it even further and leave room for anything."
Given that Karen is one of the only people who knows that Frank Castle is still alive — and that the journalist and the vigilante formed an unlikely but deep connection over the course of Daredevil's sophomore season — it's not exactly surprising to see her return to help him in his new round of… punishing. Perhaps she can use her reporting prowess to help heal Castle's bruised reputation?
However, Karen's presence probably isn't going to mollify fans who simply want to see Daredevil and the Punisher kick ass and take names together again. But just because Netflix hasn't officially announced that Matt Murdock will be in The Punisher doesn't necessarily mean he won't be. MCU Exchange reported that, at August's Asia Pop Comic-Con, Marvel TV head Jeph Loeb teased a surprise appearance by another masked crimefighter at some point during the spinoff's first season. "Another Marvel hero may be showing up," Loeb said as the crowed gasped.
Could the anonymous hero be Daredevil? Could it be another member of The Defenders who hasn't paired up with Frank Castle yet? Or could Netflix be introducing yet another superhero in his or her MCU debut? MCU Exchange speculates in its report that Loeb could be referring to Marine-turned-mercenary Marc Spector — aka Moon Knight — who (coincidentally?) just joined the roster of The Defenders in the comics.
Not only will some secret superhero be dropping by to team up with (or spar against?) Frank Castle, but fans can also look forward to seeing Luke Cage and Danny Rand continue their sarcastic bonding in Luke Cage Season 2. Regardless of whether Matt Murdock shows up in The Punisher or not, superhero team-ups are still very much a part of the DNA of Marvel's Netflix franchise.