Jason Momoa Tells A True-ish Story On 'Frontier'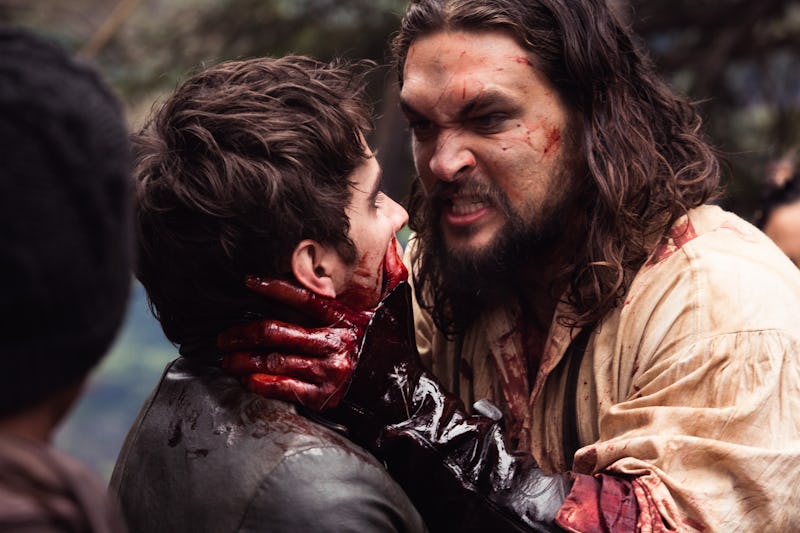 Duncan de Young/Netflix
Our love for Khal Drogo may be very real, but we all know that the Game Of Thrones character played by Jason Momoa isn't real. The Dothraki horselord isn't based on a true-to-life figure — but what about Momoa's next TV character? Is Frontier's Declan Harp a real person? It definitely seems like he could be; the show (a joint production between Netflix and the Discovery Channel Canada) takes place in the 1700s and offers a glimpse into the North American fur trade, with various trading companies warring against each other and the native tribes of the lands they were conquering. So how much of Netflix's Frontier is fact, and how much is fiction?
Just last year, The Revenant won a boatload of Oscars for telling a similar story about North American fur traders — including a long-awaited trophy for Leonardo DiCaprio, who won Best Actor for his portrayal of real-life trapper Hugh Glass. Just like in that film, Glass really as mauled by a bear, left for dead, and forced to fight for survival through miles and miles of inhospitable wilderness. But despite Frontier's thematic similarities to The Revenant, there is no indication that Declan Harp was a real person, nor that Momoa's character was particularly inspired by any one real historical figure.
But that doesn't mean that everything about Frontier sprang solely from the mind of creator/director Brad Peyton (San Andreas). The show's villains are employees of the trading conglomerate Hudson's Bay Company — an organization that actually still exists under the same name today, as one of Canada's biggest department stores. (Bustle reached out to a rep for Hudson's Bay Company for comment on its portrayal in Frontier, but has not yet heard back.)
But the real-life basis of Frontier's trading companies aren't the only aspect of the show that's historically accurate. The cast has been extremely vocal about Peyton's commitment to faithfully portraying the struggles of the Native Americans whose lives were disrupted and territories invaded by these companies. Canadian actor Allan Hawco, who both produces the show and stars as an employee of a rival trading company, told Huffington Post Canada that, "20 years ago it'd be a white person's show. It'd be the trials and tribulations of the Europeans. There's a bigger issue here in terms of what we did as a settlers and as a people by essentially invading a land. That's the biggest part of it for me."
That's a sentiment that Hawco's co-star Jessica Matten shares. The actress, who is part-Métis, part-Saulteaux-Cree, plays a Native American tracker named Sokanon. "The producers have been wonderful in making sure they'd done their due diligence in how we are representing our people," Matten told the Edmonton Journal. "They didn't want the Hollywood Pocahontas character. And they tackle hard issues as the season evolves, and they're not afraid to go there, which I really applaud. We do have a cultural adviser on board, and have been very receptive to suggestions I have as well. I reach out to elders and my family and community to make sure this is correct, even though it's based somewhat in a fantasy world."
So while Declan Harp himself may not be a real person, it's clear that Frontier as a show will remain committed to accurately portraying the stories of an underrepresented people; and for that it should be commended. You can catch all six Season 1 episodes when they debut on Netflix this Friday, Jan. 20.