Why 'It's Always Sunny' Superfans Won't Be Let Down By The Comedy's New Season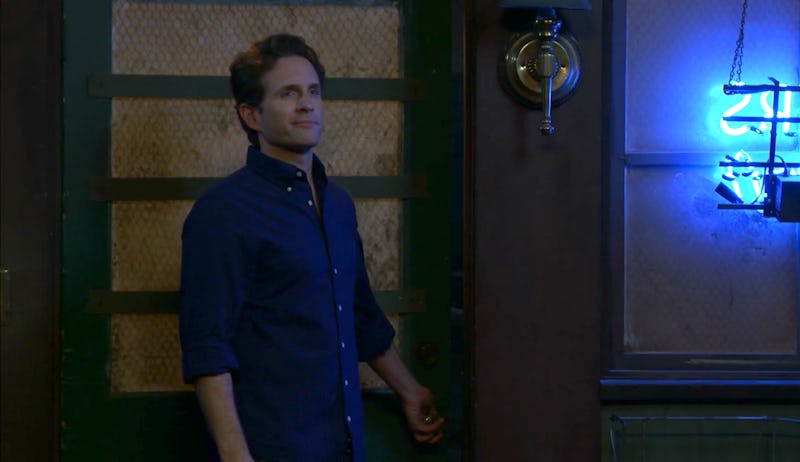 FXX
After 12 seasons, Dennis Reynolds bid the gang farewell when It's Always Sunny In Philadelphia was last on the air in 2017. With no Dennis in sight in the Season 13 previews and Glenn Howerton on another TV show, fans have every right to be concerned that Dennis left It's Always Sunny for good. But before the rest of the gang returns on Sept. 5, take comfort (or, more accurately, discomfort) in the knowledge that Howerton's Sunny days are far from over.
In the Season 12 finale, "Dennis' Double Life," Dennis revealed to Mac, Charlie, Dee, and Frank that he has a wife and son. Back in the Season 10 premiere, the gang attempted to drink 70 beers on a cross-country flight à la baseball player Wade Boggs. Dennis got off the plane in North Dakota and, as he explained, he picked up a woman named Mandy at an Applebee's. He used his fake identity of Brian LeFevre (first introduced in Season 8's "Frank's Back In Business") and Mandy contacted him months later to inform that a Brian Jr. was produced from their one-night stand. While he spent the majority of the episode trying to get out his parental responsibilities, he eventually decided that he should go be a father to Brian Jr.
After a year and a half, It's Always Sunny returns to FXX. But no new footage of Dennis is to be found in all of the Friday the 13th-themed teasers or the Season 13 trailer. Sure, he appears in the form of a sex doll that Mac gets and he might be the person in the Jason-like mask. But that's not the same as having the sociopath Dennis behind the bar at Paddy's Pub.
Since Season 12 aired, Howerton has starred in the NBC sitcom A.P. Bio, which was renewed for a Season 2. Howerton told GQ that Dennis' exit had nothing to do with his new show and that it was strictly a creative decision that he made with his fellow writers, executive producers, and stars Rob McElhenney and Charlie Day. Otherwise, the actor has been coy about whether or not his character will return. But he did tell Playboy in June 2018, "I doubt you will have seen the last of Dennis, whether it's in Season 13 or 14."
That answer was slightly more definitive than the answers Howerton had given in the past. He seemingly joked how Dee actor Kaitlin Olson was wrong to tell The Wrap that Dennis would officially be back for Season 13. And before that, he wrote a thread on Twitter explaining how he'd prefer the narrative in the media not be so focused on his character's return. He also noted how he's still involved behind-the-scenes of It's Always Sunny In Philadelphia and that saying anything about Dennis would be giving away the plot.
But McElhenney and Day came to the rescue. Variety reported that they discussed Dennis' involvement in Season 13 during the Television Critics Association summer press tour in August. "We went through all sorts of ideas before we knew that Glenn was coming back," Sunny creator McElhenney said. "He's in pretty much every episode."
Day echoed McElhenney's statement and explained how they handled moments when Howerton wasn't there. For example, there will be an all-female reboot of the very same episode that led to Brian Jr. And, of course, there's the sex doll. Because while McElhenney and Day have confirmed that Dennis will be back, he may not be in Philadelphia. The official FXX plot states that Dennis "takes on the new role of father in North Dakota." And Mac needed some way to fill the Dennis-shaped void in his life, as new guest star Mindy Kaling seems disturbed to discover.
There's always the possibility that the creators and stars of It's Always Sunny In Philadelphia could be leading fans astray. But it seems that Dennis will return in at least some capacity for Season 13. And while he might not be at Paddy's Pub where he belongs with the rest of the gang, Dennis' adventures in parenthood are sure to be just as hilariously cringe-worthy.